— Elie Gesbert (@ElieGesbert) August 14, 2015
After a rather nasty crash in the Tour de l'Ain that saw Elie Gesbert get thrown into a barb-wire fence and having to drop out of the race, the young Breton from the Côtes-d'Armor was worried his Tour de l'Avenir would be out the window. However the injuries were not as bad as there were thought and Gesbert was on the bike the next day. Gesbert was a gifted junior who has taken the slow approach to development by staying with a Division 3 team, Pays de Dinan, in France and then riding select races with the national team.
Gesbert sipping on a coffee
While his GC hopes were gone, Gesbert attacked on the Col du Madeleine and went on a solo adventure just like his teammate Jeremy Maison did yesterday on the Col du Pre. First year U23 Daniel Martinez (Colombia) attacked the peloton and went on chasing, which he would be for the entirety of the climb. Gesbert was on a flier and was holding off Martinez, who is consistently the better climber, while the peloton was shredding behind. Sam Oomen, who seemed to be suffering from back pain, was dropped fairly hard while Jack Haig was also distanced on the biggest climb of the Tour de l'Avenir.
Gesbert went solo over the top and on the descent off the Madeleine, he extended his lead over Martinez to over a minute. Haig and a few others were able to join the chasing peloton but as soon as this happened, Alex Peters (GB) attacked. He was chasing in search of Martinez and Gesbert however the long false flat of the Maurienne valley was wearing on the solo chasers. With 30 kilometers to go, both Martinez and Peters were caught and the gap to Gesbert was falling. The Frenchman found some luck with...a horse. A horse escaped its enclosure and was running alongside the front peloton, which slowed them down until they were able to drop the horse. The gap went from around 2'30" to 4 minutes and grew to a maximum of nearly 5 minutes before the final Beau Plan climb.
On the climb, attacks were launching from the group including Anders Skaarseth, Benjamin Declercq and eventually Sebastian Henao and Marc Soler. This saw overnight leader Gregor Mühlberger get dropped like a stone and he was soon followed by Aleksey Rybalkin and stage 5 winner Guillaume Martin. After a reshuffle, it was Soler who was the lead chaser to Gesbert and towards the top of the Beau Plan, he was taking chunks of time out of the Frenchman while behind Soler, Laurens De Plus had attacked the group and was chasing solo.
What had been a four minute gap near the beginning of the climb was down to 55 seconds at the summit as Gesbert began the twisty descent alone. Not much after the descent began, De Plus caught Soler while Gesbert was streaking to the win. Gesbert crossed the finish line alone after a beautiful attack that saw him ride solo for over 80 kilometers. Soler and De Plus came in very close together at 40 and 42 seconds behind Gesbert. Haig and Sindre Lunke got clear near the top of the Madeleine and bombed the descent to finish just 1'07" behind Gesbert.
Simone Petilli and Giulio Ciccone came in together with Skaarseth and Matvey Mamykin but their GC hopes seem to be over, at least in terms of the win. Sebastian Henao can be thrown in there as well as he was nearly 2'30" down on Gesbert but Sam Oomen recovered spectacularly from his earlier falter on the Madeleine to finish right behind Henao.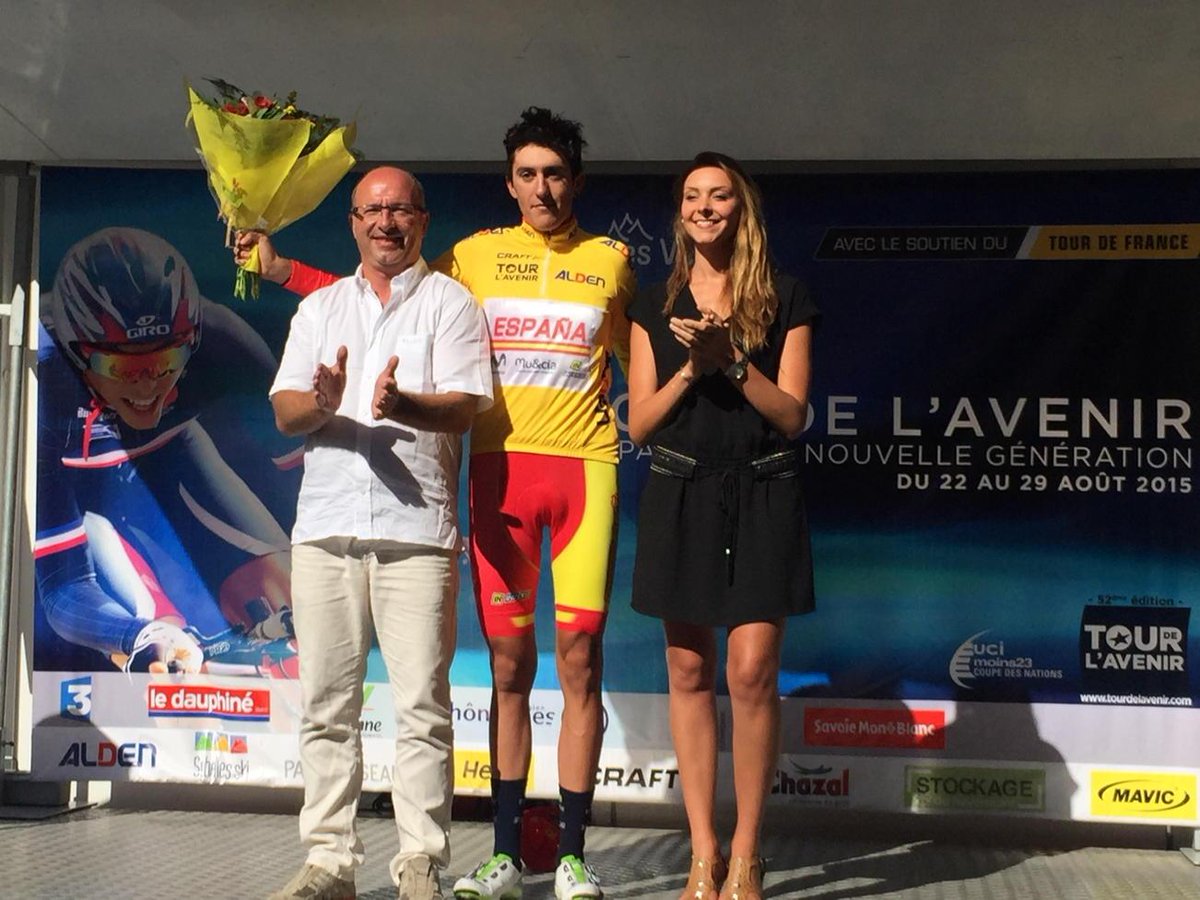 After his impressive ride yesterday on the La Rosiere climb, Marc Soler took over the yellow jersey and will be wearing it into the final stage tomorrow with a good cushion on 2nd place Laurens De Plus, who is 1'01" back on the Spaniard. Haig rises to 3rd overall and Lunke up to 4th while Petilli and Ciccone are sitting 5th and 6th.
Soler is a World Tour rider and if he does end up winning the race, it will be considered a hollow win by some. He had nearly 50 racing days this year before l'Avenir with Movistar in UCI races are .1 or over. To mitigate a long rant, if you have the talent to get signed with a World Tour team, you shouldn't be racing l'Avenir. Because of this, Laurens De Plus is looking bound to get his third 2nd place overall in the three major U23 stage races this season as he was 2nd in the Ronde de l'Isard and Valle d'Aosta.
While Guillaume Martin lost his 2nd place overall heading into the stage, he kept the KOM jersey while Jonas Koch is still in the green jersey.
While it was apparent yesterday, Lennard Kämna isn't here for the GC after losing nearly 20 minutes today. Others that lost any shot at GC include Mühlberger, Martinez, Odd Eiking, Ildar Arslanov, Aleksey Rybalkin and Edward Ravasi. Eiking is increasingly looking like a rider that can be inconsistent in the high mountains, which is something FDJ will need to work or get him concentrated elsewhere.
Full Results can be found here
Many teams are trying to make it through the end of the race. Estonia is down to just one rider in Josten Vaidem while Australia, the USA, the UCI Mixed Team and Great Britain are all down to just two riders. Tomorrow's short but sweet finish might be the death knell for some riders.