There is more to the world than the Olympia's Tour so let's catch up with a few results...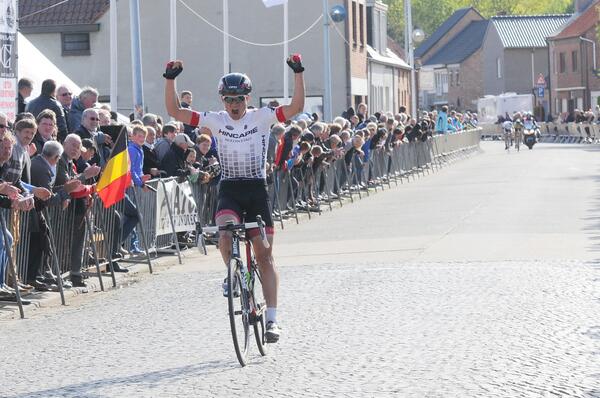 Robin Carpenter (Hincapie Development) took the win at the Puivelde Pro Kermis just outside of Sint-Niklaas on Wednesday as he launched a late attack out of the front group and took the impressive solo win over Maxime Vantomme (Crelan-Euphony) and Michael Vanthourenhout (BKCP-Powerplus). Carpenter's story is quite interesting. Last year, he got a ride with the Chipotle Development squad and had quite a solid season albeit for a bad run-in with a chainring, a crash that saw him just inches from impailing his temple with the sharp teeth. Cut to last fall and Carpenter was without a team after Chipotle folded and closed up shop.
It took until last November for Carpenter to find a home at Hincapie Development and he has already started to put up results. Did I also tell you that he has done this while going to college full-time at Swarthmore? Pretty impressive.
Glava Tour of Norway
Sondre Holst Enger up on the final podium of Glava Tour of Norway
19-year old Sondre Holst Enger (Plussbank) had an amazing week at the Glava Tour of Norway after having four top-7 stage finishes and ended up finishing 3rd overall. And of course, people are now saying things such as...
The new Peter Sagan resides in Norway and his name is Sondre Holst Enger (19). 2-4 years time from now he will be one to consider.
— Richard Jørgensen (@Pedalingtheroad) May 19, 2013
which is exactly the wrong thing to say. Look, I am not trivializing his results as he absolutely blew expectations out of the water. But this is just one race in his home country. To give some background on Enger, in his final junior season in 2011 he got some results in field sprints and a few harder races and did well in the World Championships with a 10th and 12th place in the TT and RR, respectively. Last year, in his first season as an espoir, he had some good results in field sprints including a 4th place in the 1st stage of the Tour of Norway, a smattering of other Norwegian races and two top-5 places in Loir-et-Cher. All of these are quality results but the best of his year? No.
This year, Enger got off to a slow start. He had problems in the opening races in Croatia and had some sickness and his only notable result of the early season was a 46th in the Ronde van Vlaanderen Nations Cup. He finally got into some form for some Danish (6th in Skive Lobet) and Norwegian (6th in Hadeland GP and 3rd in Ringerike GP) one-day races. Pretty quality stuff for a man of his age but there were guys just as young up there with him. Then we come to the Tour of Norway, where Enger had high results in three sprinting stages (3rd, 7th and 2nd) and on the queen stage where he stayed in the 1st chasing group and snagged 4th place.
So he obviously talented to finish 3rd overall and he should have an eye kept on him but one race does not a champion make. I'm not trying to be dismissive but when people flip out and say he is "the new Peter Sagan" then they are just putting stupid expectations on him when they should just let the kid keep developing. Don't label him as Norway's saving grace or whatever the hell the fans want because these fans are just going to be disappointed when he doesn't live up to the expectations that fans set for him. There are riders that are simply in a league above at his age (like Sagan or Boasson Hagen) but I don't think he is at that level. I take my hat off to Enger though for showing his strength this week and not being scared of the bigger teams.
P.S. Don't forget about Toms Skujins. In all the talk about Enger, Skujins has had a great few weeks with three top ten finishes in Hadeland, Ringerike and Uppsala and then stayed in the front split in the queen stage of the Tour of Norway and went on to finish 10th overall. This is after being on the tiny Latvian Rietumu-Delfin team. Skujins is quite talented and deserves his chance and shouldn't have his talent squandered. Other young riders that had good races here include Jesper Hansen (CULT Energy), who finished 7th overall, and Frederik Ludvigsson (People4You-Unaas), who was 15th overall and 5 months younger than Enger.
Ronde de l'Isard (UCI 2.2U)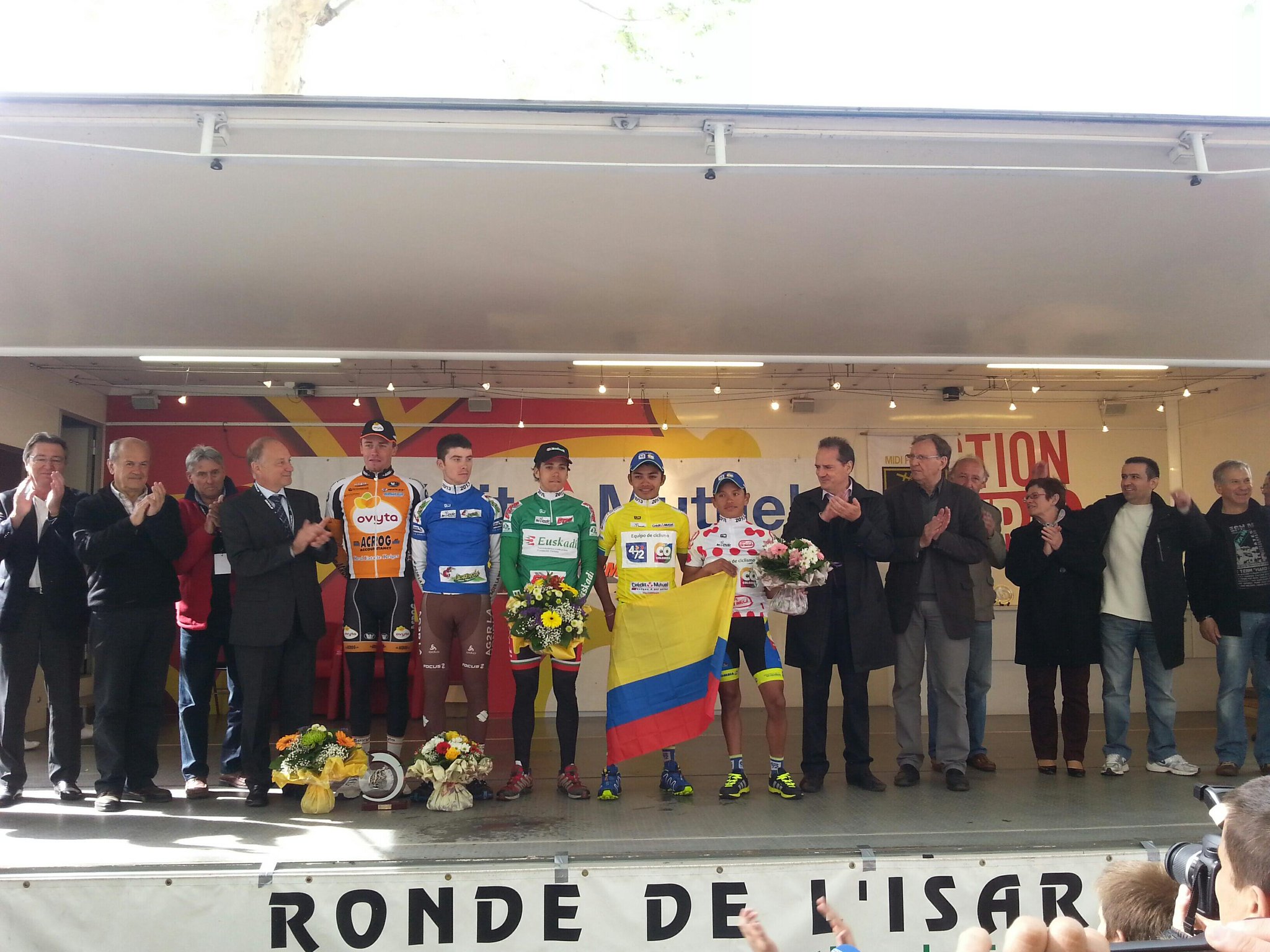 Juan Ernesto Chamorro and Heiner Parra (yellow & polka dots) led the Colombian Express
Photo: RadioVelo
This is a race that always provides some interesting results but many of which can be skewed by the small field size and perhaps by a lack of depth in the field. Not to say that there isn't a heap of talent but there are so many climbers here that could realistically win a stage.
-Stage 1 saw a two man breakaway with Frenchman Romain Guyot (Vendée U) and Basque Haritz Orbe (Euskadi) that saw the Frenchman take the win with Orbe coming in 2nd and his Basque teammate Carlos Barbero (Euskadi) taking the reduced field sprint 14 seconds back for 3rd over Tom Bohli (BMC Development) and Edward Theuns (VL Techniks).
-Stage 2 saw the first uphill finish of the race and it was dominated by Euskadi as Barbero and Orbe went 1-2 over a group of favorites including twins
Maxime and Mathieu Le Lavandier
(Chambery CF),
Dylan Teuns
(Ventilair-Steria),
Diego Ochoa
and
Juan Ernesto Chamorro
(4-72 Colombia) with other favorites such as
Nate Wilson
(USA National) coming in a few seconds down.
Arrivée 3è étape (Ronde de l'Isard 2013)
by radio-velo
-Stage 3 was the queen stage of the race with a summit finish at Goulier-Neige, deep in the heart of the Pyrennes. The finale did not let down either. KOM leader Heiner Parra, who escaped on stage 2 to take the polka dot jersey, let out a hellacious attack that didn't see any responses as he was far down on GC. The Colombian romped up the final ascent as his teammate Chamorro let out a big attack with only a couple of kilometers to go and distanced his GC contenders to finish 7 seconds ahead of Maxime Le Lavandier, 9 seconds ahead of Teuns and 13 seconds ahead of Wilson and 4-72 teammate César Paredes.
-Stage 4 saw 4-72 Colombia control the peloton while a lone rider was able to stay out front on the long descent off the Col de la Core. Gert-Jan Devos, a rider for Ovyta-Eijssen, was able to outlast his breakaway mates in a surprise win while behind him, Chamorro comfortably defended his lead and no other riders were able to pose a serious threat.
The final GC looked like this...
1. Juan Ernesto Chamorro (4-72 Colombia)
2. Maxime Le Lavandier (Chambéry CF) +9"
3. Dylan Teuns (Ventilair-Steria) +20"
4. Mathieu Le Lavandier (Chambéry CF) +30"
5. Nate Wilson (USA National) +34"
6. Pierre-Roger Latour (Chambéry CF) +42"
7. Mikel Iturria (Euskadi) +47"
8. César Paredes (4-72 Colombia) +53"
9. Romain Guyot (Vendée U) +1'00"
10. Clément Chevrier (Chambéry CF) +1'45"
Some takeaways from this race are these:
Juan Chamorro is legit. After his 2nd in Tour de l'Avenir last year by just 1 second to Warren Barguil (now Argos-Shimano), he has been riding consistently this year on a broad range of terrain and he will be looking for that elusive l'Avenir crown. His territory is the mountains but he has proven himself to be solid on flat to rolling terrain as proven by his Tour de Bretagne performance. Granted, he has a bane and that is a flatter time trial but that can always be improved. Just write this guy down because I guarantee you will hear more from him this summer and beyond.
Nate Wilson is showing himself to be one of the more promising American climbers. This was the first race he was really ever given the captain title and he took to it with aplomb. He was admittedly suffering on the final day and couldn't do anything but follow wheels but the Virginian will be one to watch this summer with Bontrager and the USA National Team. Another American to watch is TJ Eisenhart (USA National/BMC Development), who came in 14th overall and 2nd in the young rider classification. It is only his first year out of the juniors but he finished 7th on the final stage, which shows a lot of promise after a brutal tour.
Chambéry CF put in a hell of a performance this week with four riders getting into the top 10. They are the development squad for the Ag2r La Mondiale World Tour team (they even ride in identical white/brown kits) and are based in Chambéry, which is in the Rhône-Alpes region in southwest France, deep in the Alps. Team graduates include Romain Bardet, Axel Domont and Ben Gastauer, all of whom now ride for Ag2r. Former pro cyclists including Gilles Delion (Vice President) and Mickael Buffaz (part-time DS) are involved with the club. The twins Maxime and Mathieu La Lavandier are promising climbers but they need to improve their all around abilities if they are going to cut it in the pro ranks. I would say that Clément Chevrier is the most pro-ready of the lot right now as he has had high finishes at races such as Liege-Bastogne-Liege and Piccolo Giro di Lombardia.
Other News includes...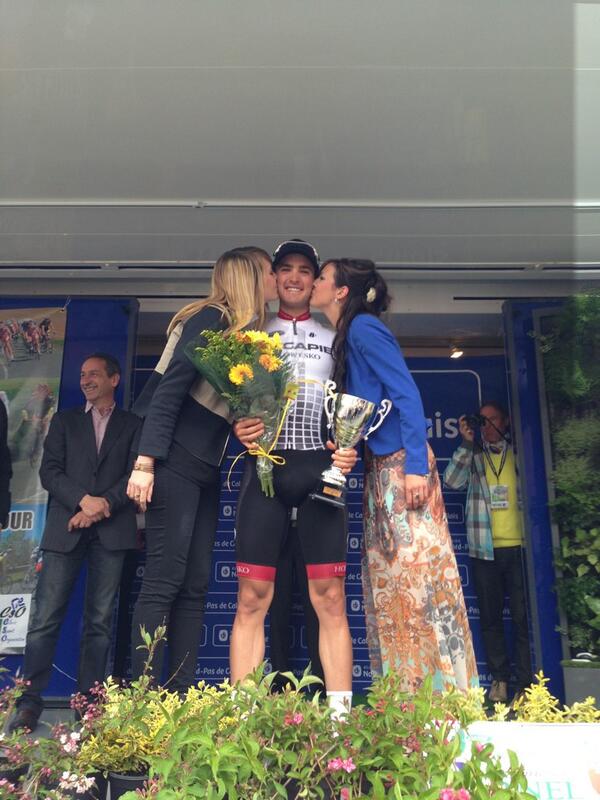 Hincapie Development continued their string of success in Europe with former Team Type 1 rider Joey Rosskopf breaking away from the first echelon on the first stage of the new Paris-Arras 2-day race and taking the solo win by 19 seconds over a charging peloton. Rosskopf and his Hincapie Development team then controlled Sunday's rainy 2nd stage and shut down the breakaway attempts and delivered Rosskopf to the overall win as Armée De Terre rider Rudy Barbier beat out Daniel McLay (Lotto U23) in the bunch sprint.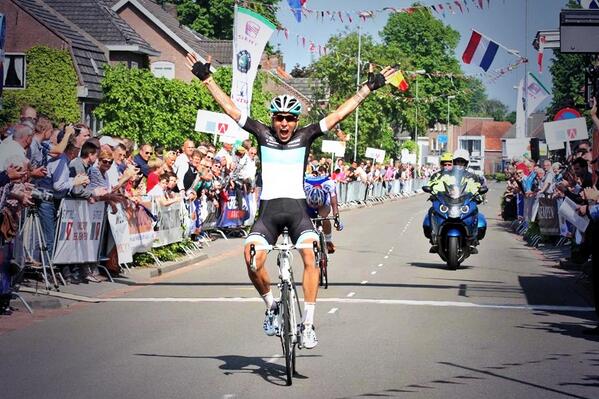 EUGENIO ALAFACI FINALLY WON A RACE! You heard that right, folks, the Italian who is a constant presence in the top 10 of races finally broke through for his first UCI win ever. After placing 3rd in the GP Criquielion in a mass sprint on Saturday, it was at Sunday's Omloop der Kempen where the Italian struck. After breaking away from the front echelon with four others, Alafaci attacked with Steven Lammertink (Jo Piels) and the Leopard-Trek rider outsprinted him easily to take the win. Bravo Eugenio!
Boris Vallée (ColorCode-Biowanze) won the mass-sprint GP Criquielion on Saturday over Topsport Vlaanderen rider Gijs van Hoecke and Espoirs Central's favorite non-U23 continental Italian rider, Eugenio Alafaci (Leopard-Trek).
Davide Martinelli (Food Italia) won the Italian U23 Time Trial Championship on Saturday in Ponte San Giovanni, Perugia, Umbria. The field perhaps wasn't as deep as it could be but the former SKY stagiaire averaged an impressive 48.5 km/h over the course as he beat Zalf's Andrea Toniatti by 20 seconds.
Conor Dunne (VL Techniks) won the first stage of the An Post Ras, the most prestigious race in Ireland. The Irishman Dunne broke away with Mike Northey (Node4-Girodana) and outsprinted the New Zealander in the final straight to take an impressive home win.
Huge shoutout to the Bontrager Cycling team at the Amgen Tour of California, where they showed what U23 rider can do when thrown into a race like that. Jasper Stuyven had a few top 10's in sprint finishes, 'Downtown' Nate Brown and Antoine Duchesne put in some beastly attacks while Lawson Craddock put in quite a performance to finish 8th overall, finishing top 10 on each of the big mountain top finishes. Congrats to them! I just have one thing for ATOC organizers...why not invite more development teams? Why no Hincapie Development? The youth category in this race is a joke when it is dominated by one team because the other young riders are focusing solely on their team leaders. Surprising youth results give the race even more excitement. It seems as logical as having a women's stage race running concurrently with the men...oh wait.
I think that I covered everything here. It was a busy week but it is only going to get busier from here.
Some of the races coming up include: Tour du Gironde (France; 23rd-26th), U23 Peace Race (Czech Republic; 24th-27th); GP Industria e Commercio (Italy; 26th) along with races already happening such as the An Post Ras. Look for a changing of the U23 rankings this week!