The solo breakaway seems to be a dying art in cycling. Invariably, a solo rider has someone bridge up to them because in most cases, a group is stronger than one. Jonas Koch (Germany) might be a bit touched in the head. He also might be a bit ballsy. For his exploits on stage 1 of the Tour de l'Avenir, he needed a combination of both to do what he did.
The stage started off with a few attacks as the race left Chablis, straddled by vineyards of Chardonnay grapes. A flurry of attacks came and went including a group of 19 including the likes of Fernando Gaviria (Colombia), Max Schachmann (Germany), Alexander Kamp (Denmark), Marlen Zmorka (Ukraine), among others. Once this group was brought back under threatening skies, Jonas Koch put in a counter attack and went away solo.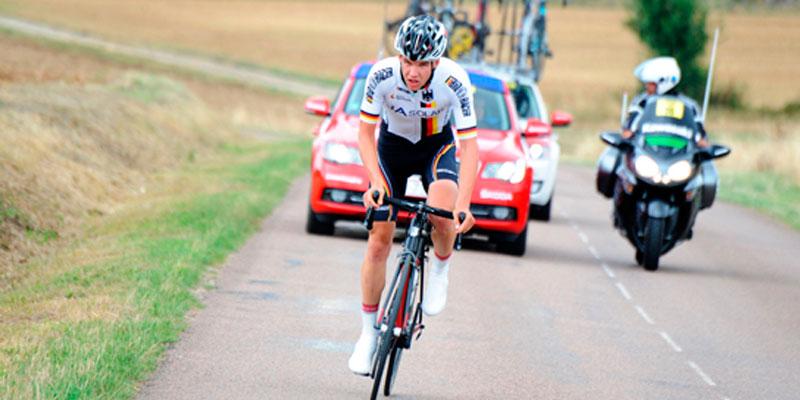 Jonas Koch, suel en tête
Seul en tête. With 130 kilometers to go, Koch started his long day out. His gap grew over the next 30 kilometers steadily from 50 seconds to 3 minutes...and then 5 minutes...and then 11 minutes. With 100 kilometers to go, Koch was two prologues ahead of the pack. The gap continued to balloon as Koch made it over the first categorized climb and the maximum advantage came with 75 kilometers to go, when Koch had a whopping 13'30" on the peloton.
At this point, Gian Friesecke (Switzerland) and Mads Pedersen (Denmark) launched a counter attack and made a little headway into Koch's advantage but it was slow goings as Koch was motoring along on his own. Even with 40 kilometers to go, the duo were still 6'40" behind Koch and the peloton a pretty massive 8'30". Team France decided to through caution to the wind and sent 4 riders including Elie Gesbert, Jeremy Maison, Guillaume Martin and Nans Peters up the road together to stir the pot.
The four Frenchman picked up straggling middle men Michal Paluta (Poland) and David Per (Slovenia) and in no time, they were up to Friesecke and Pedersen. They were 4 minutes behind at 20 kilometers and at 14 kilometers to go, that advantage was down to 3 minutes. Some statistical analysis would show that Koch was getting to the end of his rope and it was only a matter of time.
Someone get this man ein gross Bier, bitte.
Photo: Tour de l'Avenir/James Startt
It wasn't until inside 10 kilometers to go that the group of chasers were brought back but Koch was still resisting. In a desparate attempt to bring him back, Mads Würtz Schmidt (Denmark) launched a solo move out of the peloton but it was in vain. After 130 kilometers out front, Jonas Koch had held off the peloton to take a glorious solo win.
— Mathilde L'Azou (@MathildeLAzou) August 23, 2015
Würtz held on for 2nd place while Espoirs Central pick for the stage win, Simone Consonni (Italy), finished in 3rd place in the bunch sprint ahead of Stan Godrie (Netherlands) and Jan Dieteren (Germany). Prologue winner Soren Kragh Andersen (Denmark) held onto the leader's jersey while Gianni Moscon (Italy) and Sebastian Henao (Colombia) stayed stagnant in their 2nd and 3rd overall spots.
For his troubles, Koch moved up to 4th overall at 5 seconds back as well as scooping up the points and KOM jerseys. He will wear the points jersey tomorrow while Ruben Guerreiro (Portugal) will wear the KOM jersey.
Full results can be found here.
Koch's ride is such a great reason to follow U23 racing. He went out by himself and just put his head down and hammered. He rode his heart out against the best of the U23 peloton and still held them off. And this is just stage 1.
The race continues with a flat stage from Avallon to Arbois that should finish in a bunch sprint.