2morrow Liège bastogne liège! I Will try to defend my title but I know that means that I have ti eat my shit, like 1000 times! #inittowinit
— Michael Valgren (@MichaelValgren) April 12, 2013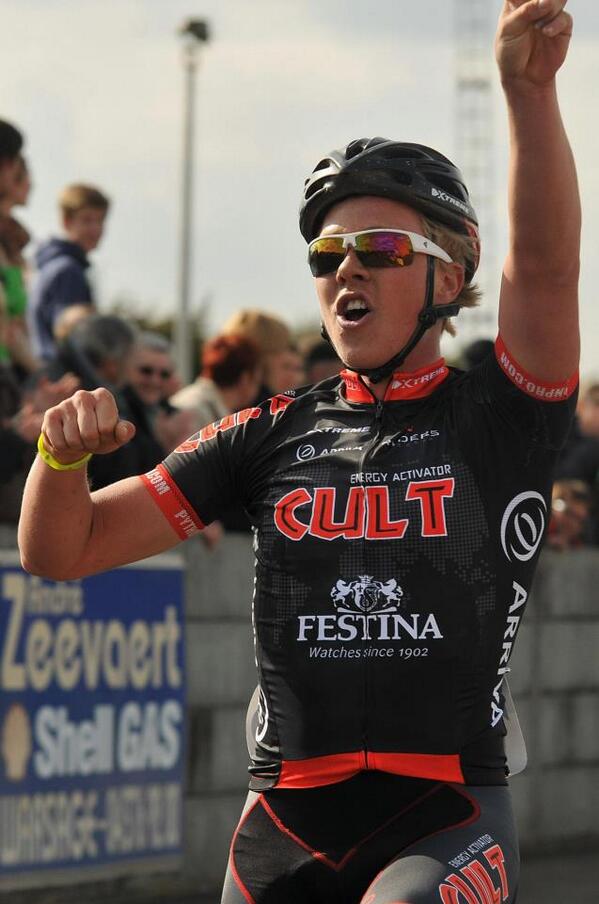 Michael Valgren (CULT Energy) attacked on the Côte d'Ans with only 6 kilometers to go and rode solo to his 2nd win in as many years on the asphalt velodrome in Liège. Valgren broke away from Nate Brown (Bontrager CT) and Martijn Tusveld (Rabobank Development) but both continued to the line with Brown holding on for a fine 2nd place while his Bontrager teammate Jasper Stuyven passed Tusveld for 3rd place. Valgren is the first back-to-back winner here since Raivis Belohvosciks did the double in 1995-96.
The races left Bastogne shortly after noon local time and a few breakaways tried to get away but it wasn't until 40 kilometers that a breakaway got away. A group of 11 was whittled down to a group of seven including U23 cyclocross world champion Mike Teunissen, Rabo Devo teammate Ruben Zepuntke along with others from continental and amateur squads. The break got a maximum advantage of 4'43" before the peloton started to ramp up the pace on the Côte de Wanne.
By the time the race got to the Côte de Rosier, the gap had dropped to only 2'46. With BMC and Bontrager at the front, the gap continued to drop over Côte de la Vecquée but as the race approached the fearsome La Redoute climb, a cloud of chaos came over the riders. Josh Atkins (EFC-OPQS), Rasmus Sterobo (CULT Energy) and Lawson Craddock (Bontrager CT) attacked halfway up La Redoute and were quickly joined by Michael Valgren (CULT Energy), Dylan Teuns (Ventilair-Steria) and Daan Olivier (Rabobank Devo). This powerful group of six would have been a dangerous move if it wasn't for incompetence...
My LBL. Away over La Redoute with Dane rider. Sent wrong way on decent...turn around. Blew my legs. Back in group. Cramp monster. #shitday
— Josh Atkins (@JOSHBEAUATKINS) April 13, 2013
Over the top of La Redoute, the group of six were led the wrong way on the descent and the advantage they gained on the climb was neutralized. Valgren showed that he was on a good day though and soon after the detour, attacked with Nate Brown (Bontrager CT) and Martijn Tusveld (Rabobank Devo) with 37 kilometers left in the race and three climbs still to go. They were briefly joined by Ruben Zepuntke but he was dropped, most likely tired from his escape earlier in the race.
The trio gained a minute by the time they summited the Côte de Tilff and plowed on to the Côte de Saint Nicolas. By the time the peloton summited the Saint Nicolas, the gap was down to just 28 seconds with just 10 kilometers to go. On the Côte d'Ans, Valgren made his move and attacked, distancing his breakaway colleagues as the peloton breathed down their necks. Valgren powered on and maintained his gap over Brown as Jasper Stuyven and Dylan Teuns joined Tusveld. Valgren took the victory solo, taking in all the emotion and joy as he raised his arms in triumph. Brown held on for 2nd while Stuyven came in 3rd over Tusveld and Teuns. Edward Theuns (VL Techniks) won the sprint for 6th, another impressive result for the full-time student from Gentbrugge.
Seems like Valgren "ate his shit, like 1000 times", eh?
Stuyven, Valgren and Brown (Photo:ProCyclingStats)
Full results
1. Michael Valgren (CULT Energy)
2. Nate Brown (Bontrager CT)
3. Jasper Stuyven (Bontrager CT)
4. Martijn Tusveld (Rabobank Devo)
5. Dylan Teuns (Ventilair-Steria)
6. Edward Theuns (VL Techniks)
7. Romain Guillemois (Vendée U)
8. Tiejs Benoot (Lotto-Belisol U23)
9. Loïc Vliegen (BMC Development)
10. Gerry Druyts (EFC-OPQS)
3rd in L-B-L U23 after an impressive ride by the whole @bontragerct !! @natebrown0707 even took 2nd! Best team of the day by far! So proud!
— Jasper Stuyven (@Jasperstuyven) April 13, 2013
It always sucks when human error plays into bike races. Who knows what would have happened if the group of six wasn't sent in the wrong direction.
While Jasper thinks his team was the strongest by far, they came up just short in the end. Breakthrough ride for Nate Brown, who was a standout junior but hadn't had a big result yet in the U23 ranks. He will be fighting for a call-up for races like the Tour of California but this result definitely helped his case.
Valgren is apart of a Danish class of riders who could bring Denmark back to prominence in the pro ranks but for all of the success they have had in the U23 ranks, they have not been able to translate it into success on the World Tour level. Perhaps Valgren and others can buck this trend.
Teuns and Theuns rode well today...Dylan (Teuns) accomplished his goal of finishing in the top 10 while Edward (Theuns) continued a string of strong performances that have really bumped up his chances for a big contract next season.