No properly big races are happening this weekend but many teams were in actions across the continent...
Long wait is over for Vermeltfoort at Arno Wallaard
Coen Vermeltfoort (CT De Rijke-Shanks) tasted victory for the first time in three years at Saturday's Arno Wallaard Memorial after getting into the final breakaway and sprinting past Mike Teunissen (Rabobank Development) and Sean De Bie (Leopard-Trek). Vermeltfoort has been close to victory this season with two previous 2nd place finishes but he was finally able to cross the line with his hands in the air. Behind the breakaway of eight, Wouter Wippert (Team 3M) pipped Rick Zabel (Rabobank Development) on the line for 9th place. After the race, Vermeltfoort thanked teammate Ronan van Zandbeek for his great work while in the breakaway.
Vermeltfoort experienced some of the worst luck with Rabobank in his two years in the World Tour, where he broke both his wrists falling off a start ramp and then crashed multiple times, essentially ruining any chance of making a impression. The rider from Schuinesloot hit the restart button with CT De Rijke-Shanks and has had a solid season so far, only DNFing one race (the hellish Ronde van Drenthe) and making the most of his opportunities.
Villella denied again at Memorial Gerry Gasparotto
Simone Andreetta denied Davide Villella his first victory of the season, the third time that a Zalf-Euromobil rider has done so within the last couple weeks. Zalf-Euromobil is now up to 12 wins so far this season and this total will keep multiplying throughout the season. It was an early attack that saw ten riders leap away from the field of 164 and coming into the final corner, it was Andreetta that lead out the sprint and held off a chasing Villella and Zalf teammate Andrea Toniatta.
Villella, while he is without a win this year, is in some amazing form for next weekend's GP Liberazione, where he was 3rd last year. The Zalf-Euromobil team of former pro Gianni Faresin will be another big favorite for next week's big events, where Andrea Zordan and Simone Andreetta will be looking for the biggest wins of their career.
Daniel wins in 3rd day of Arden Challenge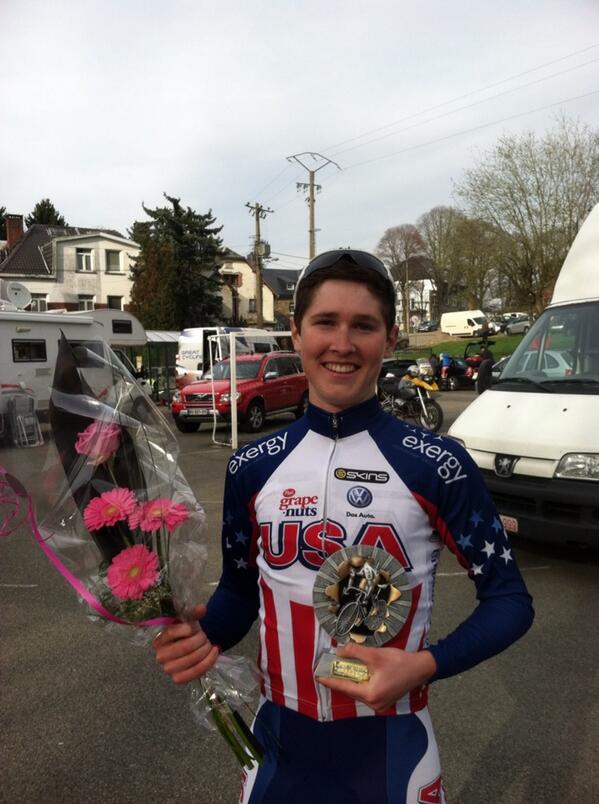 Greg Daniel (USA/Bontrager CT) won the 3rd day of the Arden Challenge over an on-fire Simon Yates (Great Britain) and Tyler Williams (BMC). The Arden Challenge is a series of races just like the Mallorca Challenge where riders can race one day and pull out the next without any penalty and race as many days as they want to. The first two days were won by the indomitable Jérôme Baugnies (ToWin-Josan), who has been on fire so far this season on his quest to get back to the top rung of the sport. Daniel was able to break away from the pack and take a nice solo victory.
It should be noted that through three days of this event, Simon Yates has finished 3rd, 2nd and 2nd in three days of racing. Yates hasn't missed a beat since his Points Race World Track Championship in early March and won two kermis races in Belgium before attacking every Nations Cup race he was in. Yates is an absolute animal on the bike and should score a big win soon.
Other results to look at:
Lasse Norman Hansen won the UCI 1.2 GP Herning in Denmark. It was the first road win for Hansen this year after his two medal performance at the World Track Championships.
Michael Kolar (Dukla Trencin-Trek) won the Banja Luka Belgrade I race ahead of Austrian Jan Sokol
Junior Tao Geoghegan Hart won the 2nd stage of the Tour of Istria Nations Cup out of a select group of five. Hart and Slovenian David Per, winner of the 1st stage, will be fighting it out for the overall with a few others on the final stage Sunday.
Another junior racer to watch right now is American Geoffrey Curran (Get Crackin'). Curran is an 18-year old from California who after putting up impressive junior results last year, has been doing great at the Pro/1 Sea Otter stage race. Saturday saw Curran go 4th in the TT to Kirk Carlsen, former Garmin-Sharp professional. Curran should be headed to Europe soon for more international junior racing.