Hard to believe it has been a month, eh? Okay, maybe not but for as fast as it felt like the motnh went by, March was packed with lots of good racing by young riders and is only the prologue into this fine season. So let's hit rewind and take a look back at a month's worth of racing...
Ster van Zwolle (Netherlands - 1.2)
Dylan van Baarle
(Rabobank Development) got his season off to a strong start by getting into the breakaway and then sprinting to victory just as the peloton was making their catch.
GP de la Ville de Lillers (France - 1.2)
Spring is the time for racing across Northern France and two-time champion
Benoit Daeninck
(CC Nogent sur Oise) once again took the spoils.
Julian Duval
(Robauix-Lille Metropole) took 5th place, which was the best by a young rider.
To read more about Ster van Zwolle and GP Lillers,
go to my recap from that weekend
.
Rabobank Dorpenomloop Rucphen (Netherlands - 1.2)
Remember that Dylan van Baarle fellow? Well after his breakaway triumph at Zwolle, he put the pedal to the floor and surprised the peloton once again. What made this move even more impressive was that van Baarle broke away inside the last ten kilometers and kept a peloton that was keen on a field sprint at bay.
Kattekoers (Belgium - 1.2)
The opening of Belgium's U27 Topcompetitie was an grueling affair with bone-chilling weather and seemingly endless bergs and cobbles to deal with. Ex-NetApp rider
Jérôme Baugnies
(ToWin-Josan) broke away from the leading breakaway in the final kilometers to ride to a solo victory. The strongest rider in the race was probably
Alphonse Vermote
(An Post-ChainReaction), who tried multiple times to get away solo but to no avail.
Trofeo Franco Balestra (Italy - 1.12)
Racing in Italy started to heat up in the second weekend of March as
Angelo Zordan
, riding for Italian powerhouse Zalf-Euromobil, won the Trofeo Franco Balestra in a sprint. Having won an earlier race, Zordan has put himself forth as Italy's next big sprinting talent.
To read more in depth on these races and others from the weekend of the 10th,
read my (poorly edited) post from that weekend
Istrian Spring Trophy - Istarsko Proljece (Croatia - 2.2)
Race winner Matej Mugerli (Adria Mobil) breaks away on stage 1
Hmm, how many ways can I describe my contempt for the organizers for the Istrian Spring Trophy? It is as if these guys think it is 1999 and the internet is not very important. Is it so hard to make a basic website and a twitter account? Honestly, this race would become so much more popular if they just put a little more effort into it. My main takeaway from this race was young German Silvio Herklotz, who at just 18 was able to go toe-to-toe with much more seasoned riders.
GP San Guiseppe (Italy - 1.2)
Trevigiani Dynamon Bottoli's
Luca Chirico
won the uphill sprint into scenic Montecassiano out of his breakaway group of nine. The countryside around Montecassiano is simply stunning.
To read more about San Guiseppe,
head to my post recapping the race.
Volta ao Alentejo (Portugal - 2.2)
Jasper Stuyven
(Bontrager) was able to dominate the 5-stage Volta ao Alentejo with a combination of climbing and sprinting that was unmatched by any other rider. Many good performances were put in by young riders such as
Chad Haga
(Optum), who finished 2nd overall on GC, and
Karel Hnik
(Etixx-iHNed), winner of the KOM classification.
Here are my write-ups from:
stage one
,
stage two
,
stage three
,
stage four
* and
stage five*
. (Asterisks indicate posts that include write-ups from other races as well)
Tour de Normandie (France - 2.2)
Silvan Dillier
(BMC) wrapped up the Tour de Normandie after a hectic week of racing that was filled with rain, cold, wind and numerous crashes. Dillier was pressed hard by
Alexander Blain
(Raleigh) and the Dutch Wonderboy Dylan van Baarle.
To re-live the actions, here are recaps from
prologue-stage 2
,
stage 3
,
stage 4
,
stage 5
* and
stage 6
*. (Asterisks indicate posts shared with other races)
Piccola Sanremo (Italy - 1.12)
Won by Niccola Gaffurini, this race was truly epic. Taking nowhere near Sanremo, the race around the town of Sovizzo in Veneto featured freezing temperatures, rain, sleet, wind and snow all in one event.
Triptyque Monts et Châteaux (Belgium - 2.2)
Fabio Silvestre (Leopard-Trek) did some slick work on the final stage to take the overall victory away from Lawson Craddock (USA) by just one second, reversing a three second deficit from the start of the stage.
Go here for recaps from
stage 1
,
stage 2a & 2b
and
stage 3
. Sadly, no video but I tried to add as much detail as possible to the write-ups.
Boucle de l'Artois (France - 2.2)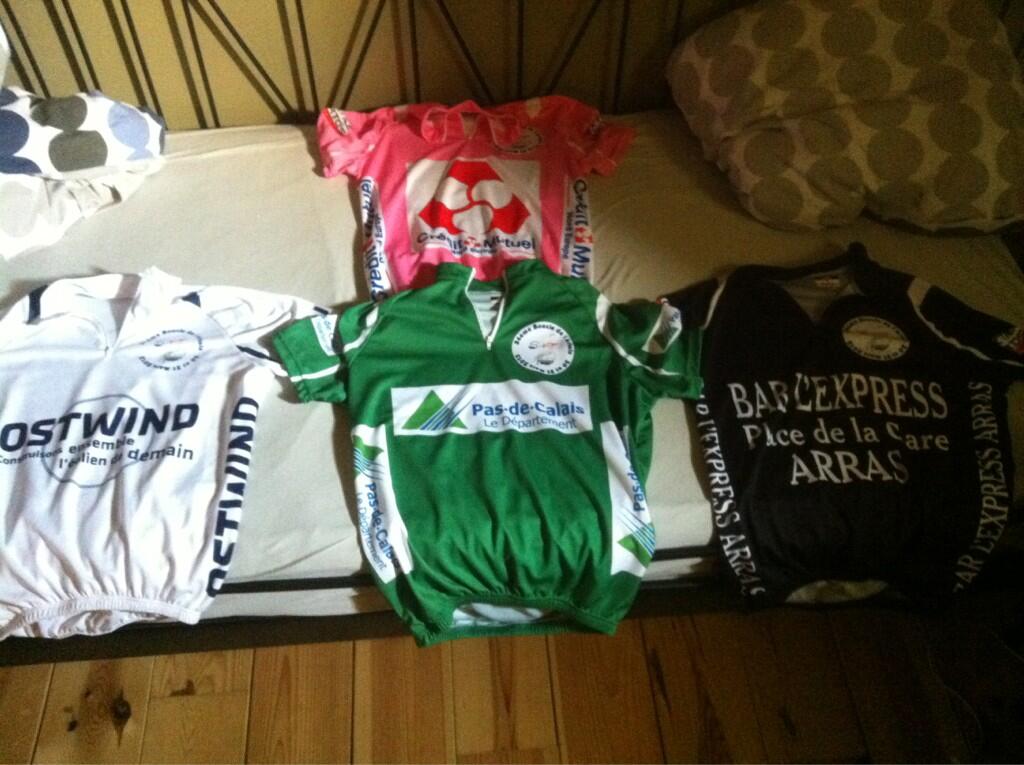 Frederik Ludvigsson had a successful weekend, no?
Young Frederik Ludvigsson (People4You-Unaas), only an 18-year old, made the front group on stage one and then powered to a time trial stage win on stage 2, putting an exclamation point on the promise he showed at Tour de Normandie. Ludvigsson covered every move on stage 3 and finished in the top 10 on the uphill finish at Mont St. Eloi
Well that was the month of March and it was quite a great month for racing, don't you think? I cannot wait for the season to unfold because even with all of this exciting racing, we haven't even got to any of the properly big races!