With the spring Nations Cup races coming to a close this weekend, I think it is time to introduce the first Top 5 ranking of the year. It has been a pretty packed season so far with racing all the way from Croatia to the Netherlands and beyond and when we look back on things...well it is hard to forget some of the truly great performances. Welcome to my mostly subjective, perhaps a little objective, Top 5 U23 ranking.
1. Dylan van Baarle (Rabobank Develpoment)
Photo: Wiki Commons
The rider from Voorburg has built up his successes from last year and done extraordinarily well in the first portion of this season after cracking his acetabulum last autumn in a fall in the GP Jef Scherens. Van Baarle got his season off to a hot start by putting in two sterling efforts at Ster van Zwolle and the Dorpenomloop Rucphen. In both cases, van Baarle won from breakaways; in Ster van Zwolle, he won the final sprint with the peloton breathing right down their necks while in the Dorpenomloop, he took off solo with less than 10km to go and won by an impressive margin.
What is also impressive about van Baarle has been his consistency. In the Tour de Normandie, van Baarle suffered from bad luck in the form of a rainy prologue and being caught behind multiple crashes in the first road stages. To make up for this, van Baarle went on the attack in stage 4 and after dropping his breakaway mates on the run-in to Villers-Bocage, he was only caught by former-TdF KOM winner Anthony Charteau for the stage win. Van Baarle moved up to 3rd overall and would finish the race in that position. 5 days later, van Baarle started the Triptyque Monts et Châteaux stage race in Belgium and stomped the time trial for 2nd place. Van Baarle, after misjudging some attacks on 2a stage, would only finish 8th overall but still good for a rider that had been going since early March. He finished up his spring campaign with two front group finishes at Ronde van Vlaanderen and La Côte Picarde Nations Cups.
Except to see more out of the young Dutchman this year and I wouldn't be surprised to see him called up to Blanco (or another Dutch team) for a stagiaire role this fall.
2. Jasper Stuyven (Bontrager CT)
Stuyven has been a prodigy since his junior days and has continued his rise through the early part of this season. Hailing from Leuven, Stuyven was a junior World Champion at just 17 (2009, Moscow) and followed that performance up with a Junior Paris-Roubaix win in 2010. After two building years in the espoir ranks, Stuyven came into his own this year. Not starting in the early Belgian classics, Stuyven and his Bontrager squad opted to open the season at the Volta ao Alentejo in Portugal. Stuyven was impressive on the race's first uphill finish, finishing 7th and in the first group behind winner Daniel Silva. To follow this performance up, Stuyven joined a powerful breakaway halfway through the 2nd stage and broke away with Chad Haga at the end and sprinted to his maiden victory of the season. Stuyven continued his domination with 4th, 6th and 7th places on the final three stages, with the final 7th place coming on another uphill finish. Stuyven wrapped up overall honors along with the points and youth classifications.
Photo: pad.pt
While his climbing skills might seem impressive for his stature, Stuyven's eye is firmly set on the northern classics and he came into the Ronde van Vlaanderen Nations Cup with high hopes. Stuyven attacked late in the race this year on the Holleweg but was brought back. Before he could be silenced, Stuyven went on a final kilometer mad escape with Ignazio Moser and Kiwi Kieran Hambrook and was only brought back with 150 meters to go, having to settle for 31st. After finishing in the front pack at La Côte Picarde, Stuyven had his eyes set on the Liege-Bastogne-Liege U23 race, hoping to make an impact but was put up against stiff competition. After seeing his teammate Nathan Brown escape up the road with eventual winner Michael Valgren (CULT Energy), Stuyven lept out of the peloton on the Côte d'Ans and brought himself up to Dutchman Martijn Tusveld and won the sprint for 3rd place. Stuyven, along with Sean De Bie, will be headed to Florence, Italy to preview the World Championship course with, among others, Tom Boonen. Boonen himself was a podium finisher at L-B-L U23 (2nd, 2001) so perhaps Stuyven is following in his footsteps? Only time will tell.
3. Caleb Ewan (Jayco-AIS)
If you have read this blog for a while, you will know my dislike of directly comparing riders of different generations. While this is true, Australia might have found a new 'Pocket Rocket' in Caleb Ewan. Last year's silver medalist in Valkenburg in the junior World Championships behind Matej Mohoric (Slovenia), Ewan is the next big sprinting talent to come out of Australia; so prodigious in fact that he could be compared to the now-retired Robbie McEwen in some ways. He is in fact short at just 165cm (5'4") but he packs an unreal sprint, very similar to McEwen's sprint in his prime years. While he possesses a McEwen-esque sprint, Ewan doesn't sink like a stone like Robbie did when the road tilted upward.
Ewan is a former junior world omnium champion on the track, having won in 2011.While still only 17 in early 2012, Ewan won two criterium stages of the Jayco Bay Cycling Classics over experienced sprinters such as Allan Davis, Bernard Sulzberger and Leigh Howard. While being primarily a sprinter, Ewan also won the junior national TT championship. 2013 started much of the same for the young Australian as he won the opening criterium of the Bay Classics and went on to win the overall. Enrolling with the Jayco-AIS Australian National Development squad for 2013, Ewan quickly went to work once the team hit European soil. After Silvio Herklotz' brave descent went awry in the GP Palio del Recioto, Ewan was able to beat the German in the final sprint by multiple bike lengths and took a win in his first European race of the season. This win is quite impressive because of the fact that Ewan spent a large amount of time in the breakaway and survived the final climb with enough energy to latch on to the leading group. At the Trofeo Piva Banca, Ewan finished 8th and won the group sprint ahead of Italian fast man Andrea Zordan.
Photo: Velostory.net
Ewan entered his first Nations Cup race with the Australian national team at La Côte Picarde and was carrying hot form. Simon Yates (Great Britain) launched a vicious attack on the final uphill of the race with ~15km to go and Ewan got into the counter attack with Sean De Bie, Jan Polanc (Slovenia) and Kristian Haugaard (Denmark) and latched onto Yates shortly thereafter. Ewan once again took the race by the scruff and won convincingly ahead of De Bie and Yates.
Ewan will no doubt get more wins this season and could possibly jump to the World Tour after only one season in the espoirs ranks. There was even talk of Ewan jumping directly from the junior ranks to the Saxo-Tinkoff World Tour squad but after Brad Mcgee's departure from the squad, these plans were dashed. Really, this kid might be quite small but he is the real deal.
4. Fredrik Ludvigsson (People4You-Unaas)
Before this season, if you would have asked he about "that Swede Ludvigsson" I probably would have started going on about Argos-Shimano's Tobias Ludvigsson. Well...about that. Tobias has a younger brother and he could possibly be even more talented but again, only time will tell.
Before this year, Fredrik (whose name I have been spelling wrong for the last month and a half) was a talented junior but wasn't a rider that was tipped to be the next big thing. In his final junior season, Frederik earned the mountains jersey at the junior Peace Race and finished 2nd overall in the Trofeo Karlsberg Nations Cup race, thanks in large part to a phenomenal TT performance.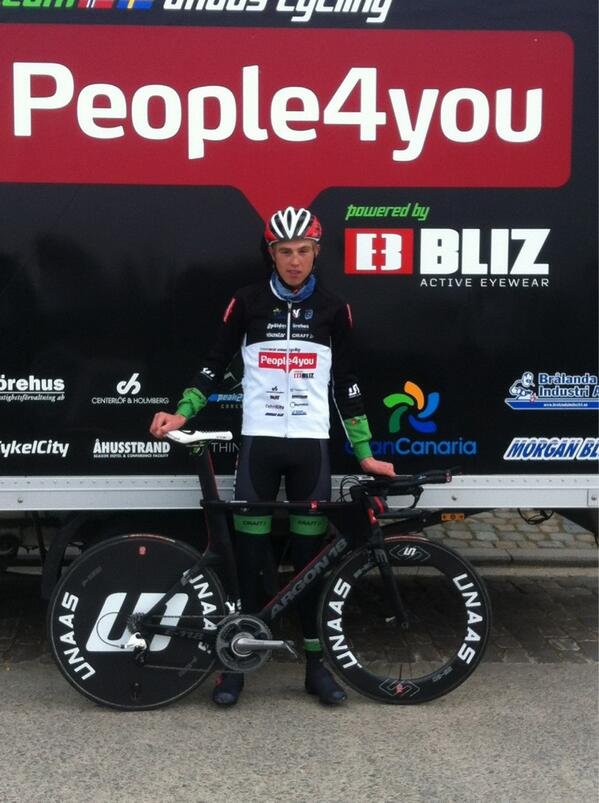 Photo: Twitter @Ludvigsson94
Coming into this year, I had no idea who this guy was. Even after a few Belgian races, he was pulling mid-pack results, which is commendable in itself for an 18-year old. Then came the Tour de Normandie. Ludvigsson did what Swedes do when they come to this race and he sped through the prologue, an event his brother won 2011, and finished 4th. Fredrik's performance over the next week showed strength beyond his years and when it was all said and done, the young Swede was 5th overall.
The following weekend, Ludvgisson followed that performance up at the Boucle de l'Artois, another nice romp around Northern France. Fredrik made the large, decisive breakaway on stage 1 and the next day he demolished the TT, winning by a comfortable margin heading into the final afternoon stage. Being an uphill finish, Fredrik would have to be quite attentive but he handled it with aplomb, finishing 5th on the stage and securing his overall victory.
The young Swede's spring was not yet done as he was called up by the Swedish national squad for the first batch of Nations Cup races. Having ridden cobbles only a handful of times, Ludvigsson was present in the Ronde van Vlaanderen and made the leading split multiple times before settling for a 19th place finish. Places to watch Ludvigsson will be stage races (especially the TTs) and harder one-day races.
T-5. Andrea Zordan (Zalf-Euromobil)
Seemingly every year, there is this new great Italian prospect that wins a truckload of races in the amateur scene, gets picked up by a Italian pro team and then goes on to a career of varying success, sometimes prolific and other times underwhelming. Francesco Chicchi, Danilo Napolitano, Andrea Guardini, Dario Cataldo, etc. are just a few examples. This year, Andrea Zordan has been racking up the placings with his Zalf-Euromobil squad.
Zordan was the Italian junior champion in 2009 at just 16 but in the lead-up to the World Championships that year,
he was sent home from a training camp with a hematocrit of 50.9
, just above the legal limit and above his usual reading of 49. No doping accusations have been put against Zordan and the high hematocrit seems to be natural ala Damiano Cunego. 2011 and 2012, his first two year sin the U23 ranks were spent with the powerhouse Trevigiani Dynamon Bottoli squad, where he gained only two wins and a handful of places. A controversial switch to one of Trevigiani's archrivals Zalf-Euromobil for 2013 has lead Zordan to greener pastures.
Zordan (r) beats Villella (l) at Edil C
Through the early spring, Zordan has sprinted to 4 wins but the way that he has won is what is interesting. While he certainly possesses a knockout sprint, Zordan has won his races from smaller groups on more selective races. Zordan took the early season GP Ceda in a big sprint. Zordan then took the Trofeo Balestra win a selective sprint. Then the Venetian embarrassed Davide Villella, the superstar from Team Colpack, twice in a row by beating him at both the Trofeo Mario Zanchi and Trofeo Edil C, sprints that were from select groups, which showed off Zordan's versatility.
You need to look past the wins to see how well Zordan has been doing this year. He was 4th at the Giro del Belvedere, where he won the chasing group sprint behind the leading trio. He won the uphill bunch sprint at the GP San Guiseppe for 10th, again over Davide Villella. This consistency could translate well to the next level if Zordan continues to hone his sprinting skills. It does still remain to be seen how he stacks up against international competition but with the GiroBio on the verge of being scrapped, he might not get that chance until later in the summer.
T-5. Rick Zabel (Rabobank Develpoment)
Rick Zabel seems to be imitating his father's victory salutes...hopefully he doesn't forget to post up too early? Zabel has been one of the more talked about U23s partially because of his famous father but also because of his talent. Every since his father was racing the Tour de France, young Rick could be seen in pictures with his green-jersey clad father. While Rick might have been talked up, his results were strong but perhaps not meeting up to the high praise he was getting by commentators. His crowning achievement as a junior was finishing 5th in the World Championships in Copenhagen but outside of this result, he didn't rack up any international victories.
In Zabel's first espoirs season last year, the German only racked up one win with the Rabobank Continental outfit, the German National U23 Road Race. The German also racked up high finishes in races such as Ronde van Vlaanderen U23 (20th), Ronde van Limburg (2nd) and Paris-Tours Espoirs (12th).
Coming into 2013, Zabel and German teammate Ruben Zepuntke stuck with the Rabobank Development squad even though the team was now technically run by the KNWU (Dutch Cycling Federation). This season has been a breakthrough one for Zabel. Zabel struck gold at the Tour de Normandie when he out sprinted a select group of riders on the 5th stage into Bagnoles-de-l'Orne. After some strong racing at Le Triptyque Monts et Châteaux, the German set his sights to the Ronde van Vlaanderen Nations Cup. Sitting near the front all day, Zabel stayed clear of trouble and coming into the finale, the German freelanced his way through the sprint and when the dust settled, the German sat up comfortably ahead of Dutchman Dylan Groenewegen.
This is a key thing when we look at young Zabel...he isn't his father. As of now, I do not see Rick going into every bunch sprint and trying to go for the win. Zabel might be able to do something his father got close to but was never able to do and win a big Northern Classic. He has all-around skills that are impressive and he shouldn't be pigeon-holed into the sprinters mold.
On the Rise
While not everyone can fit into the top 5 (or 6) there are other riders that deserve a mention, in no particular order...
Photo: La Fundacion Euskadi
Carlos Barbero (Euskadi)
While his team might be on the verge of collapse, Carlos Barbero's impressive results so far this year have been the saving grace of the squad. You'd be right in seeing that Barbero isn't a Basque name. Barbero is from the Burgos province originally but has developed in the Basque system, first at Naturgas Energia and then with Orbea/Euskadi. Over the winter this year, Barbero talked about wanting to improve his fast-twitch muscles and his hard work has started to pay off.
Barbero gained some attention with four top 10 stage placings at the Volta ao Alentejo in early March along with 9th overall in the race. Then came last week's Vuelta Castilla y Leon, where Barbero unleashed power that hadn't previously been seen before. Always staying near the front of the race, Barbero finished 5th and 6th in the first two stages, relatively good results against teams with better organization. On the final 3rd stage on an uphill finish, Barbero lept out of the chasing pack and finish 3rd on the stage, only finishing 7 seconds behind stage winner Ruben Plaza.
Barbero was selected for the Tour de Azerbaijan (the annoying Eurosport commercial race) with the Spanish U23 National squad.
Damien Howson (Jayco-AIS)
Mister Howson...where do I begin. In his 2.33 years as a U23, Howson has steadily risen through the ranks but now he is nearing the top of his class and the future is looking very bright. Howson is a bit different than some of his countryman who stormed the U23 ranks in that while he spent time on the boards of the velodrome, his focus has clearly been on the road. If this is because of a lack of interest in the track or not fitting in with the program, Howson has dedicated himself to the time trial and has slowly morphed himself into a GC rider.
Howson attacking his favored discipline (Photo: PelotonCafe)
In his first U23 year, Howson was Oceania TT Champion and finished 9th in the World Time Trial Championship. His 2nd year in 2012 led to even more success with another Oceania TT Championship and a 3rd place at the World Championships in the TT. You sense a theme here with the TT, no? I should say that 2012 was also promising on the GC front with 7th in the Tour Alsace (won by Jon Tiernan-Locke) along with a 2nd in the TT.
Seeing the TT theme here, Howson continued this streak into 2013. Sticking with the Jayco-AIS WorldTour Development squad, Howson won the Australian U23 National TT and the Oceania TT Championships, his 3rd straight victory in the event. Howson also got a chance to ride the Tour Down Under, where he had a day out in the breakaway to show off some of his power. When the team hit the European circuit, Howson rode incredibly, finishing in the top 10 in the first three races. He was 5th in the Giro del Belvedere (1st chasing pack), 7th in the Palio del Recioto (front pack) and 3rd in the Trofeo Piva Banca (breakaway of three) <----Impressive (slow clap).
Except to see Howson in stage races such as the Olympia's Tour, Tour de l'Avenir and important time trials in the lead up to the World Championships in Florence, where he will be targeting the win.
Silvio Herklotz (Stölting-Ruhr)
I have written about Herklotz at length so far this season.
See my profile of Herklotz
from earlier to get more background on the rider from the outskirts of Berlin. He is one of my favorites and I hope to see him when there is more racing video. Sadly, Herklotz hasn't been racing much since his last race at the Palio del Recioto, where he crashed on the final downhill at high speed. With the cancellation of the Toscana Terra di Ciclismo Nations Cup stage race, Herklotz rode one local German event (where his teammate won) and will be racing next at the Rund um den Finanzplatz Eschborn-Frankfurt U23 event, which could be a good course to suit his all-around skills.
Davide Villella (Colpack)
Villella humiliates Barbin (r) and Fedi (l) Photo: Cyclingforall.net
Perhaps that wasn't Davide Villella's finest moment...or perhaps it was. This guy definitely has some style though and as long as he keeps himself in check (and keeps producing results), I have nothing wrong with that. Riding for one of the Italian powerhouses, Colpack, Villella exploded onto the scene in 2012 with 11 wins and 37 top ten placings, beating some of the big guns of the Italian scene. While nearly all of this happened in Italy, Villella also put in a very strong performance in Worlds, attacking in the late race breakaway and trying to push the pace.
2013 and the story is the same with Villella putting in some incredibly strong rides except the Milanese rider has yet to get a win. When I say that Villella has ridden strongly, his lowest placing is 20th, which was a front (chasing) group finish at the Trofeo Piva Banca. In the span of one week, Villella was denied twice by Andrea Zordan (see above) in sprint finishes. He will get a victory soon and there is a strong possibility that Villella could crack the top 5 soon.