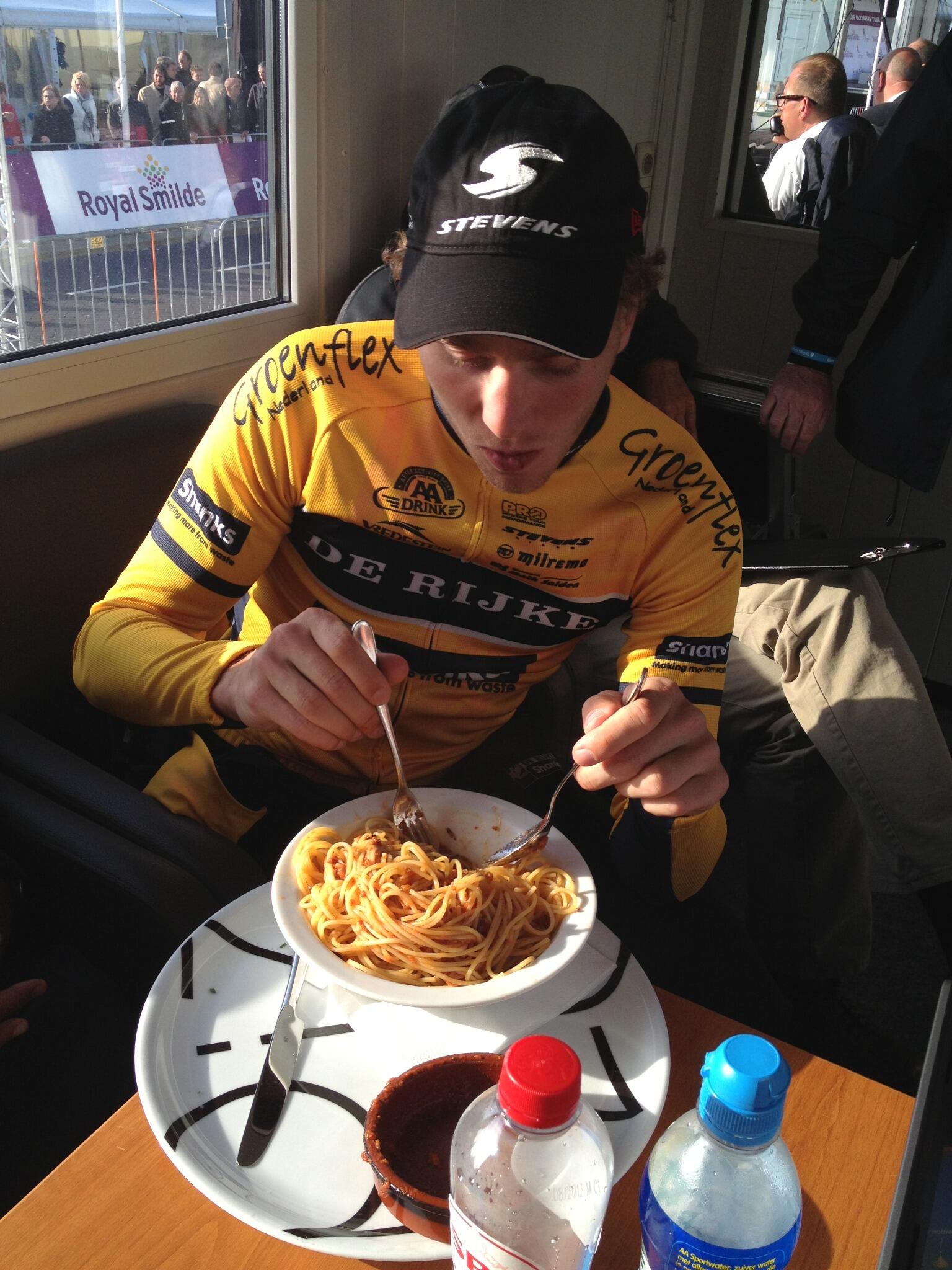 Coen Vermeltfoort making faces at his dinner
(Photo: Olympia's Tour Twitter)
I will never say that I was a normal child. Reserved and shy, I tended to hang on the fringe when I was in school and unless I was comfortable with my surroundings, I would be quiet albeit for the random teenage-charged political outburst. I guess that is what drew my to cycling in my teen years; the solitary hours out in the countryside where I could get lost in my thoughts. Before this goes into a long diatribe about my youth...when I graduated high school a bit early, I asked to go to see the Ronde van Vlaanderen in person for my birthday/graduation present and ended up going to some surrounding areas during my sojourn.
Well, I ended up staying a few days in Noord-Holland and I found it to be a very gorgeous place. I was racing my bike at that point and even though I was in good shape, there is one thing that sticks out to me about the place. The wind. My god...I would go on a ride from Edam to Hoorn along the coast and it could be incredibly easy or insanely difficult, just do to the fact that my pace was dictated by the direction and force of the wind. I would love to go back there sometime...
Just riding in these conditions makes me feel for guys and girls who are racing in this stuff that aren't the best in windy conditions where one position could mean the front group or being spit out the back. A very windy, flat stage that causes big echelons can sap someone's energy just like a a hard stage in the Tour de France. The Olympia's Tour is the antithesis of these racing conditions and Stage 2 was no different.
Starting in Rhenen at a zoo, it was a group of four that dominated the majority of the early racing. Berden De Vries (Jo Piels) Dries Hollands (Metec) Ritchie Motke (Baby Dump) and Joeren Segers (3M) got away after Johim Ariesen (Jo Piels) took the two "hill" points on the course. The quartet of riders got only a minute before the peloton started to reel them back in because Motke was only 49 seconds down on Coen Vermeltfoort (De Rijke-Shanks).
As the race reached Almere, the breakaway was neutralized but that doesn't mean that the pace let up. In fact, the race went into tatters. Nearly half the field was dropped as the pace was ramped up before the race hit the 27-kilometers long Houtribdijk dam that links Flevoland and Noord-Holland. The race split into three groups but the front group was still 60 riders long after the crossing the long dam. To say that this race was fast was an understatement. As the front group went over the bridge, they were over 20 minutes ahead of the fastest time check.
And then the race hit Noord-Holland...
After Vermeltfoort and Rabobank Devo's Dylan van Baarle duked out some bonus sprints, the race blew to pieces as it went through Hoorn. That group of 60 was cut in half with only 26 riders making the fron echelon for the finale, with Rabobank Devo and Koga each having 5 riders but once again, Coen Vermeltfoort was isolated after his De Rijke-Shanks teammate couldn't hang with the nearly 48 km/h average speed.
The gap was tenuous as the 2nd echelon, made up of nearly 20 riders, was trying to reconnect. It looked like it would be down to a sprint into Theo Bos' home of Alkmaar but there was a stick thrown into the wheel by an unlikely name. Even with 5 riders in the front group, the Koga team was missing their sprinter Wim Stroetinga, who was stuck in the 2nd group. Robin Chaigneau can sprint on occasion but he was having some troubles in the final kilometers. So what to do?
With two kilometers left, it was Arno van der Zwet who attacked the race and instantly got a big gap. A former Dutch points race champion and primarily a track rider, van der Zwet put the suffering skills to good use here as Metec and others gave him too much room in the end to take a fine solo victory. Just two seconds behind, it was Jeff Vermeulen taking the sprint once again, this time over Wouter Wippert (3M) and Clinton Avery (New Zealand).
Thanks to taking some bonus seconds, Vermeltfoort kept his overall lead over Vermeulen but it is now only four seconds.
Stage 2 Olympia's Tour Rhenen-Alkmaar
Arno van der Zwet (Koga) 3:37'07"
Jeff Vermeulen (Metec) +2"
Wouter Wippert (3M) all s.t.
Clinton Avery (New Zealand)
Johim Areisen (Jo Piels)
Mitchel Heunders (Park Hotel)
Joris De Boer
Cameron Karwowski (New Zealand)
Jim van der Berg (Koga)
Mike Teunissen (Rabobank)
G.C.
Coen Vermeltfoort (De Rijke-Shanks)
Vermeulen +4"
van der Zwet +6"
Dylan van Baarle (Rabobank Development) +9"
Campbell Flakemore (Australia) +13"
Jesper Asselman (Metec) +14"
Cameron Karwowski (New Zealand) +15"
Adam Phelan (Australia) s.t.
Robin Chaigneau (Koga) +20"
Jasper Bovenhuis (Rabobank Development) +22"
Fact on today's winner:
Arno van der Zwet is in a relationship with German cyclist Lisa Brennauer of Specialized Lululemon