In the span of two days, my #1 espoir of this season, Dylan van Baarle (Rabobank Development), turned the Olympia's Tour on its head and took over the race lead by winning the 4th stage, placing 3rd in the 5th stage TT and then sewed up his lead on the 6th and final stage of the race.
The 4th stage of the race was described as hell by many riders as the course featured 27 hills, 15 of which were KOM points, along with windy and wet conditions that made it absolutely brutal to be on the bike. Even though the conditions were absolutely shit, van Baarle said post-stage that he had to control himself because he felt so good on the bike. The road conditions, because of the rain, were horrible as Shimano neutral support ran out of spare wheels just halfway through the race.
Van Baarle tried to get away early in a breakaway move but he flatted out of it, which he said was probably for the better as it saved his legs for later in the race. It wasn't until 50km to until the split was made with van Baarle getting away with Stefan Poutsma, Dylan Groenewegen, Peter Koning, Elmar Reinders and Arno van der Zwet. The group worked well together and with van der Zwet in 3rd overall and van Baarle in 4th, it would come down to these two riders to decide who would be the next leader.
With 15km to go, it was van Baarle who jumped out of the pack with only Groenewegen was able to hold onto his wheel but unfortunately, a flat took him out of contention and van Baarle was clear for a solo finish. The Dutchman kept extending his lead and by the time he crossed the line, it was up to 29 seconds over the chasing group and nearly 3 minutes on the next group behind them.
Saturday's morning TT was nearly a mere formality for van Baarle, who is a specialist in the discipline. It was Campbell Flakemore (Australia) who was able to take the win in Reuver over teammate (and World's silver medalist) Damien Howson with van Baarle finishing in 3rd and extending his overall G.C. to 1:29. Peter Koning (Metec) moved up to 2nd overall with van der Zwet going to 3rd and Elmar Reinders (Metec) in 4th.
The race wrapped up with a fast split stage on Saturday evening with only 80 kilometers on tap.
The pace was fast with multiple attacks but nothing got a big gap as Koga was deadset on getting Wim Stroetinga a stage win after being denied multiple times by points leader Jeff Vermeulen (Metec). Keeping an average speed over 47 km/h, it was Koga who led it into the final kilometer and delivered Stroetinga to the line for his first stage victory this year.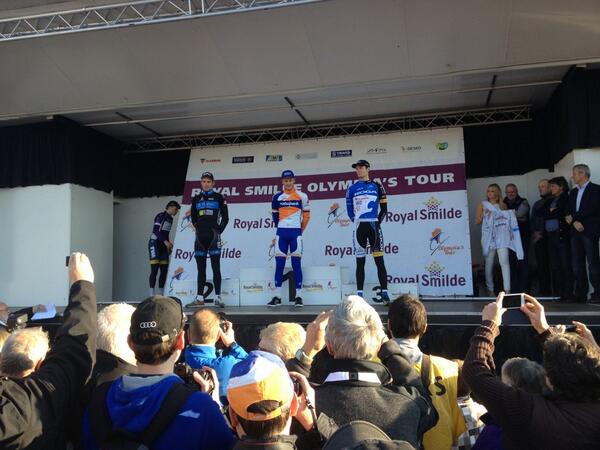 Dylan van Baarle finished safely and wrapped up his 2nd in a row Olympia's Tour overall, the first rider to go back to back in the race since Servais Knaven in 1992-93. Van Baarle had some other exciting news announced on Saturday but you will have to wait for a little bit and another article...