Are we back in 2010? Did the flux capacitor hit 1.21 gigawatts while he went 88 mph? Okay, maybe Coen Vermeltfoort didn't go that fast today but the De Rijke-Shanks rider looks to be back to the form that got him a place on the Rabobank World Tour team in the first place. Vermeltfoort absolutely stomped the breezy prologue in Katwijk today as he was one of only four riders to go under 4 minutes on the 3.2 kilometer course and beat a trio of Australians on his way to his 6th Olympia's Tour stage win.
The prologue in Katwijk started off the 61st Olympia's Tour and even though there was a lot of strong riders here to contend for the win, there was no clear favorite. Obviously the Australians would be strong as the majority of them have a pursuit background but with riders such as Vermeltfoort, Dylan van Baarle (Rabobank Development) and others, there were no guaranteed victoires.
Early on in the race, it was Australian Alex Morgan who took the lead and was the first man to go under four minutes. Morgan was 4th place in the junior world TT championships last season in Valkenburg and was World Champion this year in the elite men's team pursuit at just 18 years of age. It wasn't until Vermeltfoort stormed across the line until the Australian was unseated.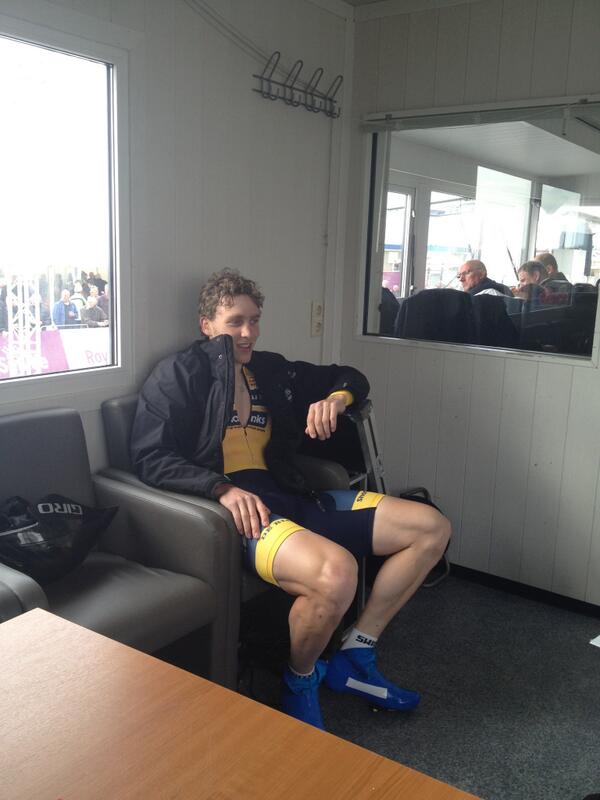 Vermeltfoort and his treetrunk quads in the hot seat (via Olympia's Tour twitter)
There was a strange event during today's race that paused the action for a while. A plastic inflatable, the ones that are usually seen at the side of the road with 1km to go banners and other places, blew over onto the road and neutralized the race for a while. Once the proceedings got underway again, it was the Australians that were knock, knock, knocking on the Dutch door as Damien Howson and Mitchell Mulhern came within two seconds of Vermeltfoort.
Last year's reigning champion Dylan van Baarle was no match for the strong man from Overijssel as he only managed 13th, 9 seconds back, which is still a very good performance and van Baarle will have his eyes set on the longer TT later in the week. Vermeltfoort got his 3rd UCI win in the last month and yet another boost of confidence after his bad luck-ridden two years at Rabobank.
In one of the most astonishing team performances that I can remember, the Australian national team put 7(!!) riders in the top 10. Seven. Seven riders finished within 4 seconds of each other. Wow.
Top 10 Prologue Katwijk-Katwijk
Coen Vermeltfoort (De Rijke-Shanks)
Damien Howson (Australia) +2"
Mitchell Mulhern (Australia) s.t.
Alex Morgan (Australia) +3"
Cameron Karwowski (New Zealand) +5"
Jesper Asselman (Metec) s.t.
Campbell Flakemore (Australia) s.t.
Glenn O'Shea (Australia) s.t.
Adam Phelan (Australia) s.t.
Bradley Linfield (Australia) +6"
Other notables include...
13. Dylan van Baarle (Rabobank Devo) +9"
18. Robin Chaigneau (Koga) +10"
25. Brian van Goethem (Metec) +13"
43. Berden De Vries +19"
104. Jesper Hansen (CULT Energy) +34"
Tuesday's stage is a flat affair which should end up in a bunch sprint at the finish in Hoofdorp but this being the Netherlands, a crosswind could break that up fairly quickly.