After finally coming to life at the Tour de l'Avenir, Matej Mohoric was able to pull away from a fatigued Julian Alaphilippe and then held off South Africa's Louis Meintjes to go back-to-back in his last two World RR Championships, after he won the junior World RR in Valkenburg last year. The results have been out there for days now and going through the race blow by blow is a bit redundant at this point but there is always time for some analysis.
Mohoric is talented but...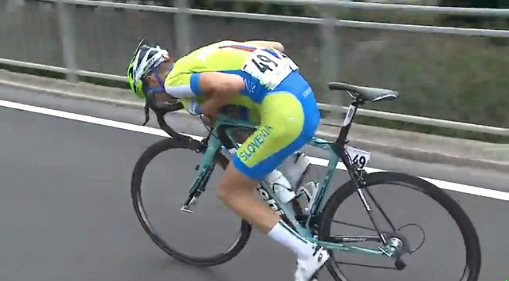 Mohoric doing some top tube descending
There is no denying that Matej Mohoric is talented and has the ability to go onto a big career in the pros but every time I think about his upcoming transfer to Cannondale, the more that I think that he could turn into a rider that 8 years from now will have questions of "he was a huge talent as a junior and U23 but hasn't panned out in the professional ranks." Mohoric was a phenom last year as a junior; winning 9 races in the last half of the season and soloing away on the Cauberg to take the World Title in the junior ranks. This year was slower with a quiet first half of the year but after a good Tour of Slovenia, Mohoric spent
7 years
2 weeks in Tibet at the Tour of Qinghai Lake, where he garnered 18th place on some of the highest altitude of any UCI race. This sparked a great Tour de l'Avenir, where Mohoric was in the break on the final two stages; gaining two 2nd places behind Simon Yates and Julian Alaphilippe, respectively.
Cue the Firenze Worlds and Mohoric was a dark horse but not one of the big favorites. Mohoric capitalized with some insane bike handling skills and thanks to a couple more kilos post-l'Avenir, some more top end power for the climbs. Mohoric churned a big gear, even on the steep climbs. It was an impressive display and he definitely earned the victory. But where will he fit in on the pro circuit at just 19? It would be dumb for Cannondale to race him more than 50-60 days. Past that, what kind of rider will he even be? There have been plenty of young phenoms that plateau early and never hit the heights they reached at a young age. Even more so, there is a lot of young talents that make it into the pros and do good things but there are still questions about whether they are truly fulfilling their talent.
Mohoric could go on to huge things, especially in some hillier races, but going into a World Tour system at a young age is a challenge so while he is on top of the world now, it might be a while before he hits those heights, if ever.
Caleb Ewan
...was impressive. While I knew that he could keep up on the hills, I all but ruled him out on the Florence course due to how selective the races was. Ewan put some egg on my face as he accelerated on the final lap to try and close the gap to Mohoric and Meintjes, creating a separation on the Via Salviati where only Simon Yates could follow the compact fast man. Ewan showed a lot of zeal on said attack on the Salviati and when the peloton came back together, Sondre Enger was able to beat him out for 3rd place. While it was a shame to miss out on a medal, this is a race which really marks Ewan as a danger man as a pro. Ewan, who announced he will be spending another year in the U23 ranks before heading for the World Tour, is really turning into an all-around rider that could be an partial answer to Peter Sagan in the near future.
Toms Skujins is a tough man
After Davide Villella punched Skujins off his bike at the Ruota d'Or, which lead to a knee injury, Toms lined up for the Worlds RR just days later and in the early going, his hopes were not high.
just want to say that in the first 40k I almost cried. why? it felt like some1 was stabbing me in the knee. so today's 5th felt like a win!
— Toms Skujiņš (@Tomashuuns) September 27, 2013
Skujins had to change bikes during the race but after a while, the Latvian's knee cooperated for the finale of the race. While the crash might have inhibited him in the finale, he was able to hold onto the leading chase group behind Mohoric and Meintjes and in one of the best stories of the day, came in 3rd in the sprint just ahead of Villella and good for 5th on the day. Now it is just a question if a team will get their head out of the sand and give Skujins a chance at the pro ranks.
WTF Belgium and Denmark?
Were they even in the race? Seriously, Jasper Stuyven talked so much trash going into the race and went on about how he would crush the race. Well, after good preparation, the results were a bit awkward. Stuyven missed the front split and finished 25th, 1'14" back on Mohoric. Off days happen so I can't give him too much shit but perhaps a bit less bragging to the media?
The rest of the team was a bit anonymous but while some knew the course would be quite difficult, others were definitely thrown for a loop and while the majority of the Belgian squad had good results leading into the race, they weren't ready for how hard the course was.
One disappointment that surprised me more was the Danish squad, which featured Michael Valgren and Magnus Cort. There were no Danish riders in the main split and the highest finisher was Cort in 36th place, 2'33" down. Cort, in an interview with feltet.dk, explained post-race that he was perplexed how the team all seemed to be on an off day for the race but that the course's technical nature made it hard to find a place to recover, which made eating and drinking difficult.
Other notables
-You might have noticed my omission of Louis Meintjes and his great 2nd place performance. The reason for that is that I don't believe Pro Continental riders should be allowed to race the U23 Worlds. They are making a pro salary and they weren't forced to move up to that level so they shouldn't be allowed to step back down and race with continental and amateur riders. I know that just because they are Pro Continental doesn't necessarily make them better, especially in the unpredictable U23 ranks, but when PC riders race full pro calendars, I find it incredibly dumb to let them come back for a more or less amateur event. In any case, Meintjes fully earned his result, which was a breakthrough for African cycling, so big congratulations to him.
-Nate Brown wasn't Plan A for Team USA but when "climbing specialist" Lawson Craddock, Gavin Mannion and Lawson Craddock all dropped away, Brown was the last man standing for the USA and he nearly turned it into a medal. After summiting the Via Salviati for the final time and running into the finish, 'Downtown' Brown attacked out of the final corner on the course in a huge gear and pulled away from the chasing peloton. As Mohoric was celebrating and raising his hands across the finish, Brown was dying 1000 deaths and trying hard to stay away from the peloton but was caught with 150 meters to go. It was a sterling effort by Brown, who will be going into 2014 as a neo-pro with Garmin Sharp.
-If Julian Alaphilippe would have waited to attack until later in the race, everything could have turned out much differently. Alaphilippe, who is turning neo-pro with OmegaPharma-QuickStep next year, but on a descending clinic when he went after the early breakaway with a few laps to go but when Matej Mohoric bridged up to him with less than two laps to go, Alaphilippe was not able to hang with the Slovenian on the climbs and eventually had to return the peloton, where he finished in 9th on the day. While Alaphilippe might not have been able to hang with Mohoric if he was more rested, he might have made it a bit more interesting in the finale as he has a much faster sprint that Mohoric. But now I'm just dreaming about scenarios...
-It was a good race for the younger U23s as Mohoric (1st), Enger (3rd), Ewan (4th), Silvio Herklotz (8th), Merhawi Kudus (15th), Odd Christian Eiking (16th) and Sebastian Henao (18th) all finished in the front group. All of those riders were born in either 1993 or 1994 and with the exception of Mohoric and Henao, all will be back for more U23 racing next year.
Please remember that just because a rider might break through with a nice Worlds result, that by no means makes them the next Gilbert or Sagan or Contador. There is no test or metric that will tell anyone that a rider will be able to make the jump from a U23 to a pro and excel. It has been shown the just because you are a superstar on the U23s, it doesn't automatically transfer to the pros. There are many problems that arise where a rider hits the pros and flounders such as lack of training structure (Popovych), overtraining which can lead to anorexia (Pliuschin) and even more extreme cases like Dmytro Grabovskyy's alcoholism. Injuries can pile-up and bad luck can plague a rider. No one can see the future and a rider can do everything right and it won't come together.
I rant because there will be a deluge of news articles and press releases about such and such being the star of the future and a promising talent just because they got some results as an amateur. Remember Fabio Duarte winning the U23 Worlds in Varese in 2008 ahead of a visibly angry Simone Ponzi? Remember how good Duarte is doing now? He is still living off that result right now and while he had bright flashes at the Giro and some other races, he can be wildly inconsistent. Duarte had some fucked up experiences as a young racer in Colombia but his promise is still bigger than his results. He is turning 28 next year and he really has to make the next big step in his career. Duarte is just one of the riders that have done well in the U23 Worlds and have yet to reach those heights again. Just like the some high placers in the Tour de l'Avenir, the inflated promise of some can lead to diminished returns.