Caleb
Ewan
(Australia - Jayco-AIS - 1994)
@CalebEwan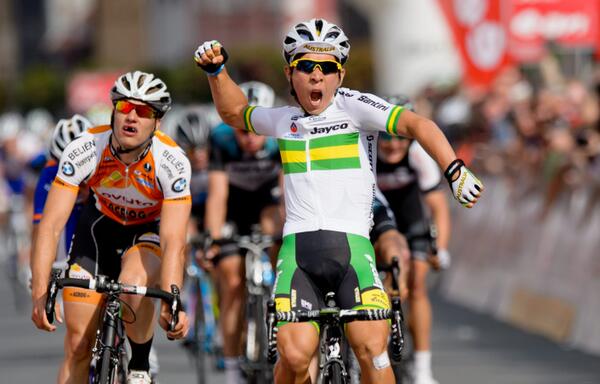 Is it me or is Ruben Geerinckx (l) missing his front teeth?
Oh and Ewan is winning the 4th stage of the Thüringen Rundfahrt
With the hype that has surrounded Caleb Ewan since his junior days, it is easy to forget sometimes that he is just 19 years old and while he has signed with Orica-GreenEdge, people need to remember (looking at you CyclingNews) that he will not be joining the team until August as a stagiaire and then October as a full professional.
Ewan was a junior world champion on the track (omnium) and at just 17, he upset Allan Davis and Leigh Howard for two stage wins at the Bay Crits. His inaugural European campaign was filled with podium places, along with a couple wins, and culminated with a 2nd place in the junior worlds RR behind a solo Matej Mohoric.
While some Australians start the year off with a bang for nationals, Ewan won the Bay Crits opening stage along with the overall but then took Nationals easier than most in preparation for a long European season. Ewan started his Euro season off with a bang at the GP Palio del Recioto. After joining the early break and hanging on tough on the final climb with Luka Pibernik, Ewan latched on to the streaking chasing group that was going after Silvio Herklotz. After Herklotz crashed on a wet descent, a group of nine formed for a final sprint where Ewan bested a bloodied Herklotz and Pibernik. Ewan put up a similar result at La Cote Picarde, when he joined the late breakaway and out sprinted Sean De Bie and Simon Yates for the win.
Ewan notched up two stage wins at the Thüringen Rundfahrt but was beat on other occasions by Jan Dieteren (Ewan in 10th) and less so, for 3rd by Simon Yates (Ewan in 9th). After a stage win at the Tour Alsace, Ewan took the opening two sprint stages at the Tour de l'Avenir along with a 3rd on
stage three. Ewan finished off the year with an impressive climbing performance at the Firenze
Worlds where he attacked on the final climb of the Via Salviati but failed to bridge to Mohoric or
Louis Meintjes.
Ewan is going to be a fantastic sprinter no doubt. He reminds me of Cavendish in that he isn't the tallest and can get into a low tuck on the bike while sprinting. One thing he needs to work on is the number of DNFs that he gets himself. He had 7 DNFs this year and while at least one was due to a crash, that comes to somewhere around 12-15% of his starts ended up as a DNF. While I'm sure that
his endurance will continue to grow over the years, it is something to take notice to. Though at this point, I am just finding nits to pick. He is a beast.
Sondre Holst Enger
(Norway - Plussbank- 1993)
@sondreholstenge
While some people went a bit out of control at the Tour of Norway and called him "the next Peter Sagan", it is time to bring them down to earth a bit. While I always detest when riders are referred to
as "the next whatever" , it really got under my skin when Enger was referred to as the next Sagan.
First of all, I have never seen him do a wheelie on the finishing straight. Second, Mr. Sagan has done some things that have not been seen since Sean Kelly.
Enger was a strong junior that had strong results of varied courses including the European Junior Championships in Offida (8th) and the World Junior TT Championships in Copenhagen (10th). Enger's first big senior result was when he was 4th on the opening stage of the Tour of Norway last year behind Jonas Ahlstrand, Alessandro Petacchi and Edvald Boasson Hagen.
After a slow start to this season, Enger finally came out during a week in Scandinavia where he
scored two 6th places along with a 3rd place in the Ringerike GP. Where Enger got his Sagan comparison comes from his torrid late spring campaign. Starting at the Glava Tour of Norway, Enger was able to stay with the front groups throughout the week and chalked up four top-7 finishes along with a 4th place on the queen stage and a 2nd place on the final stage. It was an incredible performance for a 19-year old rider but it is important to remember that this race didn't have a lot of hills and sprinters are known for being able to show their talents at a younger age compared with climbers. Enger continued his hot form across the pond at the Coupe des Nations Ville de Saguenay. While he did not win a stage, Enger made the GC breakaway on stage 1 and gained enough time bonuses in the sprint finishes to overhaul Alexis Gougeard for the GC win.
Post CdN Saguenay, Enger went a big quiet compared to his earlier form and at the Arctic Tour of Norway, his best result was a 5th place in a sprint. At the Tour de l'Avenir, Enger went toe to toe with Caleb Ewan once and got his ass handed on the 2nd stage, settling for 2nd. Enger was able to get some revenge at the World Championships when he was able to stay with the front group over the final hills and beat Ewan in the sprint for the bronze medal.
Enger is a great talent and he should have a successful pro career but at this point, do not overhype him. He is great when he is on form but when he isn't on 100%, he isn't there in the bunch gallops or fades in the sprint. He is a big guy and will need some work to get over bigger hills consistently so he can compete with Ewan next year and in the future in the pro ranks.
Odd Christian Eiking
(Norway - Bergen SK - 1994)
@Oddeiking
Odd in Young Rider Jersey in Tour de Berlin
Photo via @Oddeiking
If he ever goes pro, Odd Christian Eiking will go down in cycling lore for having one of the most interesting names ever in the peloton. Messer Eiking had a few good results as a junior including 13th at the Junior Paris-Roubaix. This year, riding for Bergen SK along with Norwegian National Team, Eiking finished 2nd overall in the NorgesCup to Sondre Holst Enger and had two wins in Bergen and Trondheim rounds.
On the European circuit, Eiking put in some good rides. He made the decisive GC breakaway on stage 1 of the Tour de Berlin but after a good but not great TT, he finished the race in 10th overall.
His other notable result of the year was finishing 16th in the U23 World Championship RR, which was in the front group around names such as Ewan, van Baarle, Enger, Kudus...the cream of the U23 crop. Eiking has the talent in him so look for more of him next year, where he is slated to join the Joker team of Oskar Svendsen. On a side note, Joker will probably be riding new bikes next year, switching from Merida to Giant, reportedly.
The U.S. brings us two E's from two of the best development teams in the world in Bontrager (soon to be Bissell) and BMC Development.
Ryan Eastman
and
TJ 'Timo' Eisenhart
were two successful American juniors that have developed in two different ways.
Eastman (
@RyEastman
) will be entering his 4th year with Bontrager and while he doesn't have a huge amount of top results, he is one of the hardest working riders for the Bontrager squad and is known for his selflessness, slaying himself for others on his team. He has ridden strongly in Tour of California and Tour of Colorado, both of which he has finished twice, along with other races such as Tour of Utah and Tour de Beauce. 2014 will be a big year for him because while his hard work is very admirable, he will need to show his worth and perhaps nab a result to gain a pro contract.
TJ Eisenhart
Eisenhart (
@tjeisenhart
) took a different course this year and joined the BMC Development squad, which was new for 2013. Eisenhart had impressive junior results and as a junior in 2012, he won the Tour du Pays de Vaud and Tour de l'Abitibi overall and was 3rd overall in Trofeo Karlsberg. This year, Eisenhart transferred to the U23 ranks with aplomb. Eisenhart rode well in GP Palio del Recioto and Liege-Bastogne-Liege U23 and then came back stateside for the Tour of the Gila, where he rode to 26th overall. So nothing too exciting, yes? Eisenhart began to heat up mid-year when he finished 14th overall in Rondede l'Isard and 2nd in the youth classification behind Pierre-Roger Latour. He then went on to finish 6th in the Thuringen Rundfahrt in part to a strong TT and solid riding in the hills. He finished his inaugural U23 season by going 23rd overall at Tour de l'Avenir in support of USA National teammate Gavin Mannion. In all, it was a solid season for the Utah native and there are definitely big things to come for him. If he gets good results in the next few years, I bet five dollars that VeloNews will title an article "TJ 2.0".
Fun fact about Eisenhart...he started a small company last year, Panda Trinity.
Felix English
(Ireland - Rapha Condor -1992)
@FelixEnglish11
Many people might only recognize Felix English from his upset victory over Chris Hoy in the first round of the 2010 European Track Championships in Manchester. English had declared for Irish citizenship in 2010 in a hunt for the 2012 Olympics. While he didn't make the small Irish Olympic squad, English was able to make strides with career. The last two years English has been on Rapha Condor, which has a healthy diet of UK continental races along with some other European races. English got some good results this year during the Tour Series and other criteriums including a win in Otley. English had good rides in Boucle de l'Artois and Loir et Cher.
Now it is time to switch this series up...there are not a ton of E riders so I thought I would include some talent from the track and cyclocross disciplines.
On the CX side, we have
Tijmen Eising
and
Yannick Eckmann
.
Eising (
@tijmeneising
) is one of the worst stories right now because of an ill-timed firing that really should be illegal in the sport. This summer, Eising was informed by Sunweb-Napoleon Games dictator Jurgen Mettepenningen that his services were not wanted effective immediately. Dutchman Eising was saved by Metec-TKH to finish the road season but he has not raced at all this CX season. This is shocking because Eising has been in the top 10 in 3 of the last 4 U23 CX World Championships and was 4th last year in Louisville. While Eising would be racing with the elites now, it is sad to see the former junior world CX champion in this position. If anyone has more info, don't hesitate to inform me.
Eckmann (
@Eckmannia
) is a rising star on the US CX scene and this year, he has been featuring more in the front groups. Eckmann might be recognized because of his dual citizenship, German-American, which saw him win the U23 CX Championships in America and then race for Germany in Louisville for Worlds. Eckmann, who has lived in America since 2004 (his father is the president of Pearl Izumi), will be eligible to race under American colors after 1/1/14, just in time for Worlds. Riding for Cal Giant-Specialized, along with his older brother Robin, who also races CX, Yannick has already scored 9 top 10's this year, which includes three local wins and a podium at a UCI race (3rd, Trek CX Collective Cup). He is the big favorite for the USA U23 crown this year and should be a top 10 favorite at Worlds.
On the track side, there is Australian
Alexander Edmondson
and GB sprinter
Kian Emadi.
Edmonson (
@alexedmo
) is another Australian track prodigy that made the London Olympic team at just 18 years old as apart of the Team Pursuit alternate. Edmondson is the brother of racer Annette Edmondson and they were the first siblings to be on an Australian Olympic cycling team since 1976. Alex has three times been Australian champion in the Team Pursuit (South Australia) in the Elite ranks and was apart of the team that set the junior World Record in the team pursuit in 2011 that is still standing. In Minsk this year, Edmondson was apart of the World Championship Team Pursuit squad. While Edmondson will be focusing on the track until at least the 2016 Rio Olympics, he has been on a hot streak with the Australian domestic Euride team on the road this winter. Edmondson has won 6 times on the continental circuit this year, many of which were reduced sprints in breakaways, and has been on the overall podiums at the Tours of Gippsland, Great South Coast and Murray River.
Emadi (
@kianemadi
) is an emerging name in the GB track sprinting scene and is one of a few that is attempting to fill the huge hole that was left after Chris Hoy's retirement. Emadi was apart of the GB team sprint squad, along with Jason Kenny and Philip Hindes, that finished a dissapointing 6th in Minsk. Emadi has also been a bit of a kilo specialist and finished 4th in the World Championships though the discipline has gone down in recognition since it was chucked out of the Olympics. This summer, Emadi, along with Kenny and Matt Crampton, won the team sprint at a meet in Cottbus and the youngster won National Championships in the kilo and the team sprint most recently. Emadi has been described by British Cycling's Shane Sutton as a "long" sprinter, which suits him as the 3rd man in the team sprint and in the keirin. Emadi is still just 21 and by the time Rio rolls around, he should be primed to take on the German, French, Australians and Kiwis in the team sprint and perhaps an option for the keirin though Jason Kenny is still a viable option.