So we are nearing the mid-point of the season and guys are starting to hit their late spring peaks of form, which makes for some pretty damn good racing action. The U23 men will be ramping up their form for the stage racing season of June and July so some guys are taking it a bit easier while others are blowing their wads early. That's enough of an intro, right? I'm running out of tired clichés to describe June and it is literally the first few days of the month. Let's just get to the action...
Herklotz wins German U23 RR Title
In one of the more impressive displays of power this year, Silvio Herklotz (Stölting) broke away from a group of seven on the next to last lap of the German U23 RR. Located in and around the wine vineyards of Heilbronn, the race was located on a demanding hilly circuit that decimated the field. I know it shouldn't given the state of pro cycling in Germany but I am still surprised there is not a pro race in this region because in is constantly up and down around Heilbronn and the Neckar Valley and you could create a brutal circuit. But I digress...
The course was centered around Ilsfeld, a town just outside of Heilbronn, and followed a winding loop that took it through the white wine vineyards of the Neckar and up a climb to the finish. Stölting had a large team and drove the pace from the start of the 17 lap-9.1 kilometer loop race. A group of 7 that included Herklotz, teammate Max Werda and Nicodemus Haller (Thüringer Energie) among others broke away from the field in the later stages and without a proper chase, the gap ballooned out. on the penultimate lap, Herklotz launched an attack on the uphill back into Ilsfeld, which caused Haller and Raphael Freienstein (Heizomat) to react. They only were allowed a sojourn by Herklotz who dropped them quickly and turned on the afterburners on the last lap. With Herklotz zooming up ahead, it was Werda who was able to react against Haller and Freienstein and pass both of them. Herklotz was ecstatic as he crossed the line and was in disbelief and overwhelmed about what he had just done and was just as excited when he saw Werda crossing the line in second. The three other breakaway companions came in at 4:53 while Rick Zabel (Rabobank Develpoment) and Fabio Bruno lead in the chase at 5:22.
Full Results.
Herklotz (r) and Werda showing off the Stölting 1-2
This performance could have easily not occurred because the decision for Herklotz to ride only became definite three days before the race. Herklotz was coming off a tough Bayern Rundfahrt and after having experiencing some fatigue and less-than-ideal training, he came here hoping that his legs would turn around. Well, I think that question was answered, no? I have written about Herklotz previously and I am touting him as one of the brightest talent to come out of Germany in a while. Honestly, when was the last time Germany had a legitimate contender in hilly races, bar Fabian Wegmann? Herklotz could be the answer. I'm not one that likes to pile on a bunch of undeserved accolades but the way this guy rides, it is just incredible. This course was also used once in the past before and the podium from that day was Dominik Nerz, John Degenkolb and Julian Kern, all of whom are in the World Tour currently.
I should also note that Mieke Kröger won the women's U23 event on the same course earlier in the day. She won a five-up sprint over Katherine Hammes to take the title. Kröger was a very talented junior and she is in her first full year with Futurumshop.nl on the women's pro circuit.
Hansen doubles up in Denmark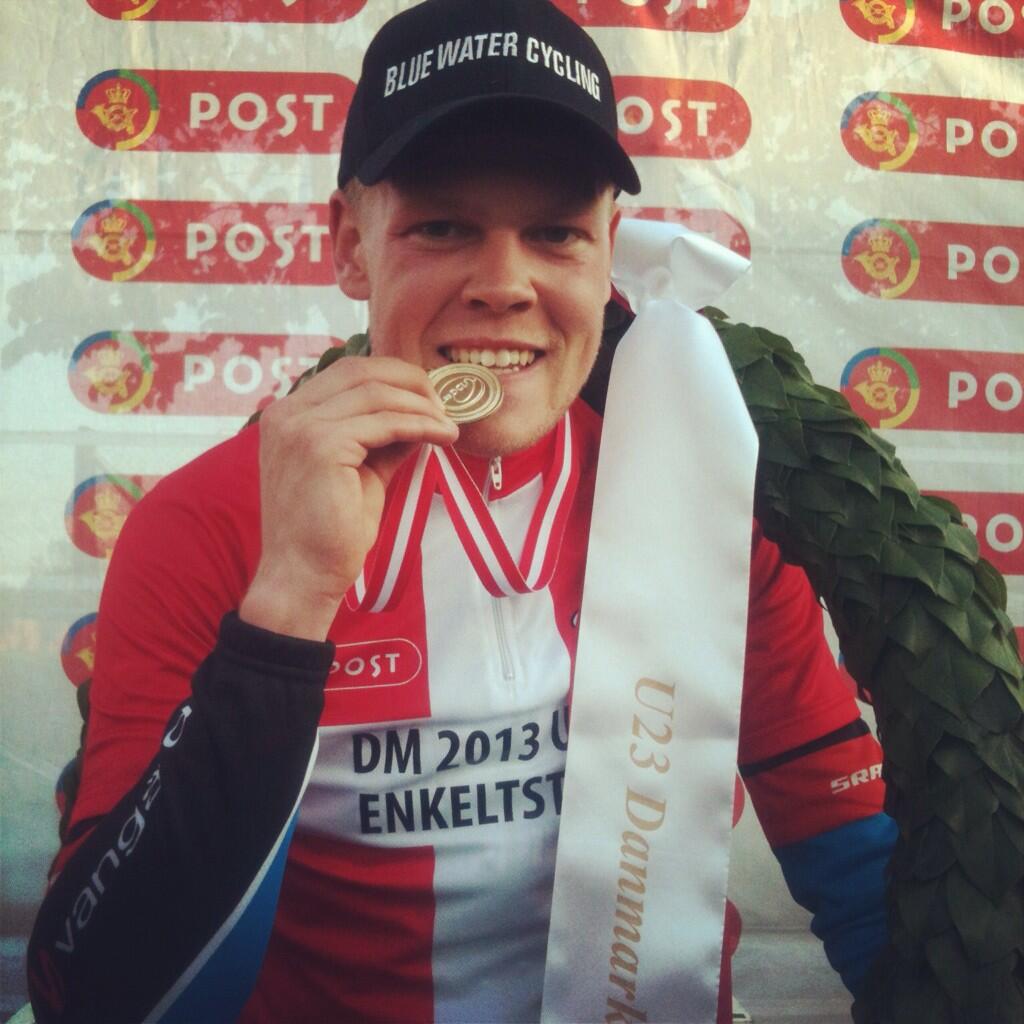 Photo: @dullemarulle via Twitter
In an impressive display just a week after signing a contract with Garmin-Sharp for next season, Lasse Norman Hansen gave Jonathan Vaughters a boost of confidence in his decision by taking both the Danish U23 TT and RR titles over the course of Friday and Sunday. Hansen (Blue Water Cycling) first took out the TT on Friday by flying around the ~32km course in a 48.5 km/h average and won the event by 20 seconds over Casper Folsach (TreFor) and 22 seconds on Rasmus Sterobo (CULT Energy). A small field contested Sunday's RR with Hansen taking to the lead with Michael Valgren, Alexander Kamp (CULT) and Kristian Haugaard (Leopard-Trek). With only 6 kilometers left, it was Valgren who suffered a flat tire and left Hansen with a solo victory ahead of Kamp and Haugaard. Hansen is the first Dane to do the double in the U23 championships and will look to go for a senior title in 2 weeks time.
Other results include...
-Damien Howson (Jayco-AIS) broke through for his first win of the season at the Trofeo Alcide Degasperi in a small group sprint win over Gianluca Leonardi and Simone Minali (both Zalf) just ahead of a sprinting peloton. Howson and the Zalf duo were apart of a breakaway of six that dominated the majority of the race and were able to stay away in the dying moments of the race as the chasing peloton were breathing down their necks.
-In one of the closer bunch sprints of the season, it was
Alessio Taliani
(Futura Team) taking the Coppa della Pace title ahead of
Graziono Di Luca
(Monturano) by a mere fraction with Pesche Nettarine di Romagna winner
Davide Formolo
(Petroli Firenze) settling for 3rd in the three-up bunch sprint.
Results and Recap via ciclismoweb
-
Julian Alaphilippe
(Etixx-iHNed) took out the GP Südkärnten (Austria) over Matej Mugerli (Adria Mobil) and Leonardo Pinizzotto (Nippo-De Rosa) in an uphill sprint. It was the 2nd win for Alaphilippe this year after his stage win in the Tour de Bretagne.
-
Michael Vink
(New Zealand) took a breakthrough win in the Memorial Van Coningsloo in a two-up sprint against Etixx-iHNed's Czech
Petr Vakoc
. Thanks to a late breakaway with just 10 km to go and a disorganized chase behind, the two were able to contest the sprint alone with Vink outfoxing the slower Vakoc. Behind, it was
Nicolas Vereecken
(AnPost-ChainReaction) taking the chasing group sprint for third ahead of
Jérôme Baugnies
(ToWin-Josan). Vereecken is the new leader of the Lotto U27 Top Competitie headed into the next round at the Fleché Ardennaise. Vink has had a lot of highs and lows in his career and hasn't been able to find his feet in the Europe for multiple reasons. Having multiple amazing rides at NZ nationals, he joined Trek-Livestrong in 2011 but while living in the US, he couldn't adapt to the altitude and essentially wasted a year. Vink joined the Belgian VL Techniks team in 2012 but still had a troubled year without much in the way of results. This year, Vink is again in Belgium but has spent a large amount of time with the NZ national team and seems to be finding his feet better in the European scene. Here is to hoping for him.
-
Frederik Ludvigsson
(People4You-Unaas) wrapped up a successful weekend at the Tour of Estonia with a 2nd place overall thanks to a great TT behind Estonian Gert Joeaar (Cofidis). Ludvigsson finished 4 seconds back mainly due to not getting another chance to get any bonus seconds due to the mainly flat terrain.
-On the juniors front, everyone needs to remember the name
Mads Pedersen
. By far and away, 2013 is the year of Pedersen. He has dominated the juniors scene with incredible performances. Pedersen won the Paris-Roubaix then went on to win the junior Peace Race overall along with two stage victories. This weekend's Trofeo Karlsberg was owned by Pedersen. The Dane won the final three stages in a row, including a time trial, and won the overall by 18 seconds over American Geoffrey Curran.
Stay tuned for a piece about Rick Zabel's move to BMC later this evening. To Be Continued...