I've been busy riding and not following cycling too closely for the last week, so we have a lot to catch up on here at Espoirs Central. Lots went on during my little sabbatical so let's get right to it.
Lasse Norman Hansen signs with Garmin-Sharp
You read that right folks...Jonathan Vaughters and Garmin-Sharp have made another huge signing for 2014 by coming to agreement with Danish Olympic Omnium Gold medalist Lasse Norman Hansen. This is the 2nd huge neo-pro signings for next year after the American squad signed Rabobank Development rider Dylan van Baarle penned a contract with the team.
Having struck gold with his pursuit and overall track cycling abilities, Hansen's abilities on the road might have been over looked by many. A prodigious junior talent that was a huge success on the tarmac and boards, Hansen has spent a large amount of his efforts as a U23 focusing on the track. Despite this, Hansen has accrued some nice results on the road. At 19, Hansen was Danish U23 champion over the likes of now Saxo-Tinkoff's Christopher Juul-Jensen and BMC's Sebastian Lander. Last year, Hansen was 4th in the U23 World TT in Valkenburg just a month after his Olympics triumph.
After medalling twice at track world's in Minsk to start off 2013, Hansen turned his focus to the road with his Blue Water Cycling Team. Hansen started off with a breakaway win at the GP Herning and 10 days later, he got into the final breakaway at the Rund um den Finanzplatz Eschborn-Frankfurt and took out the final sprint of four. Hansen then won the Tour de Berlin TT and finished 3rd overall in the flat stage race while his teammate Mathias Møller won the overall.
Hansen could go many ways as a rider. Obviously, his time trial skills make him a prime candidate for shorter stage races with a TT. He goes well in harder one-day races and has a good sprint as well but he does have weakness in really hilly stages and he isn't the most consistent rider, day after day, in terms of his form. Hansen has put on muscle due to his track riding and if he were to lose this weight, he could see benefits in his climbing skills that could make his stock rise high. In any case, this is another steal by Vaughters and co. in the early stages of the 2014 transfer season.
Jon Larrinaga takes Tour de Gironde for Euskadi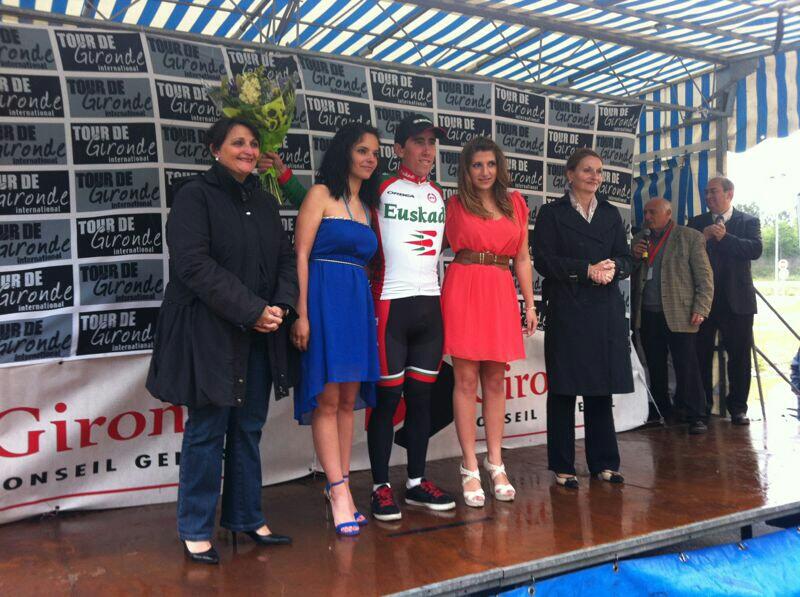 Larrinaga getting the smooches and flowers
For a team that's future was not even secured coming into this season, Miguel Madriaga's Euskadi squad has been on an absolute role of late and this time, it was
Jon Larrinaga
who took his turn on the podium with an outstanding overall victory in the Tour de Gironde, a 4 stage race that went in and around the department of Gironde where Bordeaux lies. As this is Bordeaux, sprints ruled.
-Stage 1 was taken by Rabobank Development's
Maarten van Trijp
over Dany Maffeis and Colombian sprinter
Diego Ochoa
(4-72 Colombia). It was van Trijp's first win in 2013 with the Rabobank Development team and looks to be a great sprinter in the wings.
-Stage 2 saw the big race shakeup with Euskadi taking the race by the scruff. On a day that was rather straightfoward and should have been a massive sprint, it was Jon Larrinaga who attacked the stage and caught the peloton napping on the run in into Audenge. Larrinaga kept a 19 second gap to the line for his 1st professional win while behind it was
Sylvain Pandelé
(GSC Blagnac) took the field sprint over Olympia's Tour KOM winner
Johim Ariesen
(Jo Piels) and
Alexander Maes
(Soenens).
-Stage 3 was the hardest stage of the race with rolling terrain that broke the race up a bit. Former Belgian junior TT champion
Matthias Allegaert
used his TT skills to his advantage and took a solo win over a charging
Nick van der Lijke
(Rabobank Development),
Geert van der Weijst
(Jo Piels) and Diego Ochoa (4-72 Colombia). Race leader Jon Larrinaga stayed in the main peloton and kept his lead by 9 seconds over Allegaert.
-Stage 4...well I told you this was Bordeaux so what do you think happened? Sprint. Duh. This time is was van der Weijst taking the honors for Jo Piels over Maes and Alexandre Billon (Aubervilles 93).
On the overall, it was Larrinaga who kept his overall lead over Allegaert with a trio of Rabobank Development riders in van der Lijke,
Rick Zabel
and van Trijp.
1. Jon Larrinaga (Euskadi)
2. Matthias Allegaert (Soenens)
3. Nick van der Lijke (Rabobank Devo)
4. Rick Zabel (Rabobank Devo)
5. Maarten van Trijp (Rabobank Devo)
6. Diego Ochoa (4-72 Colombia)
7. Adil Barbari (UCI Mixed)
8. Dany Maffeis (Armee de Terre)
9. Jérémy Fabio (Martigues)
10. Alliaume Leblond (Aubervillers 93)
KOM: Camille Thominet (Aubervillers 93)
Points: Geert van der Weijst (Jo Piels)
Skujins continues Latvian tradition with U23 Peace Race victory
Okay, maybe that headline was a little perfunctory but Toms Skujins is here to stay and as one of Espoirs Central's favorite riders, Skujins put in an outstanding performance in the Course de la Paix U23 (U23 Peace Race) to take an oustanding overall win.
The first day featured a split stage that included...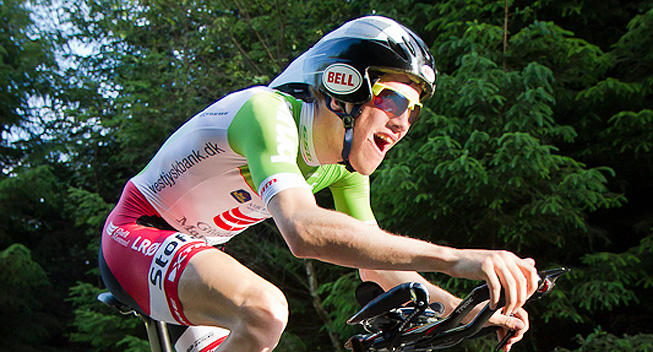 -A brutal uphill prologue with an average of over 8% in the town of Jesenik...Rasmus Sterobo (CULT Energy/Denmark) blitzed the 2.1 kilometer uphill prologue and took the win by over 8 seconds against fellow Dane Kristian Haugaard (Leopard-Trek) and Austrian Patrick Konrad (Etixx-iHNed).
-The afternoon stage featured a pretty flat stage from Jesenik to Bruntal that didn't feature many difficulties. It was a mass-sprint that ruled the day with Asbjørn Kragh Andersen (Tre-For) sprinting to the win over Daan Meijers (Jo Piels) and Lasse Norman Hansen (Denmark).
-
Toms Skujins
has been one of the brightest U23s that no one has really heard of. Perhaps it is because he is Latvian but for some reason, Skujins has been pretty consistent with the Latvian national team, La Pomme Marseille and now Rietumu-Delfin, a Latvian continental team. Go back through his results and you will see some impressive rides from the man from Carnikava including a 2nd in the U23 Ronde van Vlaanderen (2011), 6th in Paris-Tours Espoirs (2010) and 10th overall in this year's Glava Tour of Norway. Skujins is riding for a contract next year and his impressive ride on stage 3 of the Peace Race really put an exclamation on his resume. It was on the first mountain pass that the peloton split into two but it wasn't until 20 kilometers to go until the race really broke open. A group of four including Skujins,
Jan Hirt
(Leopard-Trek/Czech Republic),
Luka Pibernik
(Radenska/Slovenia) and
Daniel Paulus
(Gourmetfein-Simplon/Austria) broke away from the front group. In the end, it was Skujins bursting away from Pibernik in the end with Hirt and Paulus trailing shortly behind.
The peloton behind has let the break get too much gap and their GC chances were neutralized.
Jan Polanc
(Radenska/Slovenia) led the chase home by a 12 second margin over Etixx-iHNed teammate
Julian Alaphilippe
and Patrick Konrad, thus cementing his status as one of the best climbers of this espoirs season. With this stage being so decisive, the GC was played out nearly all by the stage results.
1. Toms Skujins (Latvia)
2. Jan Hirt (Leopard-Trek) 16"
3. Luka Pibernik (Radenska) 22"
4. Daniel Paulus (Gourmetfein-Simplon) 44"
5. Jan Polanc (Radenska) 1'13"
6. Rasmus Sterobo (Denmark) 1'17"
7. Patrick Konrad (Etixx-iHNed) 1'20"
8. Julian Alaphilippe (Etixx-iHNEd) 1'22"
9. Kristian Haugaard (Leopard-Trek) 1'24"
10. Felix Großschartner (Gourmetfein-Simplon) 1'28"
Points: Luka Pibernik
Mountains: Patryk Stosz (Poland)
Team: Radenska
Lots else happened too...
The An Post Ras has been covered in depth in many other places so I won't go into too much depth but young riders did quite well for themselves here. Conor Dunne (VL Techniks/Ireland) won the 1st stage in a breakaway two-up sprint (he would later crash out with a broken collarbone). 24 year old New Zealander and owner of a supreme mullet Shane Archbold won the 2nd stage. 22 year old Sam Bennett (An Post/Ireland) won stages 3 and 8 in bunch gallops. Kirill Pozdnyakov (Baku Synergy) won the 4th stage in a four-up sprint. Moreno De Pauw (Belgian Track) won the 5th stage in a last gasp breakaway. That makes six out of eight stage winners under 25 and the seven out of the top 10 overall were under 25. This race also signalled the resurgence of Rasmus Guldhammer, the former Danish wunderkind who had a quick ascent to the World Tour with HTC-Columbia before screeching to a halt and heading back to comfortable surroundings in Denmark. With only middling results since then, has Guldhammer's 3rd place overall signalled a return to greener pastures? We shall see.
Mark Dzamastagic (Sava) won the GP Industria e Commercio - San Vendemiano last Sunday in breakaway fashion over teammate Tim Mikelj and with Gianluca Milani (Zalf) leading the first chasing group home at 14 seconds; a group that included powers such as Calvin Watson (Australia) and Marlen Zmorka (Palazzago/Ukraine). It might seem unimportant to some but if you look down at the peloton sprint, you will see that Zalf fast man Andrea Zordan took the honors over Trevigiani's Liam Bertazzo and Bradley Linfield (Australia). It has been a great year for Dzamastagic so far with results such as winning the final stage in the Rhône-Alpes Isère Tour and 2nd place in the ZLM Tour Nations Cup.
Remember when the U23 Paris-Roubaix was cancelled and nearly all of the foreign teams went into a half-shitstorm/half-depression about losing a race such as this. Well did any of them follow up about why that really happened. The main reason (costs were a factor as well) was that the Coupe de France's Boucles de la Marne was scheduled concurrently with the race and U23 P-R would have only had a small amount of French talent show up. Foreign teams put U23 P-R on a pedestal but many French teams base their whole seasons on the Coupe de France because 1) Money and 2) Money and 3) oh yeah...MONEY. These teams have to focus on these races because it gets their sponsors the coverage they want. With the lack of French talent being there, P-R was suddenly less valuable to potential sponsors and was eventually cancelled. As this last weekend was the previously scheduled date for U23 Roubaix, it of course meant that Boucles de la Marne was in order.

-Stage 1 saw two-time Europcar stagiaire Bryan Nauleau (Vendée U) take the honors in a sprint out of a breakaway of eight (which gained 34 seconds by the end) including teammate Pierre-Henri Lecuisinier, former junior World Champion Olivier Le Gac (BIC 2000) and Mathieu Le Lavendier (Chambery CF).

-Stage 2 saw Armée De Terre rider Benoit Sinner (former European U23 RR Champion) take the honors ahead of young gun Pierre Moncorge (Vulco) in a morning split stage bunch gallop ahead of an afternoon TT.

-Stage 3 TT was thoroughly dominated by Lecuisinier as he won the stage by 8 seconds and took a 17 second lead ahead of teammate Nauleau. Lecuisinier, who should stagiaire with Europcar later this fall, is just coming into his talent and it will be scary when he finds his specialty.

-Stage 4 was more of stage 2 as Sinner took another massive sprint for his 6th win of the season and it was Moncorge who lead in the young bucks for 3rd. Lecuisinier wrapped up his first overall victory of the season and looks primed for a big end of season.
The Tour of Peaches and Nectarines (Giro Ciclistico Pesche Nettarine di Romagna) took place over last weekend in the rugged hills of Romagna near the Adriatic. This race isn't UCI ranked but it is one of the biggest Italian U23 stage races for all of the amateur squads in Italy. Let me name drop so you understand what I am talking about; all of the following riders have been on the podium at this race: Ivan Basso, Evgeni Petrov, Fabian Cancellara, Alexander Kolobnev, Vladimir Gusev, Riccardo Ricco, Damiano Caruso, Adriano Malori and Rafal Majka. Okay, that list might speak to the doping problem the Italian U23 scene has been plagued with.

-Stage 1 saw Zalf's Giacomo Berlato take a two up sprint over Marco Tizza (FGM) with who else but Davide Villella (Colpack) winning the bunch sprint for third. I can't say that Davide Villella can't win this year because he finally got a win a few weeks ago but seriously, this was 10th podium or thereabouts.

-The queen stage came on stage two and it was a trio of riders who put themselves a head above the rest. On the final climb, it was Davide Formolo (Petroli Firenze), Antonio Nibali (Mastromarco) and Davide Villella (Colpack) who were at the head of the affairs. Formolo distanced himself from Nibali (2 seconds) and Villella (4 seconds) to take the stage victory and get into the leaders jersey. Formolo might not be a name that sounds familiar to most but his results have been consistently getting better. He was 8th in the GiroBio and 4th in Valle d'Aosta last year. Does Nibali remind you of anyone? Well Antonio is the brother of Vincenzo. Just an FYI for a few years from now when that fact will be played up.

-Stage 3 was a proper sprint that saw one of the fastest Italians of the year, Niccoló Bonifazio (Viris), take the stage win over Marco Chianese (Palazzago) and former SKY stagiaire Davide Martinelli (Food Italia). Formolo wrapped up his 2nd straight Peaches and Nectarines overall and is primed for some big rides in the summer.

That is all I have. I will try to be better about posting more frequently and you can always follow me on twitter (@Vlaanderen90) to get results, live coverage and plenty of snark. To be continued...