What a weekend, huh? I watched more track racing this past weekend in Trexlertown. If you don't know Luke Mudgway's name then please remember it now. I watch him race and curse that the Olympics do not have a points race or scratch race (shut up about the Omnium) because against a fairly strong field including names like Christian Grasmann, Marcel Kalz and Stephen Hall, Mudgway carved them up. I do have to say watching Marcel Kalz try to pull back a half lap lead in roughly 5 laps of a 333m track was a treat because there was a scary look in his eye. Last note from T-Town is Canadian sprinter Hugo Barrette. He was flying in the keirin after leading for two solid laps as the moto pulled off and having speed to burn to hold off Kwesi Browne, Simon Van Velthooven and Matt Baranoski. Looking good for Rio...if the velodrome gets done.
Also, wishing Australian sprinter Holly Takos a speedy recovery after a scary fall in the keirin final where she punctured her lung.
Now back to your regularly scheduled writing...sort of.
Timmy
He isn't a U23 but Timothy Dupont has continued to have one hell of a season. Dupont has always been a capable sprinter on the UCI Europe Tour with a handful of wins every year. He hit a peak in 2013 with Ventilair-Steria with 8 wins including 2 Tour de Bretagne stages. After trending downwards for a couple of seasons with Roubaix-Lille Metropole, Dupont moved to the Verandas Willems continental leviathan and has went off with 8 wins already this year, all of which are UCI wins, and had gotten close to taking scalps that include Bryan Coquard, Giacomo Nizzolo and Kenny Dehaes. He might not have the out and out speed of some of his rivals but he can make it over a harder course than many of his other rivals cannot so at 28 years old, this may be his coming out party.
Maronese & Zalf-Euromobil-Fior trumps Consonni & Colpack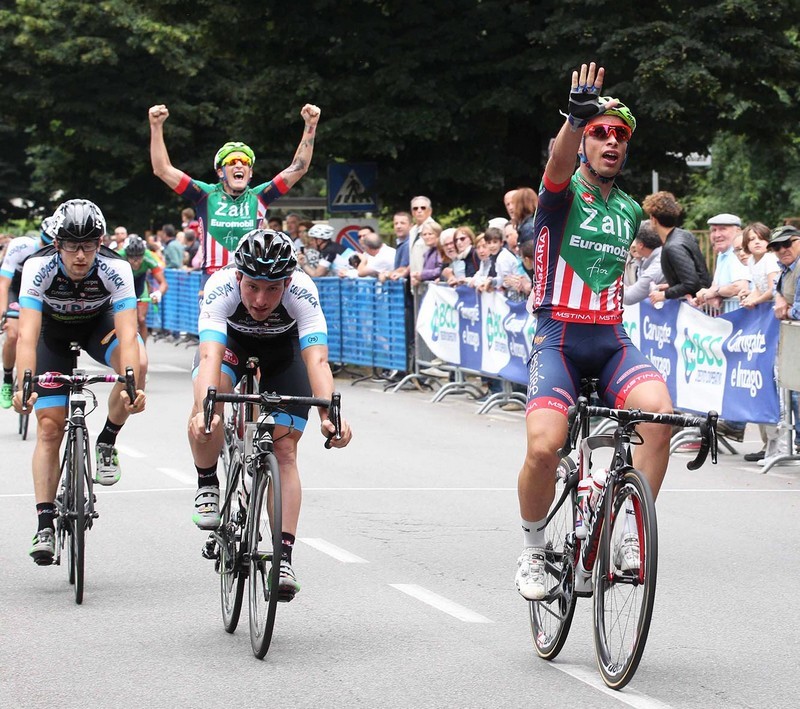 Maronese playing for the crowd after a Zalf twosome beat a Colpack foursome.
The picture says it all. Simone Consonni has not found the form that took him to 2nd place in the World U23 RR but he seems to be coming around with his sprint form. Consonni isn't a rider that has the pure speed of some recent Italian U23s like Jakub Mareczko but on a course with some bumps and a non-traditional sprint, Consonni is still a force.
Ben Perry & GP Saguenay
An opening stage that Estonian Mikhel Räim described as the coldest day he has ever experienced on a bike, Silber's Ben Perry beat out Räim in a tough sprint in La Baie to take the first stage of the GP Saguenay after a breakaway dominated by Silber and Räim's Cycling Academy team took the race by the reins. Perry's hot form carried over from Philly, where he placed 7th on the Manayunk Wall, but got a huge test trying to hold off Räim over the weekend.
A crash for Perry on the criterium stage 3 gave Silber a scare but team tactics saw the GC slip away from Perry to teammate Ryan Roth, who made the breakaway on the final stage and thanks to making the opening breakaway, he scored the overall and vaulted over Perry and Räim for 2nd and 3rd. While the GC win would have been nice, Perry will probably be looking to match his stage win in Tour de Beauce from last year as Canada's oldest pro stage race starts on Wednesday.
Other races...
Pascal Ackermann
went 7th in the Rund um Köln against legitimate sprint talents like Groenewegen, Greipel, Arndt, Sbaragli, Renshaw and Ciolek. Ackerman won two straight stages in the Tour de Berlin and comes from a very strong track background that includes a World Championship in the team sprint as well as a European Junior Championship in the Omnium. I have a very good feeling that Ackermann will be getting an offer from a German team for a stagiaire role this summer. I believe this team is on the World Tour and recently announced they are searching for German talent and they won't let a big sprint talent get away.
Hamisch Schreurs
continues his great season with Klein Constantia after going 5th overall in the Okolo Slovenska (Tour of Slovakia) after making the split on the decisive stage won by Mauro Finetto. Klein Constantia enjoyed a successful race as Frantisek Sisr won the points jersey and Jhonathan Narvaez finished 2nd in the KOM classification.
Jon Irisarri
signed with Caja Rural, which was the first contract announcement for 2017. Irisarri rode for the Euskadi system before joining Caja Rural Amateur this season. Irisarri has taken four wins this year, mainly in sprints out of small groups. He is a quick rider that can compete in some sprints but does better on selective courses. He doesn't have a ton of experience in UCI races so I wouldn't go out of your way to get him in your cycling fantasy league but give him a few years to develop.
The Ronde de l'Oise had a wonderfully difficult final stage that sent people scattering. Belgian powerhouse
Nathan Van Hooydonck
made the front split and took the small group sprint for the stage win and securing 3rd overall. It was Van Hooydonck's first big individual U23 win and bodes well for him going forward, especially to break out of the classics-only mode that some might want to put him into. Rabobank had a good race with
Martijn Budding
taking an...interesting sprint for the win while
Cees Bol
finished up 4th overall.
First year U23 rider
Kevin Geniets
(Chambery CF) from Luxembourg has made quiet results this year. After going top 20 in the Zavod Miru U23 Nations Cup, Geniets came to the Tour du Beaujolais in the Rhône Alpes and won the opening stage in a solo move. With the 2nd stage being annulled, Chambery was able to successfully defend the jersey with Geniets taking the overall win while Jordan Sarrou won the KOM and points jersey and Chambery taking the best team as
Hugo Pigeon
, the lightest all-arounder in the game, finished 3rd overall.
Valentin Madouas
(BIC 2000) took his 3rd win in a week after winning the final stage of the DN1 Coupe de France Tour d'Eure-et-Loir. Riding for the smaller Bretagne outfit that saw Olivier Le Gac carry them in recent years, Madouas is one of the gems for Fortuneo-Vital Concept and will most likely stagiaire there again in 2016.
Aurelien Paret-Peintre
led the U23s in this year with a 3rd overall for his Chambery CF team while
Elie Gesbert
(VC Pays de Loudeac) won the 3rd stage of the race in a small sprint while his team kept control of the French DN1 Coupe de France classification by over 100 points on Chambery and nearly 300 over perennial favorite Vendée U.