While I spent the majority of the weekend trying to decompress as best as possible, the world of amateur cycling kept on turning. While the U23 Paris-Roubaix was a big gem during the weekend,
racing was abound in the USA, Colombia, Spain, Italy and more. As the Zavod Miru U23 takes place in a few days, I will try to make this the express version.
USA Nationals
— La GazetteDes Sports (@GazetteDesSport) May 28, 2016
Sad for

@Danielpeaton93

The Nationals TT course changed from yesterday's pre-ride and not everyone was informed. Went from podium to nada

— Reed (@UberReed) May 28, 2016
Basically says everything I want to say right there.
Vuelta a Navarra
In somewhat of an oddity, Ecuadorian Richie Carapaz, who won the U23 Vuelta a Colombia last year, is currently on the UCI roster for the Colombian Strongman Campagnolo while also riding for the Lizarte amateur team out of Spain. I guess you could call it a temporary loan as I'm certain Carapaz will be be back down south once the big summer Colombian races happen but Carapaz has been a scourge on the Spanish amateur scene this spring.
His latest scalp was the Vuelta a Navarra, where he won the 2nd stage uphill finish that guaranteed him the overall victory on Saturday. He now has 5 wins in a month time span and it is very possible to see him continue this trend. After winning Navarra, he was quoted as saying that he would love to cap of his season with a stagiaire ride. One would think that a Spanish team would be very high on him so unless someone else has secret plans for him (perhaps Zona Maxtin and Etixx-OPQS), Movistar or Caja Rural are likely destinations.
Tour de Gironde
Norway has had another strong year so far in the U23 and continental ranks with Team Joker being a main reason behind it. It isn't often that a team has a perfect race but Joker at the Tour de Gironde was about as good as it gets.
Just a few weeks ago, I was questioning if Truls Engen Korsaeth was even riding his bike as he had barely made an impression in the first 5 months of the season. After finding out he was struggling with motivation and injuries, Korsaeth popped up in the 2nd round of the Norwegian Cup, finishing 3rd behind teammate Ole Forang. He then came to the Tour de Gironde and the "brutal" rider, as described by the national team director, lived up to his nature by attacking and holding off the peloton by three seconds, led home by a pair of Joker riders in Kristoffer Halvorsen & Adrain Aas Stien.
The race was made by a herculean effort by Amund Grøndahl Jansen, whose name might be more fitting for someone riding an icebreaker in the Antarctic Sea around 1912 than riding a bike in 2016. Within the first kilometers of the stage, Grøndahl was away with Sebastian Molano but soon ditched the Colombian to take a maximum advantage of over 8 minutes, which was so big that his own team car pulled out and went back to the peloton to monitor the situation. While the gap fell steadily, Grøndahl was able to continue on strong and as the race exploded behind him on the rolling course, the Norwegian was able to take his first individual win of the year.
Directvelo talked to Grøndahl
after the race but his spring has definitely turned some heads.
The final stage was a sprint fest that saw Aas Stein take his first UCI win in over a year while Norwegians took 3 out of the top 4 places. It was the icing on the cake as Joker wrapped up every jersey and took the overall classification with Grøndahl. Gino Van Oudenhove's ploeg delivered in a big way.
A side note is Mathias Le Turnier, who ended the race in 2nd overall. Le Turnier, for those with bad memories, was 2nd overall in the Ronde de l'Isard and nearly stole the overall classification there. For a rider that is climber, it is surprising that we was contending in the much flatter Bordeaux region. Perhaps a stagiaire role and a l'Avenir place are on the books for this summer?
Everywhere else and more...
-Riders from 1996 were close to taking over the An Post Ras but Australia's Jai Hindley fell to now two-time winner Clemens Fankhauser by a mere three seconds. The '96 were rounded out by Hindley's teammate Lucas Hamilton and home rider Eddie Dunbar (Axeon-Hagens Bermans), who took a stage win into Baltinglass ahead these three riders and Australian Michael Storer. Also of note was Nicolai Brøchner (Riwal), who was a bike throw away from taking three stage wins in the race.
-Abderrahmane Mansouri might not be a household name but the Algerian U23 might be the next Youcef Reguigui in terms of breaking out of the Maghreb and getting results against bigger competition. As I write this, I am fairly confident that I am one of a very, very tiny handful of people in the USA that is thinking about who will be the next big Algerian rider.
-Jose Luis Rodriguez journeyed back to Europe and proceeded to go 2nd in the Thun time trial to Thery Schir, who was 8th in the U23 World TT last year. The Chilean is continuing to put out a string of nice results that should once again see him in the Tour de l'Avenir and hopefully a chance at a top 10 in the Doha Worlds TT. Rodriguez was apart of the World Cycling Centre Team that dominated the recent Souvenir Patrice-Ledru a Tramoyes, where Panamanian Cristofer Jurado won ahead of Moroccan Anass Ait El Abdia, Rodriguez and Serbian first year U23 Dusan Rajovic.
-In the Colpack can do no wrong category, the Bergamo team took more wins in Italy including a humilitation of Zalf. In the Giro del Piave in Zalf's home in Veneto, 4 Zalf riders went up against one Colpack rider and guess who won?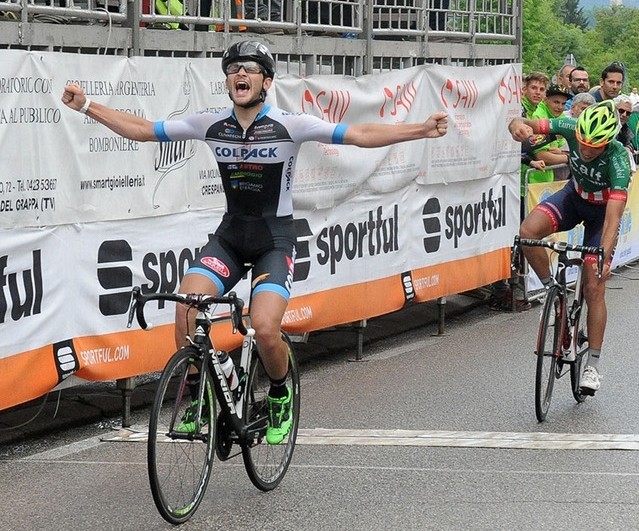 Federico Sartor took a coup against Rocchetti, Gabburo, Rosa and Rocchi on their home soil
Photo: ItaliaCiclismo
Zalf did have a win Alto Padovana Tour with Niccolo' Rocchi holding off a speeding Belorussian Uladzimir Harakhavik while Zalf put 7 in the top 10. Not to get to carried away as this was in Veneto and Zalf are more or less commanded to win and put in huge numbers into the races.
In what was the strongest showing of the weekend was the triple Colpack produced at the GP Industria e Commercio in Botticini. The video will show it all but the way the Colpack riders one by one pass Bagioli is heartbreakingly sweet to watch. The winner, Ukranian Mark Padun, is going to be in the Zavod Miru U23 and his form has seemingly been ramping up for a podium finish.

Did I miss anything? Is the next best rider not being mention? Let me know.