It has been quite a busy weekend with many u23 riders opening their seasons with smaller races across the world. While you should have already read my recaps of Ster van Zwolle and the GP Izola (hint hint), we need to review the rest of the weekend that was. Let's spin the wheel and start in...California.


Chico Stage Race


The city of Chico lies north of Sacramento and west of Tahoe pretty close to the middle of fucking nowhere. This year, the Chico stage race drew a good crowd with Optum p/b KBS bringing a strong squad against the likes of Cal Giant, KHS-Maxxis, AltoVelo and other California teams.
After Brad Huff took the brutal stage 2 win, the next morning's stage 3 time trial saw many young riders shine. Connecticut product Ben Wolfe (Cal Giant) rode to 3rd in the Elite Men's TT while U23 Fabrizio Von Nacher (KHS-Maxxis), junior Adrien Costa (Cal Giant) and U23 Adam De Vos (H&R Block) were 7th-9th.
Following the criterium, which was also won by Brad Huff, it ended up with Scott Zwizanski winning the overall by 10 seconds over Huff while junior Adrien Costa was at 11 seconds back in 3rd place. A junior nearly taking the overall against a full blown pro team is always impressive. Justin Mauch (Airgas-Safeway) finished 5th overall while Fabrizio Von Nacher was 10th.
Classica de Loule
To Portugal now for the new one day race, the Classica Internacional Loule Capital Europeia do Desporto, which has a name that is entirely too long and will be henceforth known as the Classica de Loule. Not a whole lot of detail here but once again just highlighting how Optum p/b KBS is having a pretty great early season most notably because of the Canuck Mike Woods.
Woods, a very stringent anti-doper who lashed out last year after Qinghai Lakes winner Ilya Davidenok tested positive, was 5th in the uphill stage finish to Malhão behind Richie Porte in the Volta ao Algarve and finishing the race 12th overall.
In the Classica de Loule, Woods broke off the front of a small group and won with a 10 second gap back to 2nd place Cesar Fonte and teammate Jesse Anthony. Optum put 3 in the top 5 with Guillaume Boivin in 5th. The best U23 on the day was James Knox of Zappi's Cycling who finished 9th on the day in the first chasing group of 11 seconds that Anthony has led home.
Pretty much all of these same teams here will be at the 2-day
Troféu Alpendre Internacional do Guadiana starting this weekend.
Elsewhere...
-The Vuelta Independencia Nacional Republica Dominica finished up on Sunday with EPM-UNE, the team of General Shithead Oscar Sevilla, finished 1-2 in the overall with Smartstop's Chris Butler in 3rd overall. The U23s in this race were slim to none but the winner of the youth category was Anderson Paredes, a 19 year-old who also finished 12th in the Vuelta al Tachira along with 22nd in the Vuelta Independencia. Perhaps someone to follow if he can catch on?
-In Belgium, the amateur season really kicked off with Brussels-Opwijk. New BMC Development rider Nathan Van Hooydonck blew the race open on the last time up the Putberg and only EFC-Etixx rider Maxime Farazijn was able to follow. Van Hooydonck's teammate Loïc Vliegen bridged on the local circuits and the duo tried to attack Farazijn but he was having none of it. Vliegen hit out hard with 2 kilometers to go but Farazijn was able to follow and he easily took his 2nd win of the season. Van Hooydonck led home Stef Van Zummeren (Verandas Willems) and Frederik Frison (Lotto-Soudal U23) for 3rd.
Full Results
-One of Namibia's brightest talents, Raul Costa Seibeb, won the Nedbank Cycle Challange for the 4th consecutive year. Seibeb, who spent time with the UCI Cycling Center in Aigle last year, will be going to South Africa to chase UCI points to try and help Namibia qualify for the 2016 Rio Games.
1ère pour @SojasunEspoir grâce à @HamishSchreurs #Sojaboys pic.twitter.com/YtVXyWRPjP
— Valentin HUE (@HueValentin) March 1, 2015
-U23 New Zealand RR Champion Hamish Schreurs took a solo flyer at the Route Bretonne to win by nearly 20 seconds over teammate Fabrice Seigneur and nearly a minute and a half over the peloton that was led in by Nicolas David (Hennebont Cycling)
-There were no real big races in Italy this past weekend but the overarching theme from the weekend was sprint wins and teammates being there to raise their hands in the photos.
The tweet is of Daniele Trentin, the younger brother of Etixx-OPQS rider Matteo Trentin, winning the GP Ceda
L'urlo di #DanieleTrentin...il @GS_Mastromarco firma la prima del 2015 al #GpCeda in #Veneto pic.twitter.com/1lLVnShdbl
— GS MASTROMARCO (@GS_Mastromarco) March 1, 2015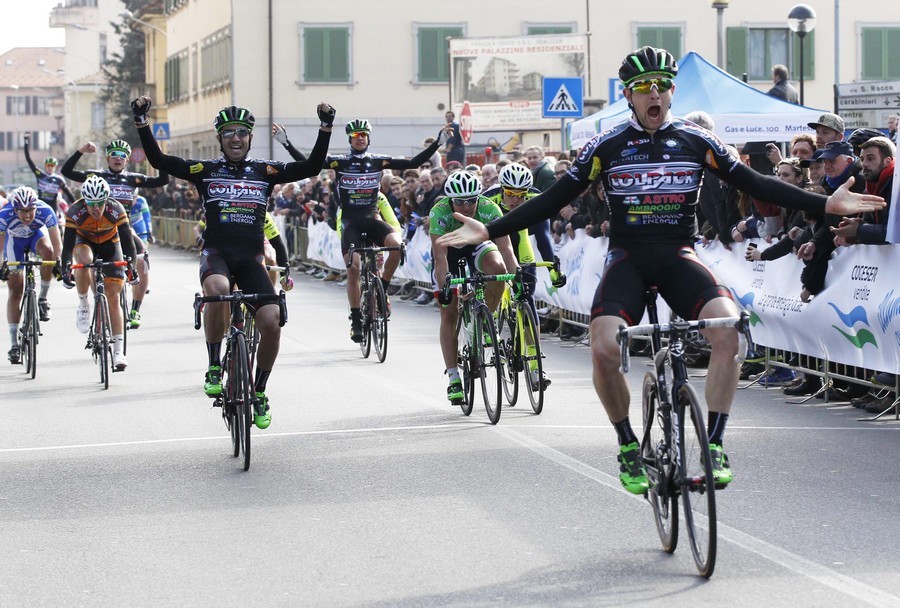 Minali being followed by teammates Fran Lamon, Davide Martinielli & Simone Consonni
Photo: ItaliaCiclismo
More from Croatia tomorrow as the Trofeo Umag begins a 8 days with a lot of racing down on the Istrian peninsula.