While we are nearly a month into the Italian amateur season but there is a much different tone to this season than there has been the past couple of seasons. Zalf-Euromobil is simply not as dominant as they have been in years' past. In 2013, the team had Andrea Zordan and Paolo Simion, who combined for 18 wins on the season and the team finished with a record 59 wins. In 2014, the team had Nicolas Marini and Daniele Cavasin, who combined for 17 wins while the team came up with 57 wins on the season.
Times change though and riders come and go. Currently, Zalf-Euromobil still leads the rankings with 4 wins, which have come from four different winners, but they have fell flat in big races. Colpack sits at 3 wins this year but have really shown themselves to be the team of the year so far, at least in my book. They did royally mess up the Trofeo Franco Balestra
(check it out in case you missed it)
but they have a strong sprint team in Davide Martinelli, Francesco Lamon and Riccardo Minali while Giulio Ciccone and Edward Ravasi will be coming into form soon for climbing races such as the upcoming GP San Giuseppe and Piccola Sanremo.
Another newer concept in the Italian amateur scene is the presence of Continental teams in many amateur races. This happened last year as the Italian federation loosened some restrictions for their home teams after their was just one continental team in 2013. Now 5 continental teams, many of them fill their scheduled with Italian amateur races while waiting for invites to bigger races throughout the continent. Unieuro Wilier Trevigiani, which sprouted from the Trevigiani amateur team a couple years ago, has won 2 races this year including Rino Gasparrini's big time sprint win in the 100th La Popolarissima ahead of Marco Maronese (Zalf) and Xhuliano Kamberaj (Cipollini Ale').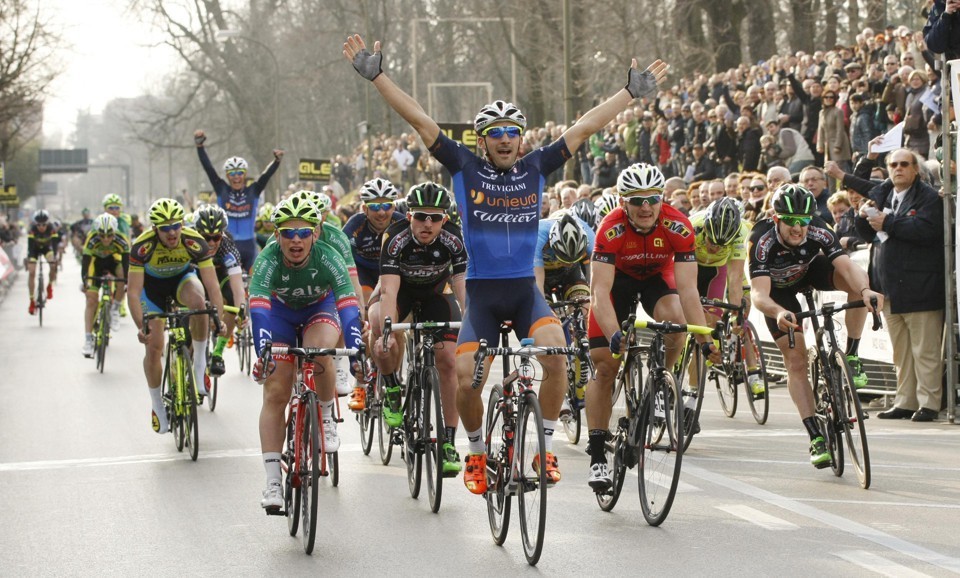 Gasparrini taking the big wins from the U23s (Foto: ItaliaCiclismo)
The emergence of continental teams in the Italian amateur circuit does add some professional touches to the scene but it isn't like they are getting paid anything other than a few quid here or there. So basically, the teams are paying for the right to ride a few bigger races and their presence does cut down on some of those riders that would make a career off the amateur races (looking at you Luca Benedetti) and pushing off a pro career.