The leaves are turning and with just days left in the road season for virtually everyone except the Asian circuit, it is time to do a wrap-up of the season that was and I'd like to start with Italy. This year, I have gone quite in depth with the Italian amateur scene and now it is time to draw a few conclusions.
First off, there are way too many bullshit races that big teams use to pad their stats. Zalf-Euromobil, for example had multiple races where they put 5 riders into the top 10. Hell the Venetian team but 6 in the top 7 at the recent
Coppa San Vito
. While that might be "dominant" to some, a good chunk of Zalf-Euromobil's 56 wins so far this year. 100 kilometer flat circuit races with lopsided fields aren't exactly quality wins to many.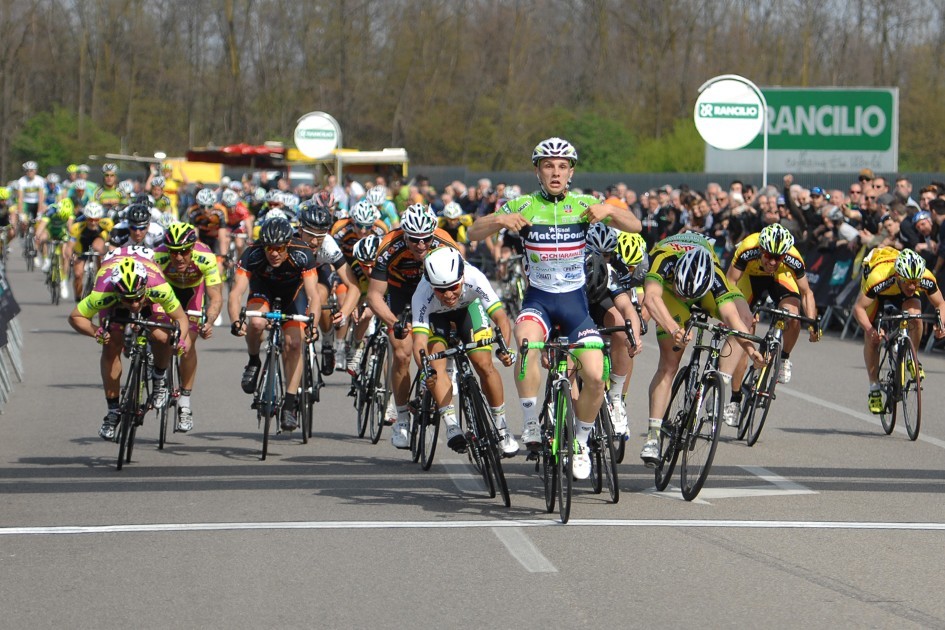 Not many can overhaul Caleb Ewan in a flat-out sprint. Especially with enough time to sit up.
(Photo:Italia Ciclismo)
This leads into the next point about the wins that many riders rack up. Jakub Mareczko, the Italian-Polish rocket of Viris-Maserati, was the most successful rider on the Italian amateur circuit with 12 wins, so far. Only one of these wins was a UCI win, the Circuit del Porto, which is basically a flat 180km circuit race with a ridiculous average speed (nearly 50km per hour) that ends in a bunch sprint. This isn't to discount Mareczko's vicious turn of speed. When he gets a whiff of the finish line, the short, stocky figure of Mareczko will hunch over the bars ala Mark Cavendish circa 2008 and do his best to rip the bars clean off the steam. The rider that was beating him in the sprint, Nicolas Marini (Zalf-Euromobil), has been just able to get his back wheel for 2nd or 3rd in recent weeks. Mareczko has won 3 races in the span of a week in late September.
Yet how many wins of these are quality? I'd say maybe half. The Vicenza-Bionde win was strong; he did beat Caleb Ewan straight up Antonietto Rancilio and we can rope in his UCI win in there. Many of the other wins? Short, flat circuit races with the same old faces like Marini, Andrei Voicu and Xhuliano Kamberaj. Now, he could turn out like Andrea Guardini, who set the record with 19 wins in 2010, but remember, he had a slow time transitioning to the longer, much harder races of the professional peloton. Or he could turn out like Bernardo Riccio. Why do you have a confused look on your face? He won 14 races in 2007. He turned pro with Tinkoff and wasn't too bad for a few years before not getting a contract and retiring after 2011.
So who then had the most amount of quality wins on the Italian circuit this year? Nicolas Marini had some good sprints but most of his wins came after motor pacing for 2.5 hours. Paolo Toto had 7 wins for Veloclub Senigallia but since he isn't a U23, many of his wins came against thinner competition. Ilya Koshevoy certainly has the climbing talent but like Toto, rode mainly against reduced competition. Looking towards quality wins, you'd have to look at riders like Marlen Zmorka, Simone Andreetta, Giacomo Berlato, Iuri Filosi and Manuel Senni.
This is turning into more of a ramble but the point I'd like to make is that just because some kid won 15 races as an amateur doesn't mean shit when he turns pro. Yeah, he has a killer instinct but can he suffer? Can he slog through rain and undulating hills to finish off a sprint in the end? Is he more than a one-trick pony? I feel like many Italian amateurs, mainly sprinters, aren't preparing themselves for the professional ranks because when they go out of Italy, many of them fall flat. Riding 120 km flat circuits isn't getting you ready for the pros. If you are wanting to be a World Tour sprinter, you need to be able to combine that tenacious sprint with a little bit of climbing. You might not have the fastest sprint on a drag strip but if you can get over some bumps in tact, you will be at a much better advantage.
Another thing about the Italian amateur scene I've been noticing? Shit stays the same. A amazing sprinter, a brilliant climber and a bunch of fucking middle aged directors that have a distinct smell of doping on their collared shirts. I'm looking at you Olivano Locatelli. Go the fuck away. Doping is still there and if you keep giving shitheads like Luca Benedetti a second chance, they will keep biting you in the ass.
Some of the best rides in Italy this year? Well let's go in no particular order...
-The
Coppa San Geo
was the kick off to the season and it provided some nice dramatics to start the season off. Marlen Zmorka and Alberto Tocchella went off the front and the two were able to hold off a charging pack. Tocchella was able to sprint around the diesel Zmorka while Nicolas Marini was bouncing his wheel off the ground in frustration of missing out on the sprint win.
-Mareczko beating Caleb Ewan Antonietto Rancilio in a straight up sprint. I know the Australians were coming in confident that it would be a tune up for some spring races but they got some egg on their face when the Viris-Maserati rider confidently came around Ewan in the final 50 meters to take the win.
-Davide Martinelli tried to beat out the sprinters in a final 2000 meter attack in Milano-Busseto but in the final 100 meters, Nicolas Marini shot around him and stole the win while Martinelli hung on for 2nd.
Full video of the sprint
and the juxtaposition of pure elation and heartbreak.
-Simone Andreetta showed that he belongs on the top level of talent in cycling as he attacked on the final climb in the
Giro del Belvedere
and was quickly marked by Silvio Herklotz, who finished 2nd in the race in 2013 behind Stefan Küng. The duo worked well together but Herklotz made the mistake of leading the last 500 meters and after doing multiple accelerations during that time, he was gassed for the sprint. Andreetta came around and celebrated quite vigorously as he is the hometown boy who grew up in Vittorio Veneto, which is on the race course, and lives in San Vendemiano, just minutes away as well. It was the beginnings of a very strong season for Andreetta.
-The next day, Silvio Herklotz stole the show and bounced back from a 2nd place in the 2013 Palio del Recioto to solo to a victory in the 2014 edition ahead of Australian Robert Power, Stefano Nardelli and Manuel Senni.
(Highlights)
-Alessandro Tonelli and Luca Sterbini broke away with 7 others after 23 kilometers and with just 200 meters to go, they were the only two survivors left in the 150 kilometer Trofeo Matteotti (the amateur version). Tonelli accelerated on the final uphill and gave Zalf their 23rd win of the season.
Highlights
.
-Iuri Filosi went through a torrid stretch in May where he was nearly untouchable and at Peaches & Nectarines in Romagna, he broke away with Simone Sterbini and with Filosi ahead on GC, the two took nearly 2 minutes out of a strong chasing group including Manuel Senni, Gianni Moscon and others. Sterbini only won the stage because Filosi had locked up the GC.
Highlights
.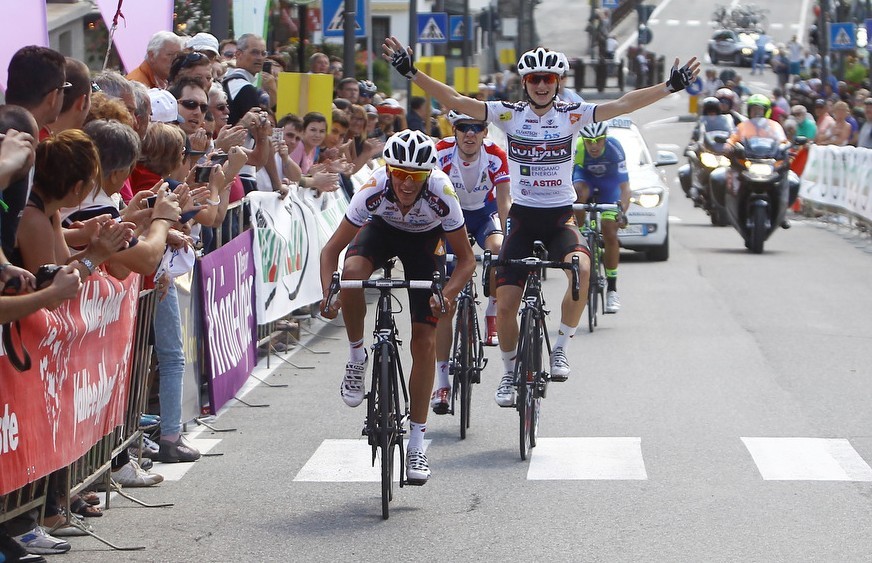 Colpack's highlight of the year: Senni taking back-to-back stages in Aosta
(Photo: Italia Ciclismo)
-Manuel Senni got his contract with BMC for 2015 by winning two stage back-to-back in the Giro della Valle d'Aosta. Senni came into the race with a stacked Colpack team and on stage one, they had 3 men in a 5-man move and Senni took out the final sprint with Giulio Ciccone in 2nd. The next day, Senni hit off with Andreetta and at the foot of the final mountain, Senni took off and won with a 20 second gap back to Odd Eiking in 2nd.
-Robert Power went on a rampage by taking 3 straight one-day wins in a row. Starting in Briga Novarese, Power put it into the big ring for the last kilometer and even with 3 Zalf riders on his wheel, he fucked them all up. Next up? Power went on a huge solo attack at the GP Poggiana where he was basically solo for the last 45 kilometers and won by a healthy 1'25". Lastly, he joined the breakaway on the final lap of the GP Capodarco and for the 2nd time in a week, he dropped Gianni Moscon and soloed to the win over the steep final climb. Power is a fucking animal. When he kicks it into the big ring, I can just hear his legs go "Powaaaahhhhhhhhhhhhhhh" from across the pond.
-Gianni Moscon winning the Piccolo Giro di Lombardia. I just kind of wrote about it so...yeah. He beats Dylan Teuns in a two-up sprint. Fantastic race.
All of this talent has to go somewhere so let's go over some of the Italian transfer news...
-Manuel Senni is heading to BMC as part of the truckload of talent BMC is getting.
-Bardiani-CSF kept up its commitment to youth by signing 6 neo-pros for 2015, as of now. Paolo Simion, Simone Andreetta, Luca Chirico, Alessandro Tonelli and the Sterbini bros., Luca and Simone. That is a lot of talent. Yet how many of these guys will stick around a few years from now? I'll go with maybe half.
-Ilya Koshevoy, who won 6 races on the Italian amateur scene this year, will be joining Lampre for 2015 after a successful stagiaire role with them this year that included a 13th overall in the Tour of Utah.
-MG.Kvis-Wilier continue their development track by taking on Stefano Nardelli and Simone Petilli, among 6 others.
-Neri Sottoli looks like it will be getting a little face lift. Neri Sottoli picked up the most prolific winner on the Italian scene this year, Jakub Mareczko, along with Eugert Zhupa (Zalf-Euromobil), who is going to become the first Albanian pro to my knowledge.
-Nippo-Vini Fantini is making the jump from the continental ranks to pro continental, assuming everything goes well. They signed the aging star Cunego, who doesn't seem much interested with the bike anymore. They signed Nicolas Marini, the 2nd strongest U23 sprinter behind Mareczko, at least on the Italian amateur scene, along with Giacomo Berlato and Antonio Nibali. Berlato, to me, is the most talented of the three and could go on to a long career. Nibali...well I have seen bits and pieces of talent but nothing like his brother.
That is really all that I have right now. It was a fun year Italy. I'll see you in a few months.