With racing in America and Europe not focused more on dirt than tarmac, I will take a look back at 2014 and highlight a few different categories with some top 5 lists. Now usually my top 5 lists start at #12 but this first one should be fairly simple. Let us take a look at the top 5 first year U23s from 2014 and I think the top rider is fairly obvious...
1. Robert Power (Australia)
Power is an obvious choice here after his dominant season that went from February to September. After some strong junior results in Italy in late 2013, Power started his year off by going a close 2nd in the Australian U23 RR behind Caleb Ewan in a tight sprint and then went off the front of the Oceania Championships with Luke Durbridge and Bernie Sulzberger before settling for 2nd behind Durbo.
Power took a couple months "off", which included some altitude camps with the U23 National Team before heading over to Europe and making his presence felt very fast. In his first U23 European race, Power lived up to his made and made the decisive breakaway in the Trofeo Piva Banca. He was outpaced in the sprint by Gregor Mühlberger but hung on for 3rd place. Just weeks later, he was 2nd in the GP Palio del Recioto behind a flying Silvio Herklotz.
Power then went top 10 in his next three stage races, the Tour d'Azerbaijan, U23 Peace Race and the Czech Cycling Tour. He even went 13th in the Tour Alsace in support of Jack Haig, who finished 2nd overall. These races were just a prelude to a dream that would begin in Briga Novarese and lasted for 10 days. Watch the finale at Briga Novarese. Power essentially leads out the last kilometer and even after Gianni Moscon overtakes him, Power pops it into the big ring and crushes the young Italian's soul in the final 50 meters to take the win.
That was 3 Zalf-Euromobil's to 1 Australian and look who came out on top.
Power continued his dominance at GP Poggiana, where he broke away early with Tilegen Maidos, Simone Andreetta and Felix Großschartner. With 35 kilometers to go, Power laid down a strong attack and while Maidos tried to hold on, Power was soon solo and the after burners were on. With a huge gap, Power start whipping the crowd up with 300 meters to go and cruised in for a brilliant solo win.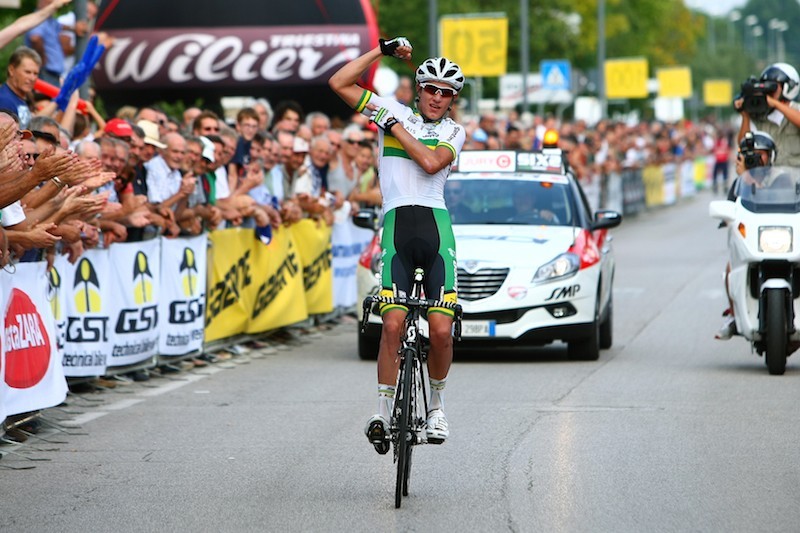 Suns out. Guns out. #poowwaaaahhhhhhhhhhhh
Was he done? Not quite yet. On the tail end of his brilliant stretch was the GP Capodarco, one of the best races on the Italian amateur circuit. Zalf-Euromobil, the most dominant Italian team, had been upended twice and wasn't planning on making it a 3rd time in a row, especially to a foreigner. After having Jack Haig pilot him up to the leading group in the finale, Power went head to head with Gianni Moscon once again with similar results.
3 wins in 10 days. It was a pretty unreal streak. While he took a little break from racing, his next race was the Tour de l'Avenir, where he quickly showed that he belonged with the best. While he put in a very good prologue effort for 4th place, Power met someone that could match him stroke for stroke in the mountains in Colombian Miguel Angel Lopez. Power went against Lopez in the mountains and for the most part, they were pretty evenly matched but Lopez took advantage of a few missteps by Power and the New Zealand-born Australian took a hard-fought 2nd.
Power finished the season strongly with front group finishes in the Coppa Bernocchi and Coppa Agostini as well as the U23 World Championships, where he played a wild-card role but even with a last lap attack, the course proved to be a little bit too flat for the Australian to break it up.
In any case, Power proved he is a once-in-a-generation talent and really, the sky is the limit with this one.
2. Mathieu van der Poel (Netherlands - BKCP-Powerplus)
When you only race 25 or so days on the road, you make a hard comparison but Mathieu van der Poel is one of the biggest natural talents in the sport of talent. He can seamlessly transfer from the road to cyclocross and back again and be highly successful in both. He seems to be committed to cyclocross through 2017 but the road teams will be begging him to go full time while cyclocross will be yearning to have a big-time star.
Van der Poel didn't appear on the road this year until May, at the Omloop der Kempen, but in just his first UCI race as a senior, he finished 7th. Next race? Tour of fucking Belgium. Okay, there big boy. Time to slow down. Or not. On the "queen stage" of the race, Mathieu VDP finished 4th place in the reduced bunch sprint behind the likes of Andre Greipel and Philippe Gilbert.
Probably the shining moment of his road season was when he won the Ronde van Limburg in a bunch sprint. Yes, I was trying to make that sound as dull as possible. He beat out Paul Martens and Greg Henderson, two bona-fide World Tour riders, in a tight sprint. The kid is just 19.
His lack of racing against U23s and similar competition makes him hard to rank because, for example, he dominated the Baltic Chain Tour because well...there was no competition. On the other hand, he won a stage at the Tour Alsace ahead of Julien El Fares (ex-Pro Conti) and soon to be WT-rider Kristoffer Skjerping while finishing 6th overall in the race.
In my book, he could be more talented than Power but because of his cyclocross focus, I'm keeping him at a close #2 but if he were to focus on something like Amstel Gold or Liege-Bastogne-Liege, then watch out.
3. Sam Oomen (Netherlands - Rabobank Development)
The Dutch are fucking knee-deep in a dike full of talent currently with 1995 being one of their more talented classes. Sam Oomen is a great example of the Dutch's future GC potential that is currently in their development system (i.e. Rabobank Development).
Oomen was a junior with a lot of potential behind him after winning the GP Rüebliland in 2012 and the Dutch Junior TT in 2013. While he started off his senior career off slowly this year, Oomen soon came around by winning the KOM in the Tour de Bretagne by a healthy margin. In his 2nd stage race, the Rhône-Alpes Isère Tour, Oomen rode quite well for such a green horn and with some consistent, unflashy riding, Oomen finished 14th overall and 2nd in the youth classification, just 30 seconds behind Silvio Herklotz.
Not that a first year could ask to go much better but Oomen stepped it up another notch and went to the Tour des Fjords, made all the splits and ended up 8th overall. He still had a couple more months until he turned 19 and he was top 10 in a pro stage race.
After some warm-up races in the mountains including the Tour de l'Ain, Oomen went full bore into the Tour de l'Avenir and on the first mountain stage to Plateau de Solaison, he got into a breakaway that included dumbfuck-doper Ilya Davidenok. In case any of you missed it, sleaze-ball Davidenok tested positive for anabolic steroids on the day that he clawed his way back up to Oomen's wheel and then out-sprinted him for the win. I have no more patience for these kind of guys. In my old age of 24, my views on doping are becoming more militant. Dopers can be nice guys but if you cheat in a voluntary sport, then you have no purpose being there. I don't give a shit if you use the childish excuse of "everyone else is doing it" because that is a cop-out. So congrats on the Tour de l'Avenir stage win Sam Oomen. You deserve it.
Oomen was a little blown out from the massive effort on stage 4 but still stuck it out for 13th overall, which was 3rd best first-year U23 behind Mr. Power and Tao Geoghegan Hart, who we will meet later. Oomen capped his season by being apart of the 3-man Rabo Devo attack at the Paris-Tours Espoirs that saw the team sweep the podium with Mike Teunissen taking the win in his last U23 race while Martijn Tusveld and Oomen wrapped up the podium.
Next year, Oomen will definitely be locked on for the Tour de l'Avenir while improving his consistency and trying to grab some wins in the process.
Oomen hails from Tilburg, just 15 minutes from the Belgian border, where he goes to the Tilburg university and studies psychology. Oooooomen also plays the piano pretty well. He seems to have a good head on his shoulders (he doesn't even twitter) so I think that he will be able to make it through the process of being a pro. Oomen will be back at Rabobank Devo for 2015.
4. Michael Carbel (Denmark - CULT Energy) & Andre Looij (Netherlands - Rabobank Development)
So we have a tie for the 4th spot with two young sprinters who showed that they have the speed to win in the coming years.
Carbel was a star sprinter in the junior ranks and transitioned well to the senior level. In the Dorpenomloop Rucphen, only his 2nd race as a senior, he won the bunch sprint ahead of Dan McLay and Johim Ariesen. Carbel won the bunch sprint in La Côte Picarde, which was good for 11th, albeit this was a bit disappointing because they caught the breakaway on the line and finished on the same time. Carbel showed some more sprinting promise in the Czech Cycling Tour (one bunch sprint win), the ZLM Tour (3rd in the bunch, 14th overall) and the Ronde de l'Oise (2nd and 5th). He showed a bit of toughness with a 2nd place in the Danish Elite RR Championship, where he won the bunch sprint ahead of Michael Mørkøv and Rasmus Guldhammer behind a streaking Michael Valgren.
Carbel definitely has a sprint on him but on courses with many hills, he is normally shot out the back into the grupetto or into his team's car. For example, even on the flattest stages of the Tour de l'Avenir, he was nowhere near the sprints. He is moving up with CULT Energy to the Pro Continental level next year and well...he better have his nose to the grindstone otherwise it is going to be a long year.
Andre Looij is just as quick as Carbel but you know...even better. Looij was another strong sprinter as a junior but they are a dime a dozen at the time. The real test comes once you hit the U23s and Looij started pretty damn well. He was 2nd in the bunch sprint in the first race of the season, Ster van Zwolle, which was good for 7th place. Just 2 weeks later, he won his first race of the year in the 1st stage of Triptyque Monts et Chateaux, where he handily outsprinted Tiesj Benoot and Michael Goolaerts. Just a month later at Tour de Bretagne, Looij showed he isn't a one-trick pony and got into a breakaway with Jonathan Dufrasne (Wallonie-Bruxelles) and once the line was in sight, he trounced him in the two-up sprint.
Looij went straight from Bretagne to finish 5th in the GP de la Somme, one of those hard as hell 1.1 French races that no one gives a fuck about. After a summer break, Looij came back with a stage win in the Kreiz Breizh Elites and then had a great late season run in one-day races with 4 top-10s at races such a the Ronde van Midden-Nederland (3rd), Knokke-Heist Kustpijl (6th), Rabo Baronie Breda Classic (7th) and the Münsterland Giro (8th).
Looij showed himself not to be just a bunch sprinter but a strong rider on classics-style courses. Looij hails from Wilnis, which is up north in the Utrecht province, and attends Johan Cruijff Academy studying Communications and Marketing. For 2015, Looij will also be jumping to the Pro Continental ranks with the new Dutch team Roompot, where he will join fellow classics-sprinters Dylan Groenewegen and the Kreder trio of Michel, Wesley and Raymond. The Dutch, like the Danish, have had a lot of very talented juniors and U23s in recent memory that did not pan out as professionals but I have a good feeling about Looij.
5. Tao Geoghegan Hart (United Kingdom - Bissell Development)
Coming out of the junior ranks, Tao Geoghegan Hart was hailed as an amazing climber with his lithe build being very well suited for Ardennes-style climbs as well as gargantuan Alpine climbs. The born and bred Hackney rider, a rarity in the professional ranks, signed with Axel Merckx's Bissell squad and didn't race with the team until April. After a warm-up at Redlands, Geoghegan Hart joined the GB National Team for the April Nations Cups, where TGH was one of the more consistent riders during the week with 2 top 20 rides including 15th in the Ronde van Vlaanderen and 20th in La Côte Picarde. Geoghegan Hart did one of his best rides of the season at Liege-Bastogne-Liege where he got into the late race breakaway and with the peloton breathing down their neck, the Brit got on the front and while he was a little wasted for the sprint, he still managed 3rd place.
A plus riding with Bissell is that Geoghegan Hart got to ride the Tour of California and Tour of Utah with the team. While he was a little out of his class, he still got through both races and gave him a taste of the future. The Brit, riding for the national team, put some consistent rides in the mountains together in the Tour de l'Avenir and got 10th overall. He didn't do anything too flashy but he didn't have any big breakdowns along the way.
He did the same thing at the Tour of Britain with the national team, which he described his ride as an "OK 15th". His most memorable moment from the race was when he went ass over tea kettle on the final corner on the stage to Brighton.
You will be glad to hear that Tao Geoghegan Hart survived this spectacular crash at TOB today!: http://t.co/aogt0yz8QU #tob2014
— Brendan gallagher (@gallagherbren) September 13, 2014
Geoghegan Hart signed a one-year extension with Merckx's yet to be named team for 2015, where he should be targeting leadership in some races and trying to go for a couple of wins in his 2nd year.
Honorable mentions
-Roman Kustadinchev (Russia - Helicopters) was apart of the breakaway at the U23 Worlds RR for all but one lap, which was quite a herculean effort. A few days later, he was 2nd in the Ruota d'Or behind Giacomo Berlato. Speaking of Helicopters, they had another strong first-year rider in Artem Nych. Nych was 12th in the Tour of South Bohemia (Okolo Jiznich Cech) and had front group finishes in the Trofeo Bastianelli (9th) and the U23 Worlds RR (23rd).
-BMC Development's Bas Tietema had a great Paris-Roubaix Espoirs by breaking away with teammate Tyler Williams and Mike Teunissen and while he was dropped, hung on by the skin of his teeth for 3rd place.
-Franck Bonnamour was the European Junior RR Champion in 2013 and this year with BIC 2000, he was 8th in the Tour of Bretagne, 1'05" down on winner Bert-Jan Lindeman. He had a strong ride at the GP Wallonie, where he was 18th place as a stagiaire with Bretagne-Séché Environment.
-Simone Ravanelli (Italy - Pala Fenice) was 10th in the Peaches and Nectarines and 13th in the Giro della Valle d'Aosta. Probably will be a strong GC contender next year on the Italian circuit. Seid Lizde (Zalf-Euromobil) was 2nd to Davide Martinelli in the Italian U23 TT and was 7th in the European U23 TT.
-Mads Pedersen was one of, if not the, star junior making his senior debut in 2014 and it wasn't too shabby. With CULT Energy, the Dane won the Eschborn-Frankfurt U23 RR in a 3-up sprint over Nils Politt and Sven Erik Bystrøm. There were certainly teething issues with Pedersen having a slew of DNFs and low finishes but he did pull out a strong TT in the Tour of Denmark, where he was 10th at +31" behind winner Alexey Lutsenko. He will be moving along to the Pro Continental ranks with CULT and he will need to step up if he wants to be competitive.
-Scott Davies won the British U23 TT as apart of Madison-Genesis. Davies had some other strong time trials during the year and is also a strong climber. He finished 34th in the World U23 RR, which was in the front group. For 2015, Davies is joining the Olympic program and will be riding exclusively with the national team.
-I kind of already wrote about a lot of the young American talent so if you are looking to hear about Miguel Byron, Justin Oien and Keegan Swirbul,
read here
.
-Jingbiao Zhao is a name that you probably have never heard of and maybe never will again. Yet, Zhao won the Chinese Elite RR this year and rode pretty well in the Tour of China I and II.