P
Let's start off with the probable retirement of
Pierre Paolo Penasa (1991)
, which came out of the blue along with fellow U23 Daniele Dall'Oste, who announced he is seeking greener pastures. Penasa's situation is still a bit unclear but it seems like the talented Tyrolean climber has been having persistent injury problems that has made getting back to top form seemingly impossible. His 2012 was quite impressive with a 3rd overall in the GiroBio and 7th overall in the Giro della Valle d'Aosta and big things were expected for the Zalf-Euromobil rider in 2013 where he would be taking on a leadership role for the hills. His season started off well enough with 9th in the GP Palio del Recioto and 4th in the Trofeo Piva Banca Popolare but when it came to stage races, he just didn't have the same spark as in year's past. On the hardest stages of the Giro della Regione Friuli Venezia Giulia, he faltered and his best stage was an 8th place and was just 17th on the queen stage. It was the same story in Valle d'Aosta as he finished 9th overall and was not able to handle the pace of the best. I understand his decision...why keep trying to do something when you know you are not able to be at your best effort? Good luck to him in his future endeavors.
While Lampre snagged
Jan Polanc (1992)
, he rode for his continental Radenska team for the first half of the season and showed why his early move to the pro ranks was justified. The young Slovenian tore up the U23 ranks with consistent riding over 2011 and 2012, especially when the rode tilted upward. This year, he started early with strong stage finished in the Istrian Spring Trophy and a 5th in La Côte Picarde, where he made the final breakaway but was creamed in the sprint. His best performance of the year came at the Giro della Friuli Venezia Giulia, where he rode away from Ivan Rovny and Riccardo Zoidl on the Monte Matajur, which straddles the Italy-Slovenia border, and won solo to clinch the overall crown. He continued to impress with a 5th overall in the U23 Peace Race, where he was the strongest climber behind a four-man breakaway that decided the race on the queen stage. He then was 2nd overall in the Tour of Slovenia, just 19 seconds behind Croat Radoslav Rogina but ahead of the likes of Patrick Sinkewitz, Tadej Valjavec and Darwin Atapuma. He went on to some pretty good rides with Lampre at just 21, including 40th in the World Championship RR and 15th at the Tour of Beijing.
While Polanc might be the only Slovenian at Lampre right now, he will have some home country company if he stays with them.
Luka Pibernik (1993)
has been one of the most consistent U23s the last couple years; so much so that Lampre, who have a scouting agreement with his team Radenska, decide to sign him to a pre-contract that begins in 2015. Pibernik was strong in his first U23 year in 2012. After wetting his feet, he finished 3rd in the Slovenian Elite RR at just 18, good enough for best U23, and proceeded to go 7th overall at the Czech Cycling Tour and 6th in the Trofeo Internazionale Bastianelli. After a trying Tour de l'Avenir, Pibernik came back with a vengeance at the World U23 RR in Valkenburg, where he was able to hang over the Cauberg and in the mad dash to the line, Pibernik ended up 5th, the best first-year by 31 places (Rick Zabel, 36th). So 2013 would be an even bigger year, right? You got it in one. After finishing the Istrian Spring Trophy in 12th overall, Pibernik attended the hotly contested GP Palio del Recioto and when the front group came together right before the final straight, Pibernik ended up 3rd behind Caleb Ewan and Silvio Herklotz. The almost-but-not-quite-there theme continued through the year as Pibernik racked up a slew of top 10 finishes but only two wins, a big one in the Slovenian Elite RR Championship and a stage in the Czech Cycling Tour. For someone who can sprint as well as a he can, he did well in Friuli-Venezia-Giulia in 20th place overall and thanks to getting into the final breakaway at the U23 Peace Race, he finished 3rd overall. His climbing showed again at the Tour de l'Avenir where he finished 13th on the first big mountain stage and climbed reasonably well the rest of the way to finish 22nd overall. Pibernik falls in between categories when you try to describe his racing characteristics. So while he isn't going to be a manic bunch sprinter, he won't be leading on the charge on the climbs either. He can sprint well, climb well and even do a pretty good TT but even then, it seems a bit of an understatement to call him just a rouleur. Anyways, keep your eyes on him because once he gets to the big leagues, he should make his presence felt.
When any rider leaves their native country to head out on their own to make it in cycling, they are one brave soul. Usually a strange language, different customs, not many friends; this can make or break an athlete. Just look at Chris Horner's first European foray with FDJ for some evidence. The dude tore it up in the US and then was isolated in France, gained a lot of weight and cracked mentally. Australian Adam Hansen (Lotto-Belisol) is known for his unique decision to have his training base int he Czech Republic, a country that isn't exactly world renown for their cycling as say Monaco, Lucca or Girona. Hansen was an integral part in allowing Australian
Josh Prete (1991)
to get a ride with Czech team Whirpool-Author in 2011-12. Prete hails from northern Queensland, the same area as Hansen, and while talented, he struggled with a dearth of racing in his area, which limited the attention he got from national selectors and bigger teams. Prete got a great opportunity via Hansen, who had connections within the Whirpool team, and rode around Central Europe for two years with some pretty good results such as 12th in the Czech Cycling Tour. He was all set to ride with them in 2013 but due to some sponsorship reshuffling, he was out of a contract. The bad luck continued early this year as he suffered from glandular fever and then a knee injury, which knocked him out of the first half of the season. He got a lifeline from the national team and Budget Forklifts and was able to ride the brutal Tour of Qinghai Lake, the Tour of Hokkaido (finished 3rd overall) along with some good team rides for teammate Jesse Kerrison at the Tour of Taihu Lake and Tour of Nanjing. He is back with Budget Forklifts for 2014 and should get a good schedule filled with Asian races.
Tanner Putt wheelie-ing up to the finish at Snowbird on stage 5 of the Tour of Utah
Photo: @Denco83
One thing about Tanner Putt (1992) I can say is that he is consistent. He is a rider that can put in a strong sprint, climb relatively well and ride a pretty good TT. A strong junior, he took off in 2012 with BMC-Hincapie and never looked back. In January of that year, the Utah native rode in the breakaway on stage 8 at the Vuelta a la Independencia Nacional in the Dominican Republic and attacked late in the race and held on for a solo win ahead of a charging pack. He continued his charge in 2012 with the national team in Europe with top 15 finishes in the Ronde van Vlaanderen U23 and the ZLM Tour. After a top 20 overall at Coupe des Nations Saguenay and finished 5th at the vaunted Stillwater criterium at the Nature Valley GP, Putt was agonizingly close to winning U23 Nationals but he was pipped in the sprint by Kentucky-native Rob Bush of Chipotle. Following the Tours of China I & II, he signed with Bontrager for 2013 and stepped up yet another level. Riding nearly 60 racing days, Putt DNFed a grand total of one time (Tour de Beauce) and finished well in races like the Volta ao Alentejo (14th), Tour of the Gila (20th), Tour of California (31st), Coupe des Nations Saguenay (17th) along with the Tours of Utah and Colorado. Putt attacked the hell out of the U23 Nationals in Wisconsin and along with teammate Nate Brown, he attacked in the finale and took the gold medal in a Bontrager 1-2. After a strong Worlds performance in 33rd, he will be one of the lead riders for Bissell in 2014 and if he is set on making it to Europe, he will need to drop some big-time rides. Tanner also has a brother, Chris Putt (1993), who will be joining him at Bissell in 2014. His rise has been pretty fast as he just started to race seriously in 2011. Still a Category 2 at the beginning of this year, Putt upgraded to a Cat. 1 and rode well in the Tour of the Gila, Mt Hood and the Cascade Classic. His best result was finishing 9th in the U23 National RR, just a minute or so behind his more experienced brother. The younger Putt could go quite far if he can continue to improve.
Lukas Pöstlberger (1992)
shocked just about everyone interested when he won the elite Austrian RR Championship in 2012, when he held a six second gap on a chasing group and took home the title at just 20. He wasn't done as at that year's Tour de l'Avenir, he set out with Vegard Breen and Bob Jungels for an long breakaway that stuck it and beat the other two in the sprint to take the stage win. He didn't blow the doors off this year but he had some good results like the 6th overall at the Sibiu Tour, 5th at Elite Nationals, 9th in the European U23 RR and won the GP Kranj. He still has another U23 year where he will be transferring to Tirol Cycling but he got to work early for 2014 with a 5th overall at the Tour of Al Zubarah in Qatar a few weeks ago.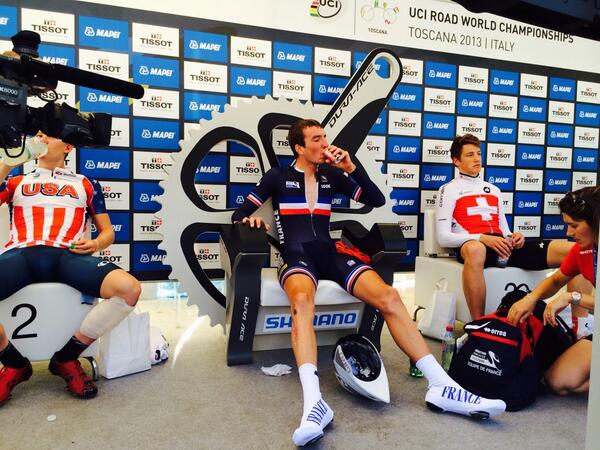 Paillot getting some Coke after taking the hot seat at U23 Worlds TT
(Photo: @FabienDouillard)
Yoann Paillot (1991)
is a horse. I don't want to get all lovey-dovey with the superlatives but Paillot could be the next big French TT hope if he has the drive and luck is on his side. As a junior, Paillot showed off his TT skills with podium finishes in the Chrono des Nations Juniors and the French TT Championships. As a 2nd year U23, he won the European U23 TT crown ahead of Bob Jungels, finished 2nd at the French U23 TT and won the Chrono des Nations U23. In 2012, he shocked with a 3rd place overall in the rain behind Sylvain Chavanel and Jeremy Roy at the French Elite National TT at just 21. He backed this up with a strong TT at the Kreiz Breizh Elites, which propelled him to 2nd overall. He repeated his Chrono des Nations U23 victory and then signed on with continental La Pomme Marseille, with whom he stagiaired with, for 2013 as a professional. He was fed a steady diet of springtime 1.1 races, an area which he feels he can improve upon in 2014, and short French stage races. He barely DNFed these races but he didn't have a breakout result until the Mediterranean Games TT, where after a disappointing 13th at the French Elite TT Championships, he averaged nearly 50 km/h to take the victory. He kept clocking up the racing days with the Tour of Qinghai Lake (13 stages) and the Tour de l'Ain (5 stages) before he really turned it on heading into autumn. He finally won the French U23 TT crown and then after a successful Tour du Poitou Charentes, he spent 170km in the breakaway at the Tour du Jura and finished 4th. His objective of the U23 Worlds TT was in jeopardy after a fall in the Tour du Doubs left him limping in the days before the event but for the first time at Worlds, the stars aligned for him and he blew the doors off of everyone except Damien Howson for an impressive 2nd place. When it was all said and done, Paillot collected 66 racing UCI racing days in 2013 and nearly 10,000 kilometers. For someone who could have been finishing his final U23 year with half that number of racing days, Paillot is ready to hit the Coupe de France with a vengeance next year and perhaps vie for a French Elite TT crown is all goes well. Staying with the hexagon,
Felix Pouilly (1994)
is one to watch for the future. He was the French Junior RR Champion in 2012 and this year, he had some good rides in Belgian 1.1 races while stagiairing with ToWin-Josan and finished 14th in the Paris-Tours Espoirs.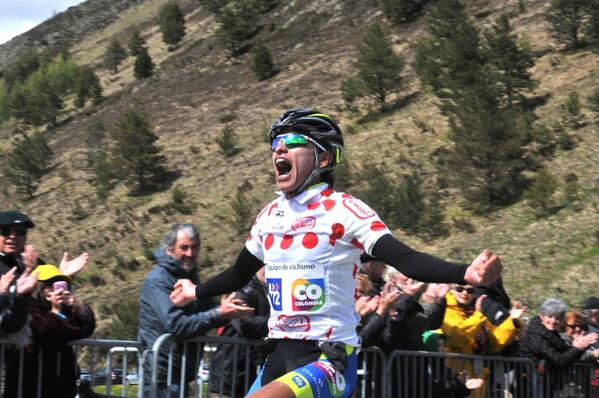 Little Heiner Parra takes the queen stage at the Ronde de l'Isard
Photo: @pedaleamosCOL
Heiner Parra (1991) might be the Colombian version of Jose Rujano, except with an age-appropriate attitude. Parra weighs in at a whopping 48.5 kilograms (107 pounds) and a diminutive 1.60 meters (5'3") but he packs some immense power when the road goes uphill. He started his U23 career with EPM-UNE but left the team after a quiet 2012 that didn't see him leave Colombia. He took the queen stage at the Ronde de l'Isard and supported his teammate and leader Juan Chamorro to the overall win. While he faltered at the Vuelta a Colombia, an event he was targeting, he turned it on again at the end of the year for 5th at the Tour Alsace (2nd on the queen stage) and after Chamorro faltered in the Tour de l'Avenir, he took over leadership for Colombia and finished 7th overall. His climbing talents got him a spot on Caja Rural for next year, where he will get a great schedule of climbing races and perhaps a birth for the Vuelta a Espana.
When Joe Perrett (1991) took the win in the British 25 Mile TT Championships, people were scratching their heads a bit as they were expecting N. Ireland's Michael Hutchinson to take his 7th title. While Hutchinson was relegated to 3rd, Perrett won in a scorching 49'21" time. Perrett is a former European Junior TT Champion and double GB TT Junior Champion and that prowess has transferred over into the senior ranks. He was apart of the GB Academy for a couple years but he left this year after signing with IG Sigma Sport. This year was his best year of his U23 career as he won the national 25, won the Premier Calendar Ryedale GP, finished 2nd in the GB U23 TT and 4th in the Tour de l'Avenir prologue.
Italian Simone Petilli (1993) might ride for a super small team in Gallina Colosio Eurofeed but the 20 year old was always a factor in hilly one-day races. This year alone, he was top 10 in the Giro del Belvedere (9th), GP Palio del Recioto (6th), Trofeo Piva Banca Popolare (6th) and the Trofeo Internazionale Bastianelli (4th). He also spent a lot of time in the breakaways at the Giro della Valle d'Aosta, where he won the KOM jersey. He highlighted some potential GC talent with a 7th at the Peaches and Nectarines this year. Petilli will be moving to the new Area Zero continental team for next year, which will be lead by former Acqua e Sapone manager Ivan de Paolis. Loîc Pestiaux (1991) had some good rides at some Belgian Topcompetitie races for Color Code-Biowanze including 4th at the Antwerpse Havenpijl and 8th at the Flèche Ardennaise. Ginger-Swede Robert Pölder (1991) might be the benefactor of a bit of nepotism on the part of Aike Visbeek in getting a contract with Argos-Shimano Development but it isn't totally undeserved. Pölder did a lot of strong teamwork and at least on twitter, the team lauded his strength and selflessness. So while the results might not show, he does have something to give his new team. Simon Pellaud (1992) won the Swiss U23 RR crown this year with a strong solo breakaway but didn't make his mark in many other big races. Pole Emanuel Piaskowy (1991) rode strong at in the Tour of Malopolska, where he finished 10th overall and won the youth classification, and then went 11th at the quite hilly Tour du Jura. Dutchman Stefan Poutsma (1991) won the Carpathian Couriers U23 Tour in Poland this spring after he did a decent prologue and then won a three-man sprint out of a breakaway on stage four to seal his overall win. He also got into strong breakaways at the Olympia's Tour queen stage and the Oberösterreichrundfahrt.

**EDIT: I was informed, correctly, by Mr. GroupRideKing himself, Bontrager's Nate Wilson, that I missed American Jeff Perrin (1993) on my list of "P" riders. As a first year U23 in 2012 with Colorado's Juwi Solar, Perrin won a stage at the Mt. Hood Classic along with strong rides at some hillier events. This year, he was on Cal Giant-Specialized but spent a large amount of time in Europe with the U23 National Team. Perrin rode some damn hard hilly races such as the Ronde de l'Isard, the U23 Peace Race, the Thüringen Rundfahrt, Kreiz Breizh Elites and the Tour de l'Avenir. At l'Avenir, Perrin was able to latch on to a late star-studded escape with the Yates brothers, Skujins, Sütterlin, Gougeard, Teunissen and others and after cresting the Col des Gets, he finished an impressive 8th. I'm not sure exactly what he is doing for next year as he isn't listed on the 2014 roster for Cal Giant but he is definitely an all-arounder to watch.

While much of the attention has been on Caleb Ewan and Damien Howson when discussing the next big Australian talents, Adam Phelan (1991) has been right there and probably deserves more credit than he has gotten. Phelan really stepped onto the scene in 2011 with Drapac where he was top 10 overall at both the Tour of Taiwan (won the prologue) and Tour of Hainan. In 2012 while still with Drapac, he was able to make the jump over to Europe with the Australian National Team. While riding a healthy schedule, he got 4th in the Fleche du Sud (2nd in the TT behind Bob Jungels), won the GP di Poggiana and got a berth for the Tour de l'Avenir and World Championships. This year, he made another step up. He started with a Tour Down Under berth with UniSA, finishing a great 23rd overall, and then jetted over to Europe with the national team, where he spent time helping Ewan and Howson but got plenty of chances for himself. Arguably his best ride of the year was the GP Liberazione, where he escaped with Ilya Koshevoy but try as he might, he couldn't hold onto the Belorussian on the final uphill and had to settle for 2nd place. Phelan also did well in the stage races including 7th overall in the Olympia's Tour and 4th in the Thüringen Rundfahrt, mainly due to his time trialling and solid climbing skills. Granted his climbing is limited as he doesn't seem to go quite as well on climbs past 5 kilometers. For 2014, he is staying with Drapac as they are transitioning to the pro continental level.

Q

With Q, we have lonely Dayer Quintana (1992), the brother of Colombian climbing sensation Nairo Quintana. During the silly transfer season, Dayer's move to Movistar to join his brother was long talked about and while I think he could be useful, I don't see him being anything like his brother. Dayer, like his brother, hails from the cycling-rich area of Boyaca and while he put up some good results as a junior (8th at the 2010 Vuelta del Porvenir), he didn't race at all in 2011 and only some in 2012 due to becoming a police officer. He continued on the bike though and after some early season races in Colombia this year, at Nairo's insistence he moved in with him in Pamplona and joined the amateur team Lizarte. Dayer attacked in many races and had some pretty good results including multiple top five results at Spanish one-day events along with strong rides in Copa de Espana events. His talent is a bit unknown but I wouldn't go into 2014 thinking he will be napalming people on climbs.