When a rider wins Junior Worlds, he is literally set for his cycling life if he chooses to go down that road. Just look at Arnaud Gerard...he won the junior RR in Zolder in 2002 and while he is a good rider, he is by no means great but he rode for FDJ for nearly a decade and is still on the pro continental level with Bretagne-Séché Environment. Winning U23 Worlds usually signals a big career ahead and will have the WorldTour teams diving at their feet for a contract. Now for a rider who wins both the junior and U23 worlds...well that rider was unprecedented until this year.
Matej Mohoric
distanced Julian Alaphilippe in the finale in the Florence Worlds RR and then held off Louis Meintjes (who will be getting no mention because of his pro status) in the final kilometers to take his 2nd World Championship in a row, after his solo, final kilometer win in the Junior World RR in Valkenburg. I was a bit down on Mohoric mid-season because of how anonymous he was but after a strong Qinghai Lakes, he just went on fire at l'Avenir with two strong 2nd place finishes at the end and was on good form heading into Worlds. Mohoric just read the road race like a damn book and with hills that suited him to a T, he attacked out of the bunch in hunt of a streaking Alaphilippe. Once he caught the Frenchman, he chewed him up and spit him out and while Meintjes tried to catch him, Mohoric was able to showboat in the finishing straight to a huge win. I do have a few quibbles with his meteoric rise in that a) does he have the base to compete on the World Tour level at just 19? and b) he tends to be a good rider in the spring and early summer but he just turns into a different rider in the late summer that kicks the shit out of nearly everyone...could frustrate a DS or two focused on spring classics. Mohoric had a more traditional upbringing compared to riders from decades past. The Sloven, the oldest of four children, grew up on a modest farm as the son of two professors, in chemistry and biology. Mohoric didn't glean his love of the bike from the TV but from riding his bike around their farm, joining a local club and going from there with nothing but support from his family. Mohoric also knows that a career on the bike might not be the be all, end all and has intentions of finishing an Engineering degree if his career takes a bad turn.
Another Slovene to watch is Mohoric's Sava teammate
Tim Mikelj
, who finished 2nd overall in the Okolo Slovenska along with a stage win and 2nd in the GP Industria e Commercio.
In
Alex Morgan
and
Mitchell Mulhern
, we have half of the Australian Team Pursuit squad that just won the gold medal in the Aguascalientes Track World Cup on Thursday. At one of the fastest velodromes in the world, these two, along with Glenn O'Shea and Alexander Edmondson blitzed the 4km test in a blistering 3'55" time, which is near the top 10 fastest team pursuit times ever. Morgan is a stud on the track, having won medals in Junior Australian, Oceania and World Championships in the pursuit and team pursuit. Stepping up to the elite ranks? No problem. Morgan was apart of the World Championship TP squad in Minsk that defeated the Brits. Morgan hasn't done a ton on the road but what he has done, it has been quality. Morgan was 4th in the 2012 Junior World TT Championship, just 13 seconds off winner Oskar Svendsen. As a U23, Morgan finished just one second off Damien Howson for the U23 National TT title. Mulhern also comes from a track background, having raced on the Australian National Team in multiple track World Cups but never getting a call-up *yet* for a ride in the World Championships. He is no slouch on the road either with an outstanding 3rd place in the Giro del Belvedere.
Robert-Jon McCarthy
was born in Ireland but moved to Australia at 14 and last year, he won the Australian Junior RR Championship in a well-timed move ahead of Caleb Ewan. He spent this year on the Australian continent but he will be joining Irish-Belgie AnPost-Chain Reaction for next year.
The two Americans here are stalwarts
Ty Magner
and
Gavin Mannion
. Magner career trajectory has gone up and up since his junior days and he is on the cusp of breaking into the pro ranks from his Hincapie Development squad. Magner was a good junior with the Hincapie-Barkley team and placed well in Nationals and Tour de l'Abitibi along with pro criteriums. He got stagiaire roles with Mountain Khakis in 2010 and Team Type 1 in 2011, where he got experience in Italy, China and Rwanda. 2011 also saw him breakout stateside with big rides in NRC criteriums, where he was a regular feature in the top 10. 2012 saw him sign with Hincapie Development and he turned into a monster...9 wins including the USA U23 Criterium Title, a stage in the Tour of China and wins in NRC criteriums; not to mention a heap load of podium placings. This year, Magner was, what I thought at least, on a level to where he could join a pro team in 2014. In his first European race of the year, the ZLM Tour, he came over just a day or two before the race and then drove the decisive break to take 9th place. After Fléche du Sud, he went 9th overall at Paris-Arras Tour thanks to some helpful time bonuses. He came to Nationals with a huge chunk of racing under his belt and he just smashed it. The first day, the U23 road race, he made the decisive break but was dropped by the Bontrager duo of Putt and Brown and settled for 3rd. Less than 24 hours later, he was the first rider off in the U23 TT and his time held until nearly the end when only Nate Brown beat him by 29 seconds. To cap it off, he won the U23 criterium that weekend, his 2nd consecutive U23 criterium title. Magner deserves a pro ride but the tight market definitely made that much harder...
Gavin Mannion reinvented himself this year and I don't know what the hell he had to do to get a pro ride for 2014 instead of having to stick around with 5 Hour Energy, who has had many problems over the years including Francisco "Mr. Puerto" Mancebo and not paying riders on time, or if at all. Before this year, Mannion could be described as a sprinter and domestique. He had chalked up a few good results such as top 10 stage finishes at Coupe des Nations Saguenay & Giro della Valle d'Aosta, 6th at La Côte Picarde in 2011 along with strong rides at U23 Nationals. His Bontrager DS Axel Merckx thought he was a bit too pudgy and while he was a bit hesitant, the 5 kilograms he lost showed in the Tour of Colorado in 2012, where he finished 4th on the stage to Aspen. Mannion would finish 17th overall and 2nd best youth and the climbing seeds were sown. Mannion went 15th in the Liege-Bastogne-Liege U23, 6th overall at Tour of the Gila and a respectable 26th at the Tour of California. He was one of two U23s to make the finale in the USA Pro National Championship RR. After a 16th at the Tour of Utah (2nd youth behind Lachlan Morton), he was streets ahead for l'Avenir. Mannion broke away on stage 3 to steal a few seconds with Michael Valgren and then was super strong on the 1st mountain stage for 6th. The next day, he moved up to 4th overall but he would crash heavily on the 6th stage and drop to 8th overall, where he would finish the race. Mannion deserved a bigger contract than he got and while Frankie Andreau will be very valuable to him next year, I do not believe he needs to stay at this level again. Just one guy's opinion.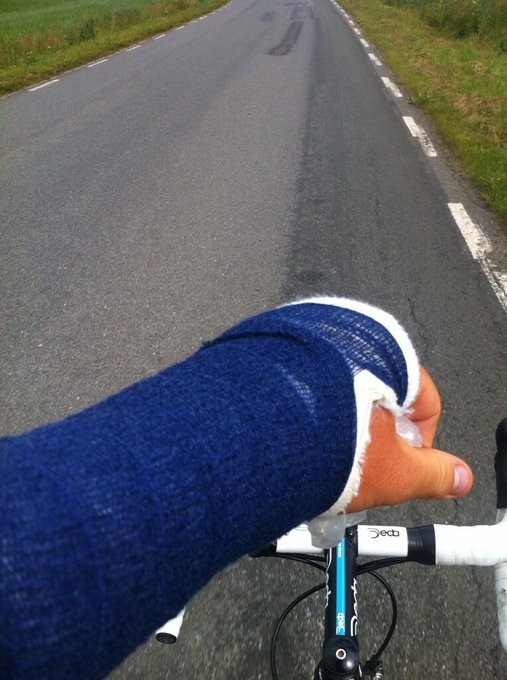 Magnusson back on the bike after crashing out of the European Championships
The Swedes seem to be attracted to Italia. Maybe it is the negroni or a case opposites attracting but
Kim Magnusson
is no different. The son of former pro Glenn Magnusson, a multiple Giro d'Italia stage winner, Kim is apart of the new wave of Swedish talents but unlike the others, he set up shop in Italy and went up against the tough Italian amateur scene. Riding a split schedule with the Swedish amateur team and the small Malmantile team, Magnusson did some strong rides the last few years including a 3rd in Lamporecchio, a close 2nd in the Memorial Pigoni Coli and a 4th place in the queen stage of the Peaches and Nectarines in Romagna, where he would finish 5th overall behind the likes of Davide Formolo, Davide Villella and Antonio Nibali. The Swede is a promising climber and should get a good schedule with Vini Fantini-Nippo-De Rosa, that should include both Italian and Asian races.
After soloing to a huge stage win at the Giro della Valle d'Aosta along with a 3rd overall in 2012,
Andrea Manfredi
had lots of hype put on him moving forward and when he stepped up with Ceramica Flaminia this year, he came out a bit flat. Manfredi only had one stand out ride, which was a 5th place on the queen stage of the Giro della Regione Friuli Venezia Guilia and a 5th overall in the same race. He rode a pretty good Volta a Portugal but the majority of the year, he was pack fill. Still, his talents landed him a two-year neo-pro deal with Bardiani.
Fausto Masnada
had a huge 2012 but it was all crickets in 2013. The Colpack rider was 6th overall in Valle d'Aosta last year but 2013 was chock full of DNFs except for a few good climbing performances including a 10th place in the Taiwan KOM Challenge.
Davide Martinelli
was a stagiaire with SKY in just his first U23 season and he proved his talents again in 2013 with Food Italia. The son of Giro d'Italia stage winner Giuseppe, Martinelli won the U23 National TT Championship and had a few good battles with Ukrainian Marlen Zmorka domestically in the TT (after one loss, he referred to Zmorka as an alien). On the road racing side, Martinelli combined some climbing with a strong finishing kick to get a long list of top 10 finishes, including in the Tour de l'Avenir.
Speaking of riders with influential fathers,
Ignazio Moser
finally knuckled down and showed some of the talent that got him notoriety as the son of Francesco. Known as a bit of a partier, Ignazio was confronted by his father and was questioned about how passionate he was about cycling and if this is what he truly wanted to do. Moser responded by signing with BMC Development this year and while he didn't blow the doors off the place, he made steps in improving his endurance and even won the Shimano Road Race at Suzuka ahead of Argos-Shimano's Jonas Ahlstrand. He has another year to get it right in the sprints before his U23 career is done.
Gianluca Milani
won three races this year with Zalf-Euromobil, the standout Italian team of the year, but I'm afraid he is a bit anonymous compared to others and he will be back with Zalf once again.
The Lotto-Belisol U23/Amateur squad is chock-full-of-talent and they bring us three riders in the M category. Xandro Meurisse probably has the most interesting first name in the peloton but he is no slouch on the bike either. Pretty much a classics man through and through, Meurisse also has a bit of a kick on him, which helped him win a stage in the Okolo Jiznich Cech. Meurisse is just a percentage or two off of really breaking through. He was 11th in the Liege-Bastogne-Liege U23 and 12th in the GP Criquielion and last year, he was 11th in the Paris-Roubaix Espoirs. With some age, he could improve like a fine win and breakthrough this year when he returns to Lotto for his final espoirs season. While Lotto are Belgian, they do offer a heterogenous roster that includes Brit
Dan McLay
and Kiwi
Hayden McCormick
. McLay has gone native and has been racing in Belgium since his junior days. A former Paris-Roubaix Juniors podium finisher, McLay has chalked up a few regional wins and mixes it up in the bunch kicks in places like the Dorpenomloop Rucphen, Triptyque Monts et Chateaux and the Paris-Arras Tour. McLay can pull of a decent TT as well as he went 4th in the UK National U23 TT but the big boy needs to work on his climbing. McCormick has more climbing chops and has done well in some stage races but needs a bit more time to mature. Winner of the Trophée Centre Morbihan and multiple World Junior Track Championship medalist, McCormick put in good rides at the Tour de Liege (4th overall), Tour de Azerbaijan (12th) and Boucle de l'Artois (18th).
Other Belgian M's to watch are
Florent Mottet
(ColorCode-Biowanze) and
Daan Myngheer
(EFC-OPQS). Mottet is a burgeoning sprinter who took home seven scalps in 2013 including a stage of the Triptyque Monts et Chateaux and the Zuidkempense Pijl. Mottet doesn't quite have the kick in some of the one-day races, especially 1.1 events, but next year with Wallonie-Bruxelles will be interesting to watch and see if he can improve at all. Myngheer is a former Belgian Junior National RR Championship and in his 2nd year with EFC-OPQS, he won the West Vlaanderen Provincial Championship and a stage in the Ronde van Oost Vlaanderen along with the overall. He took three more wins besides these big ones and he is on the cusp of some big things.
Mathias Møller
is another prototypical Dane trackie who crossed over to the road. Møller was on the Junior European Championship Team Pursuit squad and was on the winning Danish elite TP squad at the Glasgow World Cup in 2012. Just a first year U23, Møller surprised at the Tour de Berlin by getting into a cheeky breakaway move that stuck to the line and getting 2nd. Møller then came out and blitzed the TT, placing 3rd behind winner and teammate Lasse Norman Hansen. He also took the opening prologue to the Tour de Slovaquie, showing some big power on the short 1.8 kilometer course. Frenchman
Julien Morice
is another track rider (2nd, U23 European TP) who shows up on the road occasionally with Vendée U, where he excels in time trials. Brit
Tom Moses
put in a sterling effort at Paris-Camembert for 9th place with Team Raleigh this spring and had another good result at the GP Lucien Van Impe, where he was 2nd behind a streaking Iljo Keisse but held off a charging peloton.
Ryan Mullen
is yet another Irish rider born outside the country but I'm sure they don't mind because of how big of a talent he is. Mullen was born in Birkenhead in England and still lives in Rhos on Sea in Northern Wales but in his junior days, he declared for Ireland to be able to ride with the national team. Mullen set Irish and British junior records in the 10-mile and 25-mile time trial and last year, he went to finish 2nd overall in the European junior championship and 9th in the World Championship in Valkenburg. He signed with IG-Sigma Sport for 2013 and was fed a steady diet of one-day races and time trials, along with races with the national team. While he admitted in an interview
to preferring road races
, Mullen excelled in time trialling this year with a win in the Irish U23 TT over beanpole Conor Dunne, a 7th place in the World U23 TT Championship and a win in the Chrono des Nations. While he made some good progress this year, it wasn't exactly a perfect first year as he did not get any stage racing in his first senior year. Mullen's teammate Wouter Sybrandy questions why many young riders are even trying to get into UK continental teams...
Why are young riders so keen to get on UK conti teams?Can't think of many who have progressed (just @ryanmullen9?) #moreconvenientthaneurope
— Wouter Sybrandy (@Wouter_Sybrandy) December 5, 2013
Fair question and after just one year, Mullen is making the jump over to Europe with AnPost-Chain Reaction for 2014 to get his head kicked in Belgium. Austrian Gregor Mühlberger is another first year U23 that is new to many but he put up some good results including top 20 overall placings in the Thüringen Rundfahrt and the Szlakiem Grodòw Piastowskich. Mühlberger is getting an early start to his 2014 by racing in Qatar currently at the Tour of Al Zubarah.