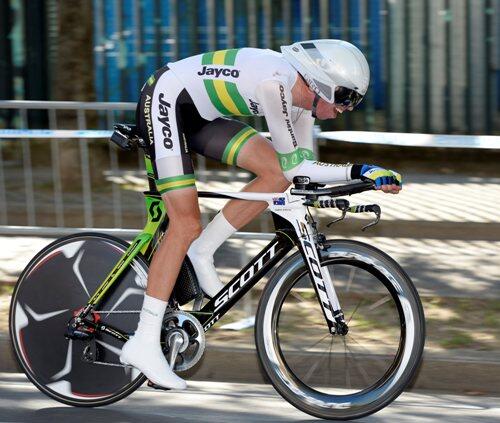 Howson speeding to a TT World Title (Photo: UCI)
Australian Damien Howson was like a bat out of hell Monday at the U23 Time Trial World Championships as he beat every time check on his way to defeating Yoann Paillot by nearly one minute on the 43.5 kilometer course. Howson, who averaged over 52 km/h for the race, stepped his game up and won just his first full-length TT in Europe this season.
Yves Lampaert (Belgium/Topsport Vlaanderen) was not the first rider to start but he was the first to cross the finish line in a time of 52:27 and set an early benchmark. A short time later, a trio of riders would go below Lampaert's time. Stefan Küng (Switzerland/BMC Development), who just went 3rd in the Chrono Champenois, set a new best time by going nearly a minute faster than Lampaert at 51:36. After Lampaert's countryman Frederik Frison crossed the line 6 seconds faster than him to slot into 2nd overall, Lawson Craddock came in like a bolt of lightning into the finishing stadium. Craddock was lowering Küng's check point times and would have demolished his time if it were not for a crash on
"the straightest road in Italy"
. (Craddock's words, not mine.) In the end, Craddock has a quick recovery from his crash and came in 5 seconds inside Küng's time to take the provisional lead, which he would keep for the majority of the day.
There were a few riders that I thought would do better than the results sheet shows. James Oram (New Zealand/Bontrager) was not on his best TT form and came in 26th on the day. Nate Brown (USA/Bontrager) was not on world-beating TT form and settled for 21st. Both Ukrainian talents, Marlen Zmorka and Oleksandr Golovash, came in 15th and 16th, respectively, which is lower than I thought for both of them given prior results and how Golovash would get a chance to really show his engine on the flats. Jasha Sütterlin (Germany/Thüringer Energie) suffered problems within the first kilometer and had to change his bike before restarting and finishing in 13th, which will definitely be disappointing to the new Movistar-signing who had top 5 ambitions.
Yoann Paillot (France/La Pomme Marseille) was the next rider to jolt the competition as he lowered all of Craddock's time checks and came in 44 seconds faster than the American. Paillot had won the French U23 TT Championship and the Meditteranean Games TT Championship but was a slight surprise given that he had not raced against U23 competition much this year and has spent the majority of his time on the French pro circuit. Another impressive performance was laid down by Ryan Mullen, a first year Irish U23, who put in a very steady performance that would ultimately gain him 7th, 1 second behind Küng. Mullen was 2nd in the European Championships as a junior last year and won the Chrono des Herbiers while this season, after winning the Irish U23 TT Championship, he focused on the European U23 Track Championships, where he was 3rd in the pursuit and scratch.
Big favorite Campbell Flakemore (Australia/Huon Genesys) started off well by intially lowering Paillot's time by one second at the first time check but he began to slide back afterwards and would eventually finish an agonizing 4th place, 12 seconds off of the podium. Flakemore had been dominating TTs in Europe this year by winning tests in the Thüringen Rundfahrt and Olympia's Tour along with the recent Chrono Champenois. While 4th place is disappointing at the moment, Flakemore has shown himself as a TT talent and can continue to grow in the sport.
The real battle turned out to be between Damien Howson and Lasse Norman, the last two riders to leave the start house. Howson went through the first checkpoint 10 seconds faster than Flakemore but Norman went through a second faster. Game on. Through the 2nd split at 28 km, Howson has upped his game while it seemed that Norman, who had difficulties at Chrono Champenois, was not as prepared as Howson, as the Dane was 33 seconds behind the Australian. That gap continued to extend as Howson would eventually beat Norman by 1'10", who would slip behind Paillot to slot into 3rd place.
It was a masterclass performance by Damien Howson but as many of these riders will be graduating to the pro rankings, there will be many duels to come in the future. Howson will be going to Orica-GreenEdge; Lasse Norman will go to Garmin along with Dylan van Baarle (23rd) and Nate Brown (21st); Lawson Craddock is off to the Argos-Shimano while 9th place Daniil Fominykh is destined for the Astana WT team.