Racing has started thick and fast all across the continent with races from the Netherlands to Croatia. With some temperatures actually above freezing in most places, riders are starting to come out of their shells and the results makes for some exciting racing.
Dylan van Baarle put on the most impressive performance of the weekend by absolutely crushing the field in the
Rabobank Dorpenomloop Rucphen
. To be fair, Rabobank Development rode a nearly perfect race. The race started off with a flurry of attacks but no breaks were making a noticeable impression. With about 80 kilometers to go, the team's young Ivar Slik took off up the road and with 70 km to go, he bridged to the breakaway that included Jacob Feidler (NSP-Ghost) and Brian van Goethem (Metec-TKH). The three survived out in front on the pan flat course for nearly 40 kilometers before 4 riders bridged up to make a group of seven.
With around 20 kilometers, the CULT Energy led peloton caught the breakaway and took the 1 lap to go signal. CULT Energy, who was riding for sprinter Patrick Clausen, continued to ride on the front of the peloton at a blistering pace but as the course narrowed, Dylan van Baarle seized the day. Van Baarle attacked as the peloton lulled and quickly got a gap, 10 seconds within a kilometer, and it continued to grow. With 5 kilometers to go, his gap was up to 25 seconds. As the peloton gained some semblance of order, van Baarle was still 20 seconds out in front. Two crashes marred the chasing peloton as van Baarle rode to his 2nd victory in a row, after his similar breakaway exploits last weekend at Ster van Zwolle. Daniel McLay (Lotto-Belisol U23) led the sprinting peloton home, beating Fabio Silvestre (Leopard-Trek) and Dylan Groenewegen (De Rijke-Shanks). McLay is having a great season so far after he was 2nd in the field sprint last week in Zwolle.
Dylan van Baarle (Rabobank Development)
Daniel McLay (Lotto-Belisol U23) +12
Fabio Silvestre (Leopard-Trek) s.t.
Dylan Groenewegen (De Rijke-Shanks) s.t.
Kevin Suarez (Doltcini-Flanders) s.t.
Dex Groen (Metec-TKH) s.t.
Wouter Wippert (3M) s.t.
Nick van der Lijke (Rabobank Development) s.t.
Ritchie Motke (Baby Dump) s.t.
Jaap Kooijman (Parkhotel Valkenburg) s.t.
Official Results
-----------------------------------
The
Kattekoers
opened the U27 Lotto Topcompetitie competition in Belgium today. A breakaway of Justin van Hoecke (Wallonie-Bruxelles), Jimmy Jaenssens (3M) and Yves Lampaert (Topsport Vlaanderen) opened up the proceedings at 35km to go and lead the peloton over a course that included 14 climbs and multiple cobbled sections. Rabobank Development ripped the peloton to shred over the Baneberg climb. The three escapees were caught and a group of 30 was all that was left at the top of the climb.
This group of 30 was slowly ripped to shreds after two passages of the vaunted Kemmelberg and by the last ascent, a group of eight riders formed that would last until the finish. Alphonse Vermote (AnPost-Chain Reaction) was by far the most active rider in the break as he put in multiple attacks over the final 20 kilometers. With 10km to go, Vermote attacked his companions but was brought back into the fold. A few kilometers later, Vermote, the younger brother of OmegaPharma professional Julien, tried again but was unsuccessful. As he was brought back, former NetApp pro Jérôme Baugnies (ToWin-Josan) launched an attack at 3 kilometers to go and saw his gap grow to 18 seconds as he raised his arms in victory. Vermote led the chasing group home and the peloton was led home by his AnPost-Chain Reaction teammate Nicolas Vereecken.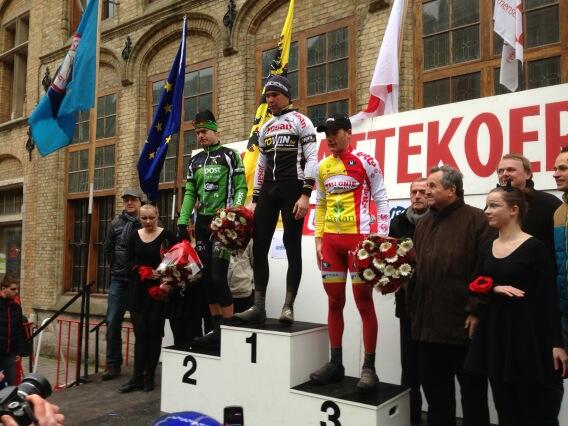 Photo by Laurens Soenen
Jérôme Baugnies (ToWin-Josan)
Alphonse Vermote (AnPost-Chain Reaction) +18
Tom Dernies (Wallonie Bruxelles) s.t.
Thomas Vanhaecke (3M) s.t.
Boris Dron (Wallonie Bruxelles) s.t.
Dieter Bouvry (Etixx-iHNed) s.t.
Mike Terpstra (3M) +25
Ronan McLaughlin (AnPost-Chain Reaction) +31
Nicolas Vereecken (AnPost-Chain Reaction) +1:32
Florent Mottet (ColorCode-Biowanze) s.t.
Angelo De Clercq (Ovyta-Eijssen-Acrog) s.t.
Boris Vallee (ColorCode-Biowanze) s.t.
Louis Verhelst (Etixx-iHNed) s.t.
This is a breakthrough results for Baugnies in his mission to get back into the pro ranks. He had two promising seasons with Topsport Vlaanderen before switching to NetApp, where he missed out on a Giro spot and struggled with injuries. He came back to Willy Teirlinck's squad, where he had run as a U23, to regroup and get back to the top flight. Vermote, in his first year with AnPost, showed great strength but he still needs to gain some tactical nuance. Other good rides were put in by Dieter Bouvry, who is only 20, and Mike Terpstra, Niki Terpstra's younger brother. Rabobank Development put in a lot of work with not much to show for it with Ruben Zepuntke and Rick Zabel coming in with the peloton at 16th and 20th, respectively.
Also in Belgium was
Omloop het Waasland
, a race around an
area that essentially used to be a wasteland
. Video can explain this race better than any words I can put together.
On the young rider front, the winning break included Jens Geerinck and Martijn Degreve of EFC-OmegaPharma and Wouter Daniels of Lotto-Belisol U23. Geerinck finished 4th while Daniels finished 6th, both in the same group at 16 seconds down on the winner Pieter Jacobs, while Degreve finished 7th, at 20 seconds. Sam Bennett (AnPost-Chain Reaction) was able to get 3rd in the bunch kick for 8th place (10th overall) with Kevin van Staeyen (Ovyta-Eijssen-Acrog) coming in 11th overall.
----------------------------
An attack dominated the racing at Paris-Troyes in North Central France. With about 60km to go, the racing broke up with a group of 18 breaking away from the main peloton. This group was pared down to 12 as the break neared the finishing line. Well, we have more video...
Young rider wise, Julien Duval (Roubaix-Lille Metropole) finished the race 3rd, an impressive result for him while former EFC-OmegaPharma rider Jeroen Hoorne (VC Rouen) finished 6th. Hoorne, who stagiaired with OmegaPharma-QuickStep last fall, has already won a race this season at GP du Pays d'Aix, so this result is already underlining his talent.
Other Races...
The Trofeo Franco Balestra is an important Italian one-day race which is usually a good gauge for who is in form and ready for the big spring races come April and May. Held in Brescia, Lombardia, this race has a good mix of small climbs and flat terrain to reduce the peloton. Today's race finished in a bunch gallop with Andrea Zordan (Zalf Euromobil) taking the honors
--------------------
How can I describe my dislike for the organization of the Trofej Porec. Let me list the reasons...
No internet presence whatsoever. It really isn't hard. I would be happy with a basic website, some course info and race details. That's it. Hell, why not spend nothing and get a twitter account and live tweet the race perhaps?
From everything I have seen, the organizers messed up the finish at the Trofej Umag and left many squads unhappy
WHY DON'T YOU HAVE A WEBSITE? I mean really...golden opportunity to show off the absolutely gorgeous Istrian coast but no. With Umag, Porec and the Istrian Spring Trophy, this two weeks of racing would have been craving to see Croatia. But I digress
Anyways, there was no text updates from Porec or highlight video so all we get are results. The results are actually valuable in that they show off some lesser known riders.
Matej Mugerli (Adria Mobil)
Riccardo Zoidl (Gourmetfein-Simplon) +3
Marco Benfatto (Astana Continental) +9
Enrico Rossi (Meridiana-Kamen) s.t.
Luke Roberts (Stölting) s.t.
Daniele Aldegheri (Christina Watches) s.t.
Jan-Niklas Droste (Heizomat) s.t.
Zsolt Der (Utensilnord) s.t.
Alexander Graf (Heizomat) s.t.
Oskar Landa (Oster Hus-Ridley) s.t.
in bold = young riders
Not much to say really. Benfatto is 25 this year but his sprint will not be ignored for long by pro teams. The other young riders had good races and should be watched later in the Istrian Spring Trophy.
That's all I got folks. It was an exciting weekend for racing for sure and there is even more on tap this week with the Istrian Spring Trophy, GP San Giuseppe, GP de la Ville de Nogent-sur-Oise and more.