Victor Campenaerts
(Belgium - Lotto Belisol U23 - 1991)
When the European U23 championships came around this year, I honestly did not think of Victor Campenaerts as the potential winner. I had seen his name in previous years and he was good but I thought with Marlen Zmorka, Jasha Sütterlin and others that he would be in the top 10 at best. I was not paying attention.
Campenaerts level came up this year after being somewhat of a nearly man the last few seasons. Thanks to more specific TT training this year, his season started off well with two regional TT wins ahead of some strong TTers in Frederik Frison and Edward Theuns. His season was nearly derailed by a hard fall in a national race in early June where he broke his collarbone but he was back to training after only a week off the bike. The former triathlete then went to the Vuelta a Madrid and put in an impressive performance to score 4th overall on the hilly two-stage race. Days later, Campenaerts and his Lotto-Belisol U23 team won the National TTT over Topsport Vlaanderen, a race which Campenaerts won the year previously with his Bianchi-Lotto-Nieuwe Hopes team. On some hot form, he went to the Czech Republic for the European Championships and blew the doors off the competitions and beat Golovash, Sütterlin and Zmorka on the 23 kilometer course, the only rider to go over 45 km/h.
Could Campenaerts be the first Belgian since Dominique Cornu to podium the U23 Worlds TT?
There have been surprise winners of the European U23 TT that went on to do much of nothing the rest of their seasons. Could Campenaerts keep the form going? You betcha. In the Belgian National TT, Campenaerts took a cautious first lap (out of two), which put him 5 seconds behind teammate Frederik Frison but he turned on the after boosters on the final lap and ended with a 5 second advantage and the best looking tricolour skinsuit in Europe.
After winning the test in Neerpelt at the end of August, Campenaerts has put himself in a position to pull off a coup in Firenze. His form is dialed in after an impressive showing in the Tour du Moselle where he finished 3rd overall after a strong 3rd in the time trial behind Jasha Sütterlin by 13 seconds, which is strong seeing how he admittedly took the final technical descent cautiously, with there being rain and not wanting to mess up his World's bid.
Campenaerts has taken 6 wins this year, 5 of which have come in time trialing events. He could eventually develop into a good pro rider as he can go uphill decently and would be able to out TT most climbers. I will say this now...Campenaerts is good for a top five at Worlds if he is rides a perfect race.
Juan Ernesto Chamorro
(Colombia - 4-72 Colombia - 1991)
While he season started out with some promise, the last half of Juan Chamorro's season was a train wreck. After his outstanding 2nd place to Warren Barguil in the 2012 Tour de l'Avenir, it seemed like Chamorro just had to show up and he would be able to ride away from the pack on the slopes of the Col de Madeleine. Apparently, this is the reason why there are actual races instead of simulated races with turbo trainers.
Chamorro started his season well with a solid rides at Castilla y Leon (21st overall) and Tour de Bretagne (34th) before going 15th at the Vuelta a Asturias (15th) and then riding a very consistent Ronde de l'Isard, where he was 2nd on the queen stage to teammate Heiner Parra and then 3rd the next stage to wrap up the overall win by 9 seconds. This was what everyone thought would happen and was just the next stepping stone to a win in l'Avenir and then a on to the pros. And then reality checked in.
After an early summer break, Chamorro was back at it with the Vuelta a Leon but he was unable to follow the lead trio of Merhawi Kudus, Jordi Simon and teammate Ever Rivera and finished over two minutes down. While some of that might have been tactical, Chamorro was not on his best climbing form and this showed at the Tour de l'Ain. In a race where he finished 10th overall in 2012, Chamorro was nowhere near his top form this year, finishing nearly dead last in the prologue and then finishing 8 minutes off the leading groups on both mountain stages to wind up with a 40th overall. What happened to his form?
The Colombian National team was still backing Chamorro for the Tour de l'Avenir ahead of a healthier choice in Heiner Parra, who had been producing better results, but the first two days of the race showed how bad of a hole Chamorro was in. After finishing the prologue in 113th (out of 120), Chamorro crashed on the 1st stage of the race and lost a minute on the GC favorites and before the race hit the big mountains, he was nearly two minutes down. There would be no miraculous comeback either. Chamorro was in the gruppetto on first mountain stage and eventually pulled out on the 6th stage.
While his talent is huge, Chamorro seems to have gotten too much spotlight and perhaps the pressure of being the overwhelming favorite got to him in training. While I am assuming that Chamorro will join the Colombia pro continental team at the very least (perhaps a World Tour team will come calling), there is going to need to be an answer to how he can find the form that got him to such great heights in 2012.
Clément Chevrier
(France - Chambéry CF - 1992)
For a stretch in the 00's, there were a dearth of young French climbers coming into the pro peloton but within the last 5 years, the climbers are once again emerging from the Alps. Romain Bardet, Warren Barguil, Kenny Elissonde, Thibaut Pinot and Alexander Geniez are all in the World Tour and while Bardet is the only rider in the group not to win a Grand Tour stage, he finished 15th in this year's Tour de France and won this year's Tour de l'Ain. Bardet is also good friends with...Clément Chevrier. Chevrier, who sees Bardet as the model for his pro career, rides for Bardet's former development team, Chambéry CF (the official development team to Ag2r), and the two of them train whenever possible. While Bardet is thriving with Ag2r, Chevrier was spurned by the World Tour team after his breakthrough season in favor of signing a potential classics rider in Alexis Gougeard.
Chevrier hails from Picarde, which is not exactly the hilliest region of France, but spent vacations in Savoie, where he learned to ride and fell in love with the mountains. As a junior, he became focused on the Classique des Alpes and his future lay in the hills. After good results as a junior, Chevrier made the move to Chambery CF and was at home in the mountains, where his lithe body would continue to hone itself. After a first year in the U23s that included three small wins and a front group finish at the Paris-Tours Espoirs in 13th. 2012 saw even more improvement with more consistent riding in the mountains, including a 3rd on a stage in the Ronde de l'Isard. His crowning achievement of the year was a 7th place in the Piccolo Giro di Lombardia, a race he has said would be a dream to win. Even with this, Chevrier was not happy with his season and hungry for more.
2013 had a cool start for Chevrier as he had to take time away from training after it was found that his body fat was too *low*. His season only began in earnest on April with a 13th in the Giro del Belvedere, where he made the main chasing group including Andrea Zordan, Damien Howson and others. He then turned heads again at Liege-Bastogne-Liege U23 when he was in a chasing group of 4 behind a streaking Michael Valgren but was swallowed up with three kilometers to go by the chasing peloton, where he would finish in 21st. Then, on just three UCI racing days a short mountain training camp, it was time for the Ronde de l'Isard. *Gulp*
It didn't turn out half bad for the preparation and Chevrier finished the first mountain stage race in 10th overall and three more teammates in the top 10 overall. Pays de Savoie, the region where he first learned to ride a bike when he was just 7, was his biggest success to date with a stage win on the stage 3 summit finish at La Toussuire. All 4 stages of the races had uphill/summit finishes and Chevrier was able to finish 2nd overall behind Yoann Barbas by just 38 seconds. The beat went on to Giro Valle d'Aosta, which I wrote about ad nauseam, where Chevrier then went 3rd overall and made every lead group on the mountainous parcours, being distanced by the Davide Villella, who possesses a bit more fast twitch muscle for the more shallow finishes.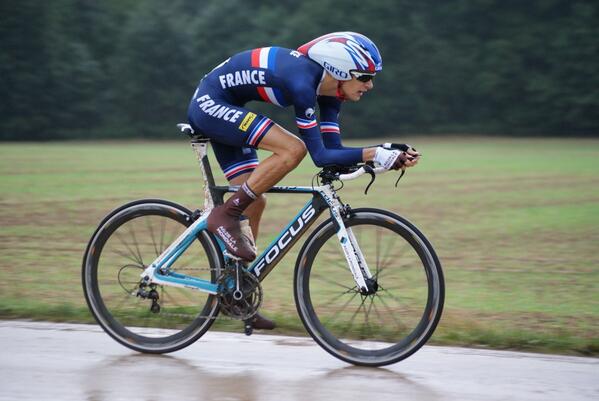 Skinny takes a whole new meaning with Chevrier
After a summer break filled with sun and fun, Chevrier returned with the French National Team to the Tour de l'Ain. Chevrier was up against World Tour riders and his best performance came on the 3rd stage, where he stayed with Pieter Serry and Wout Poels to finish 11th on the stage. He ended the race in 16th overall, which was good for 2nd in the youth category behind FDJ's Kenny Elissonde, and finished one place ahead of Merhawi Kudus. Even though he put in a strong ride, he was handed the news that Ag2r, the team he had developed under for three years, was not interested in his services, at least for 2014.
At the Tour de l'Avenir, Chevrier suffered on the opening mountain stage (he was not the only one) and lost a big chunk of time to the favorites, which he would never recover. To salvage his race, Chevrier struck out on the 6th stage to Châtel, roads which he knew very well from training and the Giro Valle d'Aosta. Chevrier, along with Simon Yates, Matej Mohoric and Bahktiyar Kozhatayev, motored off the front of the peloton and took the race to the line, with Chevrier lacking the snap of Yates and having to settle for 3rd.
Still searching for a pro ride for 2014, Chevrier will have a couple more chances to show his climbing talents this year with the World Championships, where he is selected for the RR, and the Piccolo Giro di Lombardia, a race which would be a good stepping stone to his dream on winning the pro version one day.
Magnus Cort
(Denmark - CULT Energy - 1993)
The first thing you need to know about Magnus Cort is that he just turned down a neo-pro offer from Garmin. This is after he was flying high off of two stage wins at the Tour of Denmark along with other top results earlier in the year. He has a good head on his shoulders and having spoken to his father, it is very clear to me that he is a rider that wants to develop before getting thrown to the wolves. He wants to avoid the plague of Rasmus Guldhammer.
I've talked about Cort before after his success at Thüringen and Denmark this year. Hailing from the
island of Bornholm
, which is about as far east as Denmark goes, Cort was a talented junior who won the Peace Race overall, along with two stages, ahead of some names like Olivier Le Gac, Silvio Herklotz, Danny van Poppel and many more. In 2012, he was 2nd to Sebastian Lander (now BMC) in the Danish U23 RR and had a string of domestic results.
2013 saw Cort transfer to CULT Energy and move into an apartment with teammates Michael Valgren and Alexander Kamp. After riding the Tour de Normandie, Cort put in a sensational sprint at the end of the Ronde van Vlaanderen, where he was supposed to lead out his teammate Kristian Haugaard but ended up dropping him and wound up 3rd. After a small bit of sickness, Cort then went 3rd at the Himmerland Rundt. After a string of good results, including a Danish Cup win, Cort had a little lull before he went ape-shit at the Thüringen Rundfahrt. Taking the mountains jersey on the first road stage, Cort attacked on the subsequent two stages, including on the queen stage (stage 3) where he attacked from the gun to gain as many points as possible before being swallowed up by the bunch. With the KOM jersey in hand, Cort was apart of the stage 6 attack that included roommate Michael Valgren and the duo was able to hold off the peloton by 3 seconds with Cort taking the win. He wasn't done either and on the next day, the last stage, he finished 2nd in the bunch sprint to Caleb Ewan. Pretty damn versatile, eh?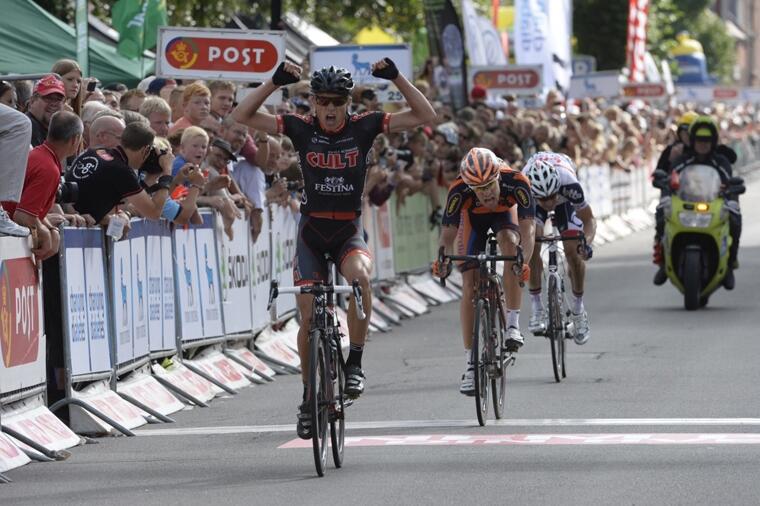 After a summer holiday, it was off to the Tour de Liege, where after winning the opening stage, the thinly-veiled CULT Energy Danish National Team was kicked out of the race a few days later for violating a rule about foreign continental teams not being allowed to enter amateur races in Belgium. The irony is that CULT, in its previous iteration Glud & Marstrand, raced in the event for at least the last 7 seasons. While this was annoying at the time, Cort got his revenge at the Tour of Denmark in a big way. Getting into the 1st stage break, he and his two companions, Nikola Aistrup and Lars Bak, drove it to the line and Cort easily took the sprint and the first leader's jersey. While losing the jersey on stage 3, he timed his sprint on the short stage 4, where he was able to accelerate straight out of the corner and over the final riser to the finish line. At just 20 years old, this was incredible and his original plans of staying another year with CULT were temporarily put on hold.
While Cort was not terribly happy with his Tour de l'Avenir, his teammate Haugaard won the KOM title and Valgren won a stage. While staying safe and not crashing, Cort got good miles in for the World Championship TTT, where he is on the roster for CULT Energy, and for the World U23 RR, where he will be one of Valgren's right hand men.
Lawson Craddock
(USA - Bontrager CT - 1992)
Every time I see Lawson Craddock's name mentioned on twitter, it is usually about how talented he is or how he is the next big American. And he very well could be but before the circle jerk continues, can we please stop and look at the facts first?
CyclingNews
calls him a climbing specialist, which makes me think that he seeks out climbing stages like he is Kenny Elissonde but this is simply not true. He is a crazy talent but he is currently missing consistency that he will need to find in the next few years if he will be competitive on the World Tour level.
For those that don't know Gregory Lawson Craddock, let us do some review. As a junior riding for Hot Tubes and the USA National Team, Craddock posted some of the best junior results ever by an American. 8 wins and a slew of podiums in Europe along with a RR/TT National Championship double in 2010. (He put 2 minutes into 2nd place in the TT win on a 24km course) Speaking of TTs, Craddock was 2nd and 3rd in his two attempts at the Junior World Championships, where he lost to some so-so riders in Luke Durbridge and Bob Jungels. Let's not leave out a 3rd in the junior Paris-Roubaix.
In doctors office and saw this from @lancearmstrong. Nothing can take that away from the greatest athlete of all time. pic.twitter.com/kAUNPLc0
— Lawson Craddock (@lawsoncraddock) August 24, 2012
Naturally, Craddock signed with the Trek-Livestrong program. His talent was obvious in just his first U23 season as he won a stage at Triptyque Monts et Chateaux, went 11th at Ronde van Vlaanderen U23 and then 4th overall at Tour de Berlin. It also was not the junior ranks anymore. He was not dominating every race and he got dropped quite a bit. 2012 started off slow and didn't pick up until Tour of Gila where, after a strong TT, Craddock and Bontrager teammate Ian Boswell broke away from a big breakaway and stormed to victory on the Gila Monster stage. Craddock ended 5th overall on GC and thus where the climbing specialist was born. He fared well at California with a good TT (12th) and finished Cascade Classic 3rd overall and went 2nd in the U23 TT National Championship for the 2nd year in a row.
2013 saw Craddock take on a new coach, USA Cycling's Jim Miller, and a more low-key approach into the season. With a focus on growing his base and doing higher intensity intervals, Craddock came alive at Monts et Chateaux, where he soloed to a stage victory but lost the overall by 1 second to Fabio Silvestre of Leopard-Trek due to time bonuses on the final stage. Tour of Gila saw Craddock get some climbing legs back but after a 4th place in the TT, he faltered on the latter stages. Tour of California was a lightswitch for Craddock this year as he was 9th and 7th on the two hardest climbing stages to Palm Springs and Mount Diablo, respectively. Finishing 8th in the Tour of California was a huge step forward for Craddock so what would the rest of the season hold?
After a 4th in the Pro National TT, his summer was pretty quiet with one decent result (18th at Coupe des Nations Saguenay) followed by a series of DNFs, including the climby Tour of Utah. Wait, CyclingNews! What happened to the climbing specialist? He was back at the Tour of Colorado where he once again was going crazy well on the long, steady climbs and finished 5th on stage 2 to Breckenridge. He was up and then down a bit on the next climby stage where he was gapped at the end and finished 20th, ceding nearly a minute to the main front group. With a strong TT in Vail, Craddock finished 7th overall.
The one nag I have with Craddock, other than with his personal opinions sometimes, is how up and down he can be. This can obviously be corrected with age and experience but through his U23 career, he seems to have a great performance followed by a little disappointment. Will he turn into a legitimate stage racer as a pro or will he be one of those nearly men that always seems to get close but eventually has an off day. I would love to see him put egg on my face and come out with Argos-Shimano next year and do well in 2 or 3 stage races. Perhaps another brash Texan will take Europe by storm.
Cristian Cañada
(Spain - Mutua de Levante -1991)
I've searched far and wide and there is not much information with Cristian Cañada even though he has been pretty damn impressive this season on the Spanish amateur scene. Cañada won the Subida al Gorla, the most important hill climb in Spanish amateur cycling. That might sound overblown but former winners include (descending chronologically): Iñigo Cuesta, Carlos Sastre, Juan Manuel Garate (x2), Joaquim Rodriguez, Alberto Contador, Beñat Intxausti, Andrey Amador, Mikel Landa, Jesús Herrada and Omar Fraile. If you win that race, it is an almost guaranteed seal of approval.
His season continued with strong rides at the Spanish National U23 RR (7th) and Vuelta a Madrid U23, which included a 7th place, lead pack finish on stage 2 and 11th overall. Cañada broke through again at the Vuelta a Palencia on the climb to
Santuario de la Virgen del Brezo, where he broke away with U23 ABC rider Tiesj Benoot and Chilean Edison Bravo and dropped them for a solo win by 18 seconds. He eventually won the overall with the other two filling out the podium. His latest result came at the Volta Ciclista Valencia, where he finished 5th overall.
I don't know whether Cañada is getting attention from any bigger teams but his climbing talent is undeniable but he is a diamond in the rough that needs more development time.
Jorne Carolus
(Belgium - Lotto-Belisol U23 - 1992)
Without looking at results, Jorne Carolus has already proved himself as a shrewd tactician. When he was negotiating with the Lotto-Belisol U23 squad this past winner for a contract extension, the reigning Belgian U23 RR Champion put a demand on the table: get me a stagiaire position with the Lotto-Belisol WT team or I'm not signing. It proves something that he got his wish (his results did help) and that always stuck with me because, as a whole, U23 riders looking for an amateur contract are not the most demanding of negotiators. Other facts about Jorne include that he is great friends and training partners with Trek-signing Jasper Stuyven and he is an industrial engineering student.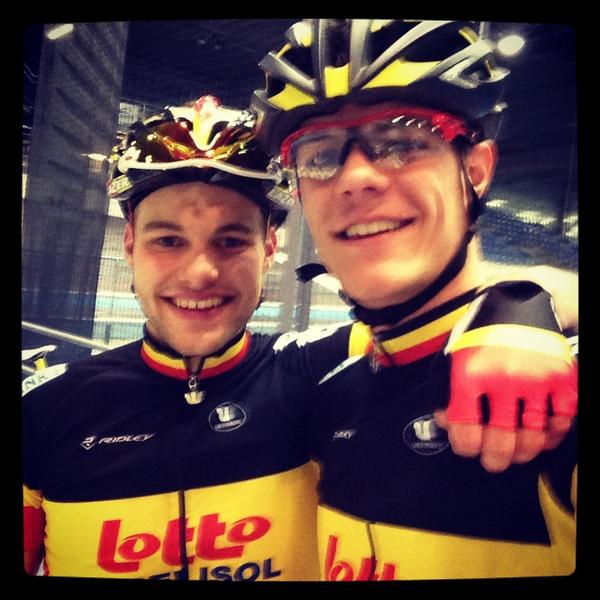 You might have picked up that Carolus was the Belgian U23 Champion but as of August 25th, he gave up that jersey to Jens Wallays. Carolus has had an up and down year after some crashes and injuries but he has four wins this year, including a pretty big win in Triptyque Monts et Chateaux. Another big race for Carolus was the Tour of Slovakia, where he went 4th overall.
So what type of rider is he? He likes the one-day races and shorter stage races but he can't handle super hard courses. He has a sprint on him, which has gotten him to most of his wins, and if he wants to garner a pro contract with a World Tour team then he will need to start to specialize and/or step up his training for the classics.
Robin Carpenter
(USA - Hincapie Development - 1992)
Hide yo kids, Hide yo wife
Coming into this year, Philadelphia native Robin Carpenter did not know exactly where his cycling career was headed. His Chipotle development team had folded and late in the fall, he was without a contract. It was the Hincapie Development squad that rescued Carpenter for 2013 and he has been one of the riders that has driven them to some strong results this season. Unlike many upper echelon American U23 racers, Carpenter has stayed dedicated to his studies at Swarthmore College in Pennsylvania, where he is in his final semester.
This season started out with well with a slew of local wins followed by a solid Redlands performance. Due to school, his season did not kick into high gear until Joe Martin Stage Race (Arkansas). Carpenter and his Hincapie teammates Joe Lewis and Joey Rosskopf went 1-2-3 on a slightly uphill sprint on the third stage with Carpenter taking the win, which helped propel him to 11th overall when it was all said and done. Carpenter then ventured over seas with his Hincapie Devo teammates for a European adventure. Flèche du Sud was a team success as Joey Rosskopf made the decisive breakaway and finished 3rd overall and Oscar Clark took a stage win as Carpenter stayed outta trouble with 26th overall. After the team celebrated their team classification win with a bit too much champagne, it was off to a pro kermis in Puivelde, where Carpenter would put in his biggest ride of the year.
After spending time tail-gunning on the back of the 200-man peloton, Carpenter was able to get in an 8-man move after the race got back together. This might not sound impressive to some put this move included multiple pro continental riders and according to Carpenter's guess, Sven Nys and Niels Albert. When cooperation ceased with the breakaway, Carpenter jumped away with Maxime Vantomme (Crelan) and Kristof Dhollander (Rupelspurters Boom) and they worked well together until 4km to go, when Carpenter saw a hesitation and put his nose to the stem and drilled it. Carpenter took the win in the perfect Belgian way...with no-one else in the picture.
Carpenter then set off around the country with his team taking in stage races such as Cascade Classic (was in a breakaway), Tour de Beauce and Tour of Utah...well the majority of Utah. After an otherwise good Tour of Utah, Carpenter took a tumble on stage 5 and had to pull out of the race with concussion like symptoms. He headed to France as a part of the pre-selection for Tour de l'Avenir but once he began to train, it became obvious that the concussion was still lingering and he had to pack up shop and head back home, his season over.
Carpenter has one more season left in the U23s and if he continues the upward trajectory he has been on the last few years, then he should be a handful for more experienced pros in 2014.
Choi Ki Ho
(Hong Kong - 1991)
You might recognize his name as Ki Ho Choi but it is standard in China to put the surname first. While Wong Kam-po is still the most venerated cyclist in the short history of Hong Kong cyclin, Choi Ki Ho has a huge amount of potential that he has been releasing on the Asia Tour. As a first-year U23, Choi made some waves with a World Cup victory in the track madison with Kwok Ho Ting, who would win a surprise individual World Championship in the scratch in 2011. Choi went 10th at Tour of Taiwan and then won the Berner Rundfahrt ahead of Daniel Teklehaimanot before going to the Coupe des Nations Saguenay, where he would finish 7th overall in his 1st U23 race. And that was only the beginning.
Choi has been training at the UCI Training Center his whole UCI career and has been noted as one of the most talented athletes to walk through their doors. While the UCI profile calling him the Asia's Daniel Teklehaimanot might be a bit hyperbolic, Choi confirmed his talent in 2011 by taking the Tour de Korea overall win ahead of riders such as Markus Eibegger and Jon Tiernan-Locke. While people were expecting him to keep going from their, his results stagnated because of a strong push from his federation to take part in the Olympic omnium on the track. Specialized training saw him absent on the road but when the Olympics came, Choi's heart was not in it and he finished 16th out of 18 competitors. Post-Olympics, Choi's coach allowed him to pick what he wanted to pursue and Choi followed the road and a slew of results on the UCI Asia Tour followed.
Choi busted loose for 3rd at Taihu Lake, 1st at Fuzhou, 1st at Tour de Ijen followed by an opening stage win at the Tour de Vietnam, all of which vaulted him to the Asia Tour lead. With the Asia Tour straddling 2012 and 2013, Choi continued his strong performances at Tour de Taiwan with 8th overall and then an overall win at Tour of Thailand. While Choi had to contend with Julian Arrendondo and the shit shows that were Nippo and Tabriz Petrochemical, he still sits 2nd in the Asia Tour overall.
I know there will be a team that will be interested in some exotic talent and I hope that team will not just gut him for his UCI points and then leave him for dead. Choi is extremely talented and if he gets more experience and specialized training in the mountains to go along with his steady time trial and sprinting abilities, he could be scary good in no time.
Valerio Conti
(Italy - Mastromarco - 1993)
There is a reason that Valerio Conti is joining Lampre for 2014 and that is because he goes fast uphill. Okay, maybe he isn't the fastest but he is definitely up there. Conti also has a lineage in cycling with his (great?)-uncle, Noél, racing with Coppi and winning the Coppa Bernocchi. So how did Conti snag a contract with Lampre at the tender age of 20? To be honest, I'm not entirely sure.
Conti had strong results as a junior and had multiple wins abroad as well as a slew in Italy. In 2012, he rode well enough with 6 podiums but no wins and not many more results to speak of. He did put on some good climbing results such as a stage in the Giro Delle Valli Cuneesi. 2013 saw him grow with the Mastromarco team of Bettiol and Nibali. He started his season with a 5th at Palio del Recioto and then he began to succeed in regional races that featured difficult courses that suited breakaways. In his four victories this year, Conti has beat such racers as Davide Formolo (signed with Cannondale) and Gianfranco Zilioli (signed with Androni). While Conti is talented, I am still a bit baffelled why Lampre signed him to a pro contract so early. He has not ridden a big stage race this year and rode a grand total of 2 international races, both in Italy. He is obviously talented but he is green and needs seasoning before he will be effective and unless I am missing some huge power numbers or test results, I feel like they could have gotten someone like Pierre Paolo Penasa, who is much more proven. But what do I know.
--------------
Two Swiss riders to keep an eye on
Gabriele Chavanne
and
Adrian Chenaux
. Chavanne rides for the Chambéry CF team and Chenaux is with Atlas Personal-Jakroo. Both rode with the national team a fair bit this year with Chavanne doing better in one day races while Chenaux has put up some decent results in climbier stage races.
Loïc Chetout
is a name that many outside of the France/Spain loop have not heard of but he has consistenly been one of the strongest amateurs in Spain. Chetout is a French Basque and has ridden for the Naturgas Energia development squad, which is apart of the Euskadi development system that was headed by Migual Madariaga. Chetout has five wins this year on the amateur circuit and finished 4th in the Copa de España rankings and 2nd U23. If the Spanish economy rebounds and teams expand or a French team wants to take a chance, Chetout could be an interesting signing.
Ciao a tutti. Time to go to Italia for a few talents.
Marco Chianese
won the Firenze-Mare and has a good kick on him.
Luca Chirico
won the GP San Guiseppe this year, which is an absolutely gorgeous race that features an uphill drag to the finish in a picturesque hill town, in a small group sprint but this has been his only result of the season.
Giulio Ciccone
is a first year U23 climber who did fairly well in Valle d'Aosta and finished 12th overall.
Issiaka Cissé
is the lone racer from the coastal country of Cote d'Ivoire (Ivory Coast) to reach Europe and has had an interesting journey in his short career. Cissé bought his first bike, an old Peugeot, at 15 but had no idea what cycling was. He started competing at 18 and won a few races and the UCI Development Center, one of Pat McQuaid's few good initiatives, rang him up with an offer. Only problem was that his country was plunging into civil war from a controversial election and Cissé stopped riding his bike for six months and missed his opportunity with the UCI. (He couldn't even leave to country to travel to Aigle because the country's border was closed.) He was finally able to join the UCI development program last year and has been making strides and in addition to African racing, he has been getting important racing time in Europe. Cissé had over 50 race days in 2012 and this year has been lighter but included a Tour de l'Avenir ride where he was 33rd while supporting Merhawi Kudus on the UCI Mixed Team. Pretty good for a rider that doesn't describe himself as a climber (Ivory Coast is flat) and more of a rouleur.